Ever since I heard the strains of songs like "Legends Never Die" & "King of Sabotage" on Ferras' self titled EP, I knew that an artist had come onto the scene that would not be going anywhere anytime soon. While this talented artist has come back strong with his latest track "Closer", his current, yet retro sound and ability to collaborate with people that perfectly accent his sound make me think we will see more and more of Ferras. We sat down to chat about his latest single "Closer", the trying summer for the LGBT community and what it's truly like for an out artist in today's music industry.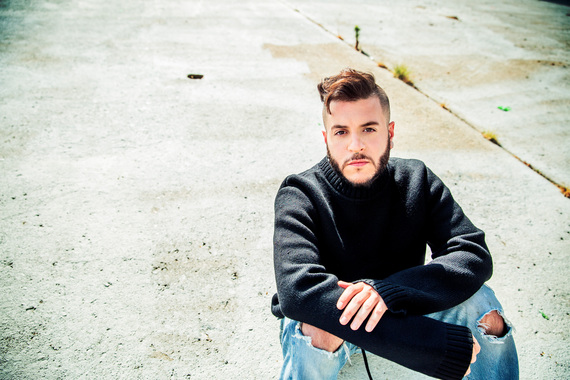 Ferras, summer is always a huge tour time for artists. What have you been keeping your summer busy with?
This summer has been hotter than ever in Los Angeles, so I've locked myself up in an air-conditioned studio for most of it. When I'm in album writing mode, I hibernate and don't play too many shows. I prefer to have the full spectrum of what I'm doing in place before I start to think about how I want to perform it.

Your new single "Closer" has such a 80's vibed, harder rock edge than your self titled EP, yet it's such a fantastic sound for you. What can you tell me about "Closer"?
"Closer" combines my love for 80's textures within the track with a modern approach to the songwriting on top of it. This was one of the first songs that I've written that I felt authentically represents my interest in doing a tempo track. It was a dance party in the studio when we were writing it and we literally wrote it, did the track and recorded the final vocals in like 10 hours one day.

Your self titled EP had such introspective tracks like "King Of Sabotage" and "Legends Never Die". Have you entered into a different phase of your career do you think?
I think at heart I've always been more interested in going to a deeper place in my writing. It's hard for me to fully connect unless it's something very personal, and it still is this way; I think I've started to figure out how to bridge the gap between writing something out of my personal diary and something that can also apply to a lot of people. It's just a different approach, but the essence of what I do is still the same.

You worked with such heavy hitters in terms of production on "Closer", like Stuart Crichton. What's it like getting such recognition from other people in the industry that you may have really wanted to work with before?
Getting recognition for your art is of course the most amazing thing in the world. However, this industry is filled with a lot of bullshit. People kiss your ass when you're up and doing things but when you are in a low moment, they don't take your calls. You find out very quickly who your real friends are. At the end of the day, you build people up in your mind that you respect and then you meet them and you realize they are just people. The true recognition comes in the form of all of the comments I receive from people (famous or not) saying how my music has helped them get through difficult things in their life, or someone will post a video of a song of mine playing as their wedding song. These types of things mean even more to me. That's not to say that I'm not stoked when someone I respect wants to work with me - of course, I lose my shit for like ten minutes, calm down and remember they are a humans just like me connecting with another human over this amazing thing we call music.

Its been a challenging year for the LGBT community. What responsibility do you think the entertainment industry and people like yourself may have to help move the conversation along in a more positive direction?
I think that anyone that has a platform to help make a difference, should. Sometimes I even think to myself that I'm not doing enough and beat myself up over it. Unfortunately, we are living in some really dark times. The fact is that there's always more work to be done but we can't let the negative overshadow the positive things that are also happening within the community.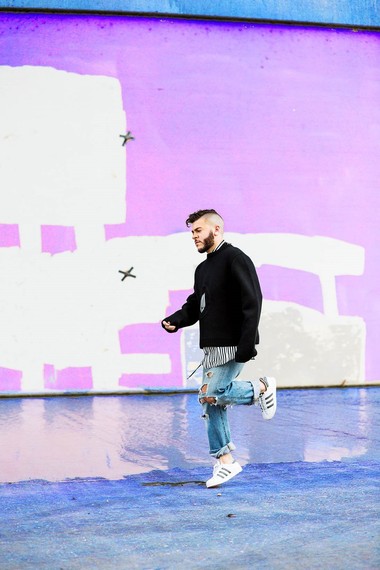 You are a trailblazer in your own right, as an out artist. Have you encountered any resistance as you weaved your way through the recording industry? Fans must adore how truly honest your music is, knowing it is coming from such a truthful place.
Have I ever!!!!!!! I haven't talked too much about it before, but I basically couldn't get arrested by a label (until I finally did) because of my "sexuality." I was told I could be a huge star, but I would need to hide my sexuality. I lost record deals when execs found out that I was in fact, not straight. I never understood why an artists' sexuality had anything to do with whether or not they were deemed valid to be assisted by a label in putting their art out. We are in such an exciting place in the music industry now that literally it doesn't matter AT all what someone's sexuality is. We have access to so many types of artists because of the internet - if something's dope, it's dope, and it will live and it will find an audience.

You worked with Katy Perry on a personal favorite track of mine, "Legends Never Die". Any plans to work with her on further music? In addition, who can we expect to hear you working with on your next album?
Katy is a dear friend of mine, personally and professionally. We have always respected and supported each other and even though we make different music, we speak the same language. I'm sure in our lifetime we will collaborate again but "Legends" was pretty recent, so I wouldn't think any time soon.
In terms of the rest of my material I've been working on, I've written with some amazing songwriter and producer friends of mine...Ali Tamposi (Kelly Clarkson, Justin Bieber), Sarah Hudson (Santigold, Iggy Azalea), Maegan Cottone (Britney Spears, Little Mix), Raja Kumari (Gwen Stefani), Trey Campbell (Kehlani, Dua Lipa), Scott "Babydaddy" Hoffman from the Scissor Sisters, Greg Wells (Adele, Katy Perry, Mika), etc., etc. The list goes on. I also write songs for other artists (if I'm not working on my project any given day, I'm in the studio with another artist working on their project), so I get the opportunity to meet a lot of great people that I steal to work on my stuff.

What's next for Ferras?
I'm off to NYC for the first half of September, and then I'm going to hide out in Berlin (my new favorite city) for the remainder of September for some work and a bit of a getaway. When you're as fortunate as I am to be able to have your passion be your work every day, it's easy to forget to take some time away and just chill.
www.ferrasmusic.com
www.facebook.com/ferras
twitter.com/ferras
instagram.com/ferras
Calling all HuffPost superfans!
Sign up for membership to become a founding member and help shape HuffPost's next chapter