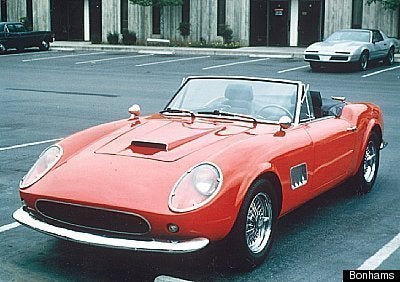 Two sliding glass doors are drawn apart. Matthew Broderick and Alan Ruck are standing outside a garage. Ruck, in his signature Red Wings jersey and khakis, deadpans: "The 1961 Ferrari 250 GT California."
This is, of course, an iconic scene from the classic Chicago romp "Ferris Bueller's Day Off." Alan Ruck (a University of Illinois alum, no less) plays the uptight Cameron; the Ferrari is his father's "love, it is his passion." The ultra-rare roadster would come to symbolize responsibility, parental control and ultimately the consummate act of teenage rebellion.
All this symbolism could be yours for only $45,000.
The only catch: you don't actually get a Ferrari. Because, as Cameron points out, "less than 100 were made," the film-makers couldn't exactly afford to splurge on one, only to send it careening into the woods at the end of the movie. So they made a replica.
It does actually drive, though. And you won't have to worry about taking the miles off in reverse.
According to Bonhams, the fine-art auction house, the car will go on sale on April 19th at the RAF museum in Hendon, England. Of course, it's an auction, so who knows how cheap you could actually get it, but the auctioneers are estimating between £30,000 and £40,000, or between $45,000 and $60,000.
As you contemplate a spur-of-the-moment trip to England, take a trip down memory lane with a little "Bueller":
Calling all HuffPost superfans!
Sign up for membership to become a founding member and help shape HuffPost's next chapter