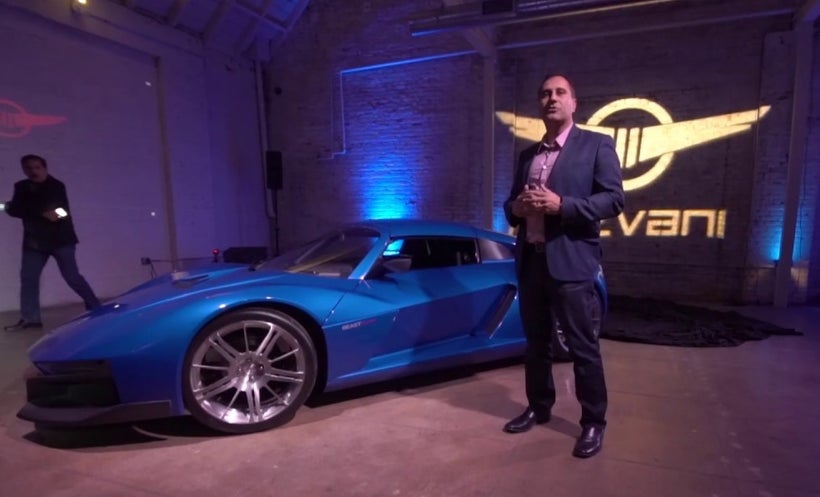 With the goal of harnessing the untapped potential of Iranian-Americans, and to build the capacity of the Iranian diaspora in effecting positive change in the U.S. and around the world, the Iranian Americans' Contributions Project (IACP) has launched a series of interviews that explore the personal and professional backgrounds of prominent Iranian-Americans who have made seminal contributions to their fields of endeavor. We examine lives and journeys that have led to significant achievements in the worlds of science, technology, finance, medicine, law, the arts and numerous other endeavors. Our latest interviewee is Ferris Rezvani.
As a young boy, founder Ferris Rezvani aspired to become a fighter pilot just like his father. In order to develop a thrill similar to flying an F-4 fighter jet, Mr. Rezvani set out to create an extreme sports car that gave drivers the opportunity to experience the same exhilaration and g-forces behind the wheel. This is represented in the Rezvani emblem, with wings representing his roots in aviation and steering wheel and racing stripes representing the brand's dedication to driving. Using knowledge obtained from the development efforts with supercar manufacturer Vencer Cars in Europe and the Vencer Sarthe, Mr. Rezvani assembled a strong team of designers, manufacturers, racing engineers, and high-performance engine experts. The team developed one of the most extreme and reasonably- priced cars on the market today. BEAST™ is the creation of Rezvani Motors, with design consultation by renowned and award-winning automotive designer Samir Sadikhov. Sadikhov is known for other designs such as the Ferrari Xezri and Aston Martin DBC concept.
Tell our readers where you grew up and walk us through your background. How did your family and surroundings influence you in your formative years?
I was born in Iran. my dad was an F4 Phantom fighter pilot and I grew up surrounded by air force fighter planes and culture. My family immigrated to the US in 1984 when I was 9 years old and we initially settled down in Madison, Wisconsin. I loved car design at a very young age. We then moved to California in 1987 so my father could start businesses. I wanted to be a fighter pilot like my father, but due to various health limitations I was unable to. I was drawn to design, especially that of fighter aircraft and cars. Growing up, all of my books were about military aircraft, tanks, and cars. I graduated college and went into Software, but became bored of it very quickly. I then decided to start a car company and create the same high speed thrill of flying on the ground.
What has been your personal key to success? What were the biggest inspirations for your career?
I am fearless when it comes to doing something--I work very hard and always find a way. My biggest inspirations have been successful people who have not given up, such as Elon Musk, who I have a lot of respect for. I also believe in partnerships with other companies and brands, and consider bringing people together a talent of mine. I love a story of a small company who is willing to think outside the box and take on the big players.
How did you end up running a supercar company?
I followed my initial love for car design. I wanted to bring about beautiful and exotic designs to life that people could drive every day. We started with our first car BEAST, and frankly BEAST has taken control over me. Our designs became very popular and well-received. We received orders and continued to perfect our target market. I didn't plan on becoming an entrepreneur, I just fell into it when I started creating vehicles. I wanted to do this for a living, so I had to start marketing them for sale. Though I recognize they are necessary, finance and accounting are the most boring parts of my work, and I don't like spending time on them.
What does It take to start your own supercar company?
Automotive and aerospace are the two most capital-intensive industries on earth. Finding success in this area of the global market requires a careful approach to building. There are also worldwide regulations on road legal status and emissions compliance, and many other barriers to entry.
Did you have access to unlimited funds?
I started the company with $5,000 and now, three years later, we have our 3rd model. Though getting here required a lot of hard work, I believe that when you love something it doesn't feel like work. I work 7 days a week but it doesn't feel like work. We are competing with billion-dollar companies that have unlimited funds, so while we are the little guys, we are setting trends and doing what takes bigger companies millions of dollars to do. I am proud of what we've achieved with such little capital.
How many models has your company produced to this day?
We have sold 6 BEAST models, 4 Beast Alpha Models, and have 4 TANK cars on order currently. Beast is our sexy car but entertained a very limited audience because it lacked doors and was track-focused. Beast Alpha is a road-going car with a broader appeal. TANK is the new Hummer--it's designed to be that tough, rough, military style SUV.
What differentiates your company from others?
While there are many companies that perform engine upgrades or bumper kits, we focus on creating all-new unique cars that are out of the ordinary. We like to create new designs.
Could you tell us what makes Beast, Beast X, and Beast Alpha so special to your customers?
The cars are unique in their design and individuality, and provide a pure driving experience. Today's sports cars have become increasingly isolating in their feel. None of the exotics like Ferrari, Lamborghini, and McLaren provide manual transmissions anymore. Instead, they only provide automatics that further isolate the driving experience. Beast and Beast Alpha provide that race car experience on the road.
What would you say is the most challenging aspect of your job?
Manufacturing complex machines on a small scale and in low volume is the most difficult aspect. I am both the CEO and the janitor of my small company. I wear many hats from marketing, to finance, to strategy, to design, to manufacturing, to customer relationships. At times, it can be overwhelming juggling so many balls in the air simultaneously. We are a young company and I have my name on it. Having your name on a company forces you to ensure its success.
What does the Rezvani brand mean to you?
Rezvani represents a brand that is focused on design and uniqueness. My name is on it, therefore it's my reputation and I have to ensure it is successful.
Do you have any exciting plans for the future that you'd like to tell us about?
In the next few years we'll be focusing on perfecting our models, lowering manufacturing costs, and building models that are driven by passion and that large companies won't build. We will be coming out with a little brother of the TANK.
What does being an Iranian-American mean to you?
Being an immigrant posed many challenges growing up, but it's that experience of overcoming adversity that showed me that one can do anything. I like taking the best of all cultures around the world.
REAL LIFE. REAL NEWS. REAL VOICES.
Help us tell more of the stories that matter from voices that too often remain unheard.
This post was published on the now-closed HuffPost Contributor platform. Contributors control their own work and posted freely to our site. If you need to flag this entry as abusive,
send us an email
.