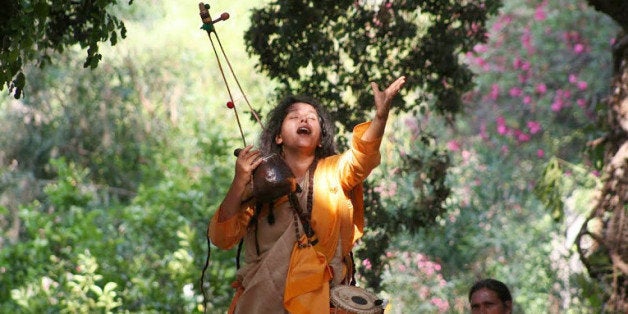 A blind man of truly awesome height and girth moves towards the stage – led with tenderness by a respectful acolyte. Said Hafid, the master singer from Egypt, eases his bulk onto a chair, grasps a microphone and launches into a hymn of praise to the Almighty with a level of emotional intensity that causes tears to flow from many eyes.

Hafid performed at the Fes Festival of World Sacred Music in 2005. He is one of hundreds of spiritually inspired artists who have contributed to the festival's worldwide reputation for excellence during the 20 years of its existence.

People from five continents make pilgrimage to Fes –smart European bourgeoisie, young Antipodean backpackers, American intellectuals, black African families, elegant oriental ladies and Moroccans who have probably saved up their dirhams to buy some musical ecstasy. Some become ardent aficionados, returning year after year.

All who heard Hafid and, to quote a few more examples, the UK's Tallis Scholars, Cantus Koln from Germany or Lebanon's Abeer Nehme -- are transported out of their everyday anxieties into a state of transcendent delight. This, in essence, is what the Fes Festival aims to achieve.

The first edition of the Sacred Music Festival took place in 1994 – the brainchild of a Fassi (native of Fes) Sufi intellectual called Faouzi Skali. Sufism is an esoteric, pluralist tradition, rooted in Islam and practiced across Asia from Indonesia to Turkey and throughout north and west Africa. It is also established in Europe and the Americas. It is known as the Way of the Heart and its most famous exponent is the 12th century sage and poet Jallaludin Rumi.

Faouzi Skali was appalled by the First Gulf War. With considerable prescience he understood the implications of it and, he says, "I felt I had to do something to focus on spiritual and humanitarian values."

There was an emblematic opening performance that featured a Palestinian singer and a Jewish guitarist. As we now know , Skali's foresight turned out to be tragically accurate, with a sizable segment of the Muslim world and many western democracies polarized into bitter opposition. Skali's initiative did not stop this happening, but the festival he founded occupies a firm position on the moral high ground. Skali symbolizes Fes as a cup; "In physical terms because the city sits in a bowl, surrounded by protective hills. In Sufi terms, because a cup represents the heart – a vessel where spiritual love can be nurtured and distilled".

The 2014 20th anniversary festival runs from 13 to 21 June. This year's theme is The Conference of the Birds – a profound Sufi story by the 13th century sage Farid Ud-Din Attar. It showcases a specially commissioned opening spectacle inspired by this theme, together with a palette of world music performances including Youssou N' Dour, Rokia Traore, Johnny Clegg, the Celtic ensemble Altan, Bardic Divas, and the Blues maestro Buddy Guy. The festival also includes the Forum "Giving Soul to Globalization", free concerts for the people of Fes and Sufi Nights that go on into the small hours.
Introduction and captions by Mary Finnigan. Photos by Lynn Evans Davidson and Omar Chennafi, with research by Helen Ranger, Lynn Evans Davidson, Eziza Sid'Ahmed.
Calling all HuffPost superfans!
Sign up for membership to become a founding member and help shape HuffPost's next chapter
BEFORE YOU GO
PHOTO GALLERY
Sacred Music Traditions of the World