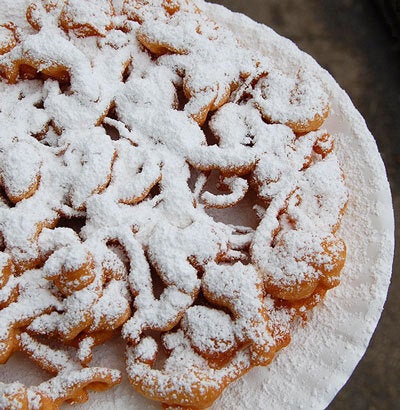 Every weekend, mostly during the summer months, somewhere in America there will be a festival of some sort or other. From the major state fairs like the one in Iowa, with its enormous cow sculpted from butter, to small town gatherings like those along the route of Florida's Yulee Railroad Days, these fun fests all have one thing in common: terrific food. Sure, the tractor-pulling, hog-calling, and quilting competitions draw crowds, but let's face it--what we really crave are the deep-fried Twinkies, corn dogs, and other midway fare. It's an indulgence that everyone from 9 to 90 seems to love.
At many of those outdoor extravaganzas you'll find chili eat-offs and chili cook-offs, and you're sure to encounter plenty of proudly maintained regional differences. In Texas, for example, the meat in a competition-worthy chili would be beef and only beef, and the dish is unlikely to include beans, whereas an "eatin'" chili might be made with anything from pork to chicken. Chili has become such a big deal that many competitors hew to the International Chili Society standards and vie to become world-champion chili makers.
Pie awards are also taken very seriously. (After all, the winner of the Crisco 2010 Championship Pie Competition took home $5,000 along with bragging rites.) No county fair would be complete without a table laden with freshly baked pies, all contestants for the blue ribbon. And let's not forget BBQ. At least 11 chapters of the National Barbecue Association hold competitions throughout the year, hosting pit masters from all over the world who turn out their best 'cue.
Today's fairs are a nostalgic throwback to the livestock shows, Ferris wheels, and family fun of another era. And to top off the pleasure, sweet, gooey, salty, deep-fried anything-on-a-stick is the snack of choice. Just thinking about the food makes your arteries harden, but that doesn't seem to stop us from coming back for more.
Click here for SAVEUR's Top 20 Festival Food Recipes to make at home.