Since taking office in 2004, Steve Levy, the highest-ranking official in Suffolk County, NY, has faced a broad range of criticism for ignoring a pattern of violent crime against Latino immigrants.
From local groups like the Long Island Immigrant Alliance to the editorial pages of the New York Times, critics have warned Levy that speeches and policies targeting immigrants can fuel the fire of anti-immigrant hate, but he brushed away that advice as the ramblings of "the one percent lunatic fringe."
He'll have a harder time ignoring the latest critic of his record on hate crimes.
In January, Levy and his longtime hate crimes commander embarked in a war-of-words, and the resulting feud -- which played out in the press -- serves as an indictment of the way Suffolk has handled such crimes.
For context, we need to look back to November 2008, when a group of Long Island teens attacked and killed Ecuadorian immigrant Marcelo Lucero as part of a destructive pastime that they called "beaner hopping" - slang the teens used for tracking down and assaulting Latinos.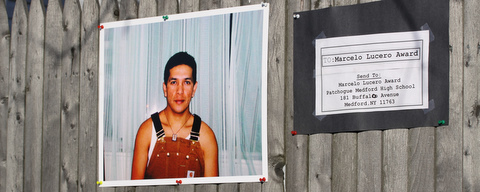 The brutal hate-crime killing brought national attention to anti-immigrant sentiment in Suffolk County, the eastern half of Long Island, and 10 months later, an on-the-ground investigation into violence against Latino immigrants in the county found pervasive and troubling trends.
The report, researched by the national hate-watch group Southern Poverty Law Center, told the stories of Latino immigrants beaten with baseball bats, shot with BB guns, and casually subjected to insults and slurs. Perhaps worse yet, it found that instead of working to combat hatred against immigrants, many politicians and members of law enforcement employed words and policies that only fueled the fire.
Of those public officials, the report blamed one above the rest: Suffolk County Executive Steve Levy, whom it dubbed the "enabler-in-chief." Unsurprisingly, Levy dismissed the report, instead issuing a press release that enumerated the perceived flaws of the research.
But not everyone thought the violence against immigrants was an aberration.
A month later, the Civil Rights Division of the U.S. Department of Justice launched an investigation into discriminatory policing against Hispanics in Suffolk, which included whether the county had appropriately handled hate crimes.
"I welcome an opportunity to sit down with the Justice Department and tell them what we do to handle hate crimes and to dispel the rumors and misinformation that's out there," Levy told Newsday at the time. "We have very, very comprehensive policies in place and they were in place well before the Lucero murder."
Suddenly, however, the Suffolk County Police Department began issuing press releases about changes in Spanish-language services and the expansion of cultural sensitivity trainings. On the next police officer's exam, the department announced, it would offer an option for candidates to take a Spanish proficiency test. Police even arranged a get-to-know-you volleyball game with Latino day laborers.
Then in January, the department made one other change: It supplanted the longtime commander of its hate crimes unit, Det. Sgt. Robert Reecks, with a higher ranking officer.
That's when Reecks, who had held the job for 13 years, took his gripes to the media.
In a bombshell interview with Newsday, the former commander alleged that after Levy took office in 2004, his administration reclassified what constituted a hate crime:
"They came in and they started to shut it down... all of a sudden it was, no, you are not doing that, no, that is not a hate crime," he said.
According to Reecks, all press releases from the hate crimes unit were eventually routed to the county executive's office, where they were stripped of language related to hate crimes. The former commander said that limiting communications with the public directly inhibited the work of his unit:
"It's how we get leads," he said, "how we get the word out, how we find other victims and how we let everyone know we've solved a case, which is important so people know this is serious."
Levy didn't sit back quietly. Once the allegations reached the public, the county executive issued a sprawling, 1,400-word press release, questioning Reecks' knowledge of the New York State hate crimes statute and implying that the former hate crimes commander wasn't intelligent enough to command the unit:
The elevation of a detective lieutenant to work with Reecks and lead the hate crimes unit was designed solely to further strengthen the team. (Note: The Nassau County police department's hate crimes commander is also a detective lieutenant, who was promoted to the post last year.) The Newsday opinion column failed to mention that Reecks was miffed that he was not assigned to the new position and had not scored high enough on the lieutenant's exam to be considered for that rank.
Considering the pressure of the Justice Department investigation, it's not too shocking to see Suffolk officials trying to pass the blame. The investigation at this point is civil, not criminal, which means that, at present, neither Levy nor Reecks will face prison time for their actions related to hate crimes.
But clearly both parties are concerned enough to publicly denounce the other, even if those denunciations amount to a de facto admission that Suffolk's hate crimes unit has been dysfunctional at best, and chaotic at worst.
On March 14, my organization, Long Island Wins, joined the Southern Poverty Law Center, the Center for America Progress, and a coalition of Long Island immigration advocates at a meeting with attorneys from the Justice Department, where the coalition called for the department to closely examine the discord between Levy and Reecks.
The message was simple. If Levy's right, then his hate crimes commander was incompetent. If Reecks is right, then Levy systematically stifled the police department's ability to prevent and respond to such crimes. If they're both telling some degree of truth, than it's no surprise that the report by the Southern Poverty Law Center found that Latino immigrants in Suffolk live in a "climate of fear."
In any case, the feud between Levy and Reecks shows that the county's hate crimes policy couldn't have been working as well as they've both claimed in the past -- since they're both now alleging that the other wasn't doing his job.
For years, Levy and Reecks have rejected criticism of how Suffolk treats hate-motivated violence against Latino immigrants.
They'll have a harder time ignoring their own words.
Ted Hesson is the online editor of Long Island Wins, a public information campaign centered on immigration.
Related
Popular in the Community