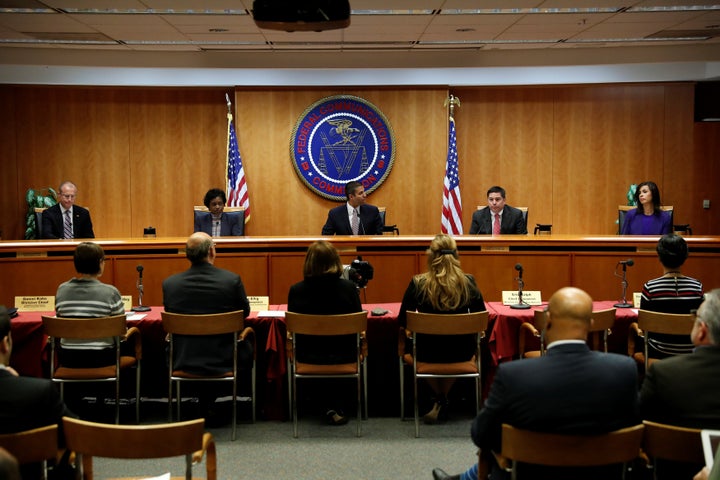 The idea of net neutrality remains far from universally-known, although it's become more familiar to the public in recent years. Two-thirds now say they've heard of the concept, up from just 46 percent in 2014. Just under a third say they've heard a lot about the FCC decision earlier this month.
Among those who've at least heard of the concept, just 20 percent support the decision, while the majority, 57 percent, are opposed. And opponents of the decision are considerably more spirited about the issue. Of those who know what net neutrality is, 45 percent strongly oppose the decision to repeal the rules, while just a tenth are strongly supportive.
Because the topic remains relatively arcane, it's also one where polling on it can vary considerably along with the framing and language used. But another question on the survey found similar results: Only 19 percent of all Americans say they support allowing internet service providers to strike deals in which some companies pay to have their online content load faster than other content, while 55 percent oppose the idea.
And in a recent Politico/Morning Consult poll, 21 percent of voters said the FCC had done the right thing in repealing net neutrality, while 45 percent believed it was in the wrong. That survey defined net neutrality as "a set of rules adopted by the Federal Communications Commission (FCC) which say Internet Service Providers (ISPs) such as Comcast, Time Warner, AT&T, and Verizon, cannot block, throttle or prioritize certain content on the Internet."
The FCC's vote split 3-2 along party lines, with Republicans in support and Democrats opposed. Although the survey questions made no mention of either political party's views on the issue, Democratic respondents stood largely unified in favor of net neutrality, with Republicans more ambivalent.
In the HuffPost/YouGov survey, 85 percent of Democrats and Democratic-leaning independents who have heard of net neutrality say they oppose the FCC's decision. Just 43 percent of Republicans and Republican leaners who've heard the term support it, with about a quarter opposed and the rest unsure.
Both groups oppose the idea of Internet fast lanes, although Democrats and Democratic leaners do so by a 61-point margin, and Republicans and Republican-leaners by a far smaller 18-point margin.
Use the widget below to further explore the results of the HuffPost/YouGov survey, using the menu at the top to select survey questions and the buttons at the bottom to filter the data by subgroups:
The HuffPost/YouGov poll consisted of 1,000 completed interviews conducted Dec. 14-18 among U.S. adults, using a sample selected from YouGov's opt-in online panel to match the demographics and other characteristics of the adult U.S. population.
HuffPost has teamed up with YouGov to conduct daily opinion polls. You can learn more about this project and take part in YouGov's nationally representative opinion polling. More details on the polls' methodology are available here.
Most surveys report a margin of error that represents some, but not all, potential survey errors. YouGov's reports include a model-based margin of error, which rests on a specific set of statistical assumptions about the selected sample rather than the standard methodology for random probability sampling. If these assumptions are wrong, the model-based margin of error may also be inaccurate. Click here for a more detailed explanation of the model-based margin of error.
Calling all HuffPost superfans!
Sign up for membership to become a founding member and help shape HuffPost's next chapter