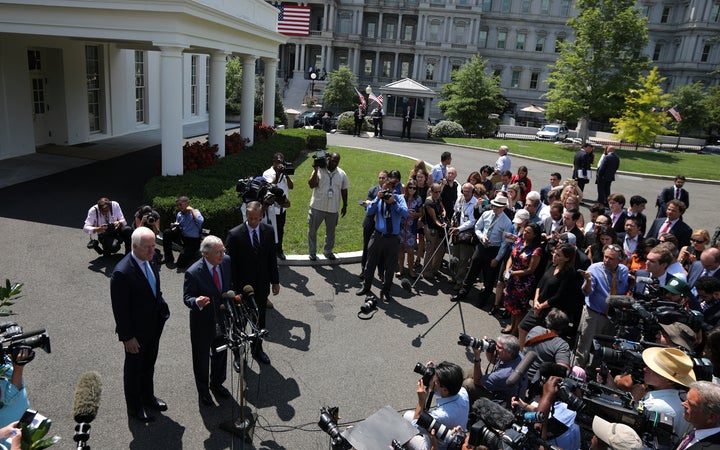 Just 26 percent say the GOP should keep trying to find votes and pass a bill, according to the poll, which was taken in the wake of the Senate's most recent attempt to push through legislation, while 50 percent would rather see the party move on to other issues. An additional 24 percent aren't sure.
The public is now evenly divided on the likelihood that President Donald Trump and Congress will succeed in repealing Obamacare, with 40 percent saying it's at least somewhat likely that they'll do so and 38 percent saying that it's not very or not at all likely. A third say they'd be disappointed if Obamacare wasn't repealed, while 46 percent say they wouldn't be disappointed.
Those who say they'd be disappointed to see Obamacare remain in place are split on who deserves the most blame for the failure of the Senate bill earlier this week, with 32 percent placing the lion's share of the responsibility on congressional Republicans, 32 percent on congressional Democrats, 13 percent on the authors of the bill and 7 percent on Trump.
Use the widget below to further explore the results of the HuffPost/YouGov survey, using the menu at the top to select survey questions and the buttons at the bottom to filter the data by subgroups:
Among those who say they'd be disappointed, a 57 percent majority say they place at least partial blame on the congressional Republicans who opposed the repeal bill, and 51 percent say that they view congressional Democrats as partially responsible. Just 29 percent say the authors of the bill should shoulder some responsibility, and just 12 percent say that they put any of the blame on Trump. (Another poll, from SurveyMonkey, found that Republicans primarily blamed Democratic senators.)
Americans currently say by a 12-point margin, 37 percent to 25 percent, that they trust the Democratic Party over the Republican Party to handle health care issues.
The HuffPost/YouGov poll consisted of 1,000 completed interviews conducted July 18 among U.S. adults, using a sample selected from YouGov's opt-in online panel to match the demographics and other characteristics of the adult U.S. population.
HuffPost has teamed up with YouGov to conduct daily opinion polls. You can learn more about this project and take part in YouGov's nationally representative opinion polling. More details on the polls' methodology are available here.
Most surveys report a margin of error that represents some, but not all, potential survey errors. YouGov's reports include a model-based margin of error, which rests on a specific set of statistical assumptions about the selected sample rather than the standard methodology for random probability sampling. If these assumptions are wrong, the model-based margin of error may also be inaccurate. Click here for a more detailed explanation of the model-based margin of error.
Popular in the Community