The American Health Care Act, which was deeply unpopular during its brief lifespan, is no more popular in its demise. Just 21 percent say they supported it, with a majority, 52 percent, saying they were opposed. The 6 percent who say they strongly favored the bill are outnumbered nearly 6 to 1 by those who strongly opposed it.
Americans say by a 7-percentage-point margin, 44 percent to 37 percent, that Republicans should move on to other issues rather than proposing another health care bill. Just under half think Donald Trump and Congress are still at least somewhat likely to repeal Obamacare, with 35 percent saying they'll be disappointed if it remains standing.
Trump voters were only lukewarmly positive about AHCA ― 45 percent say that they supported it and 31 percent that they opposed it.  
But they generally don't see its failure as a death knell for Republicans' prospects of fulfilling their promise to repeal Obamacare. Most, 57 percent, want to see congressional Republicans propose a new health care bill. More than three-quarters say they believe it's still at least somewhat likely that Obamacare will be repealed, with a similar percentage saying they'll be disappointed if it is not.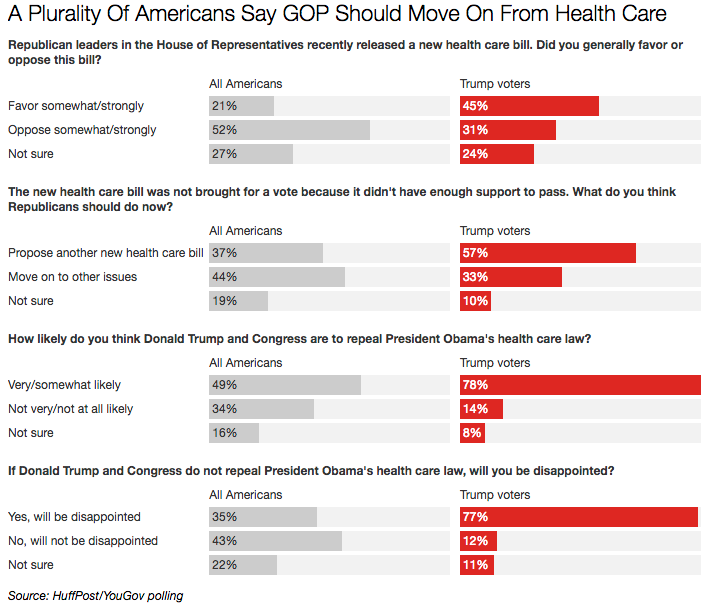 Asked who's most responsible for the bill's failure, 27 percent of Americans put the bulk of the blame on its authors, with 17 percent naming the congressional Republicans who opposed the bill, another 17 percent naming Trump and 14 percent citing congressional Democrats.
Just 4 percent of Trump voters, however, believe that Trump is most responsible for the bill's failure, and only 11 percent assign him even partial responsibility. Instead, they cast the blame nearly everywhere else.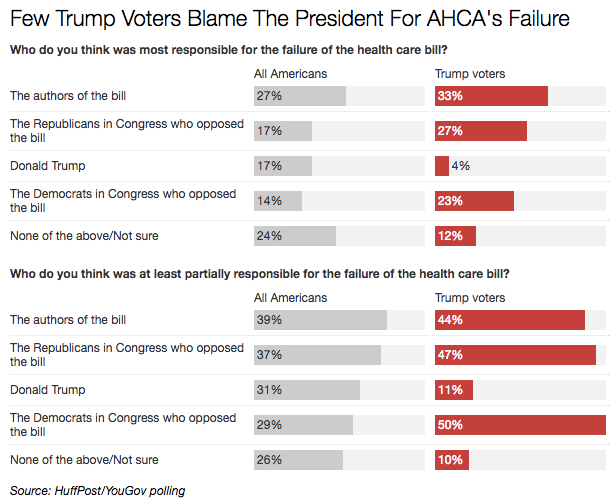 Meanwhile, Obamacare's popularity, which spiked as its repeal became more plausible, may since have ebbed somewhat, although it's too soon to tell whether the change represents a genuine shift or the normal volatility present in polling.
In the most recent HuffPost/YouGov poll, Americans are split close to evenly on Obamacare, with 41 percent in favor and 43 percent opposed. In the previous two surveys taken during the heat of the AHCA debate, they split 47/41 and then 44/43. HuffPost Pollster's aggregate of public polling puts support at an average 48 percent, with 43 percent opposed.
Use the widget below to further explore the results of HuffPost/YouGov's survey, using the menu at the top to select survey questions and the buttons at the bottom to filter the data by subgroups:
The HuffPost/YouGov poll consisted of 1,000 completed interviews conducted March 25 among U.S. adults using a sample selected from YouGov's opt-in online panel to match the demographics and other characteristics of the adult U.S. population.
The Huffington Post has teamed up with YouGov to conduct daily opinion polls. You can learn more about this project and take part in YouGov's nationally representative opinion polling. Data from all HuffPost/YouGov polls can be found here. More details on the polls' methodology are available here.
Most surveys report a margin of error that represents some, but not all, potential survey errors. YouGov's reports include a model-based margin of error, which rests on a specific set of statistical assumptions about the selected sample rather than the standard methodology for random probability sampling. If these assumptions are wrong, the model-based margin of error may also be inaccurate. Click here for a more detailed explanation of the model-based margin of error.
REAL LIFE. REAL NEWS. REAL VOICES.
Help us tell more of the stories that matter from voices that too often remain unheard.