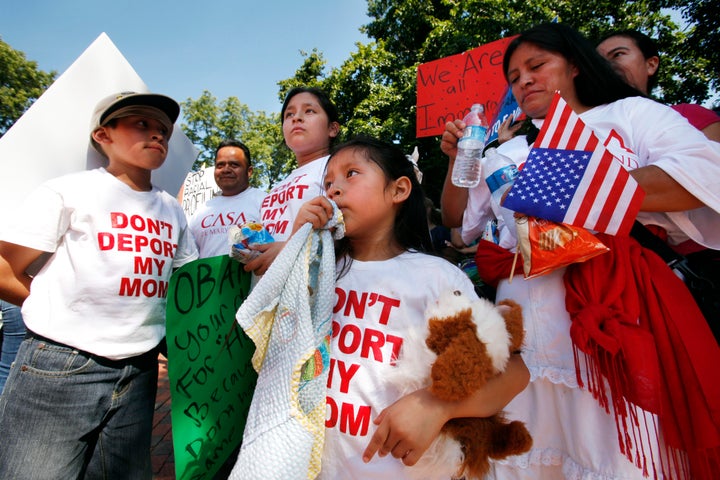 WASHINGTON -- Aaron, a 32-year-old from Fort Wayne, Ind., is taking care of his four-year-old daughter alone while his wife, April, is in Mexico to sort out her immigration status. Although she was not deported, April is not allowed back in the country unless Aaron can prove "extreme hardship" from having her away -- and that does not not include the hardship to their four-year-old daughter.
"She doesn't understand why her mom is gone," said Aaron, who asked his last name be omitted to prevent retribution. "Seeing other people with mothers makes her depressed."
Based on a 1996 law, children who are U.S. citizens cannot petition for their parents to stay in the United States based on the extreme hardship they would endure by being apart from their parents or native country. This means that many parents are given a difficult choice: remove a child from his or her home, or leave their child with another parent, friend or family member and live apart.
Even in the rare cases when a child's "extreme hardship" is taken into account, simply being separated from a parent is not enough to allow the parent to stay in the United States.
"If you compare it with your average child and what they have to go through, I do think that it is extreme and unusual hardship," Michelle Brané, director of the Detention and Asylum Program at Women's Refugee Commission, told HuffPost. "Having to be left behind, having your parent deported, maybe never seeing them again, not having their care and affection -- all of that is traumatic for a child."
Aaron works a full-time job at a manufacturing facility and attends school at night, working toward a Bachelor's in organizational leadership. He spends $300 more than he makes per month and is eating through his savings. When he is with his four-year-old daughter, she is often depressed and confused, yelling at him and questioning why her mother is so far away.
April could be granted a waiver to return to the United States at any time, but until then the family is in limbo, unsure of when they will be permanently reunited.
"We're not deported or anything, but the immigration process is so broken that people like us who are trying to do the legal way to get through this, who are coming forward and saying what we've done and trying to right our ship, have so few options," he said.
Still, there are glimmers of hope from other immigrant families. Earlier this week, 10-year-old Brian Wasilewski returned to his native United States after living in Poland for four years because of his mother's deportation.
It was a happy ending to a sad story: Janina Wasilewski, Brian's mother, was deported in 2007 to Poland and took Brian with her, separating them from Tony, her husband and Brian's father.
The Wasilewski family is now back together and living in Chicago. Tony and Janina each emigrated legally, with Tony gaining a green card, and then citizenship. Janina applied for asylum based on her anti-Soviet action within Poland, but was denied. She did not realize she was supposed to leave the country at that time, and was then deported in 2007.
The family decided that Brian should go with her while Tony Wasilewski remained in the United States to run their small cleaning company, earn his citizenship and continue to push for immigration reform that would allow his wife and son to return home. The family was featured in a documentary, Tony and Janina's American Wedding, and became an example of the need for immigration reform highlighted by Rep. Luis Gutierrez (D-Ill.).
The Wasilewskis were reunited after Tony was able to prove his own "extreme hardship." But Gutierrez noted in a statement that not all families can gain the media exposure necessary to beat the system.
"Not everybody has a spouse as tenacious as Tony -- who got advocacy groups, the media and several members of Congress to come to the aid of his family, not to mention a feature-length film about their story," he said. "But a lot of people face deportation or the ten years in exile and our bureaucracy is usually opaque, unbending and impassible. It should not come to this."
Tony Wasilewski said he was sad to have missed some of the formative years of his son's life based on immigration laws he called "stupid" and "unfair."
"He would say he missed me a lot," he said. "Boys at that age, six or seven years old, they need a father. Four years go by and I missed watching him grow up. It's the best age -- between six and ten. Now he's practically a teenager."
Support HuffPost
Every Voice Matters
Popular in the Community