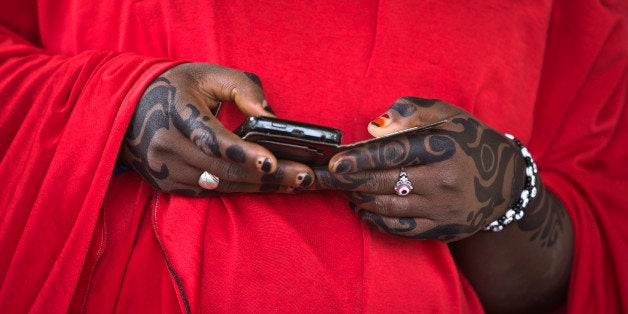 While the U.K. government has made grand statements about ending female genital mutilation, advocates are concerned about a lack of action, so they've taken matters into their own smartphone-using hands.
Researchers at the University of Coventry unveiled "Petals" on Tuesday, an app that aims to inform at-risk girls about FGM and about how they can seek help if they need it. The developers intentionally coincided the app's release with summer break, a period when parents are more inclined to get their girls cut.
So, with support from Women's Minister Nicky Morgan and donations totaling 8,000 British pounds (about $12,000), Petals' developers devised a simple app that they hope will help difficult-to-reach girls, according to the Telegraph.
The app, which doesn't feature any gruesome images, offers basic facts about FGM and contacts for nonprofits, and law enforcement officials that cater to this specific demographic.
Such basic information is often crucial for these girls who often have no idea what FGM entails up until the moment they are put under the knife, the news outlet noted.
For example, the app will disappear if a user shakes her smartphone, according to the Telegraph. It has no pop-up windows, so it can be shut down quickly and the site explains how to use it in "private" mode.
Getting the app into girls' hands is of crucial importance at this point in the year when parents often transport their daughters to their native countries where the practice is still legal. Families are more likely to cut their girls during the summer when they have time off and their daughters can "heal" before school starts again.
Though advocates are concerned about the perceived inaction on the part of the government to end the issue, Cameron continues to press forward with his expanding initiatives.
The prime minister also recently announced new legislation that would penalize those who take girls abroad to get cut. Those suspected of transporting girls will be asked to surrender their passports or travel documents, and people who actually go through with it could face up to five years in prison, Reuters reported.
To take action on pressing health issues, check out the Global Citizen's widget below.
Calling all HuffPost superfans!
Sign up for membership to become a founding member and help shape HuffPost's next chapter
BEFORE YOU GO