Art fairs, with exceptions like Documenta, have come to be judged in terms of money: What mega-sales were murmured down the aisles, to which high-profile collector or museum, and what might it all say about the state of the economy. At FIAC 2012 (the French acronym for the International Contemporary Art Fair), following in the wake of the more frenetic London Frieze, the talk was of a politician's proposal to tax art sales in France, which was mercifully killed. But many gallerists beamed about upbeat, recession-defiant sales. The only reason I care about galleries moving inventory at art fairs is that it probably means they will return next year and bring more stuff to look at. There are few cerebral pleasures as protracted and eclectic as strolling around the Grand Palais, with its glorious vaulted glass-and-steel canopy, looking at world-class art. For art fairs, architecture is destiny, and no big-top tent can match this Belle Epoque secular cathedral for display grandeur and meditative light, that increasingly lures the art world's heavy hitters.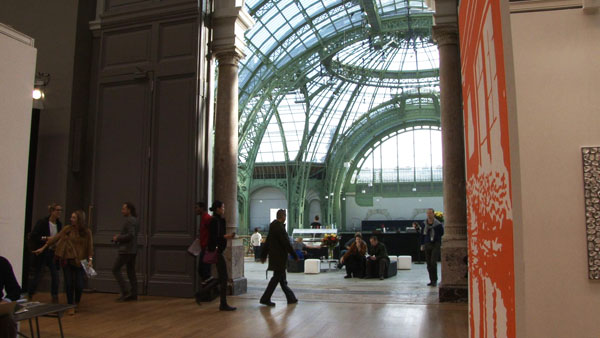 Thus, FIAC has reclaimed its stellar position in the art world. This year, the fair attracted over 70,000 people, nearly 4% more than last year's total. As its global stature steadily rises under the shrewd command of director Jennifer Flay, it has become more selective as to which galleries it invites (I know at least one Los Angeles gallery that was not asked back this year), which ups the ante on the artworks' caliber and pedigree. The fair continues to spread to other parts of the city, from the Palais and its environs (the Esplanade at Les Invalides featured a colossal Stonehenge-motif inflatable open to bouncers of all ages) to the Tuileries and the Jardin des Plantes, inviting a scavenger hunt that showed off Paris' ample charms.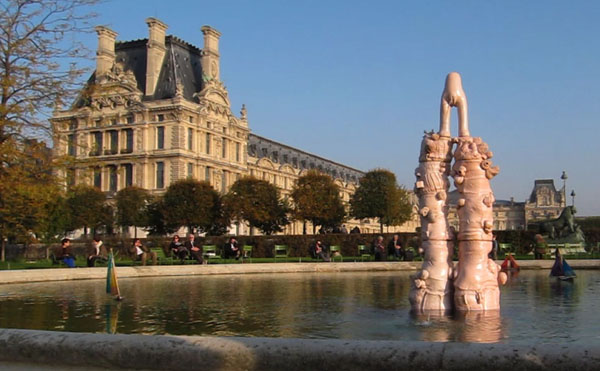 Fontaine (2012), by Elsa Sahal. Courtesy Galerie Claudine Papillon.
An annual ritual of FIAC is its Prix Marcel Duchamp, awarded to young emerging artists along the lines of, but not yet as prestigiously as, the Tate's Turner Prize. The winners are given solo exhibitions at the Centre Pompidou in the following year. This year, the duo of Daniel Dewar et Grégory Gicquel were honored. The winning object, bearing the artists' trademark sense of humor and original use of materials, was a stele sculpted out of volcanic rock for a collector's family tomb in the Montparnasse cemetery.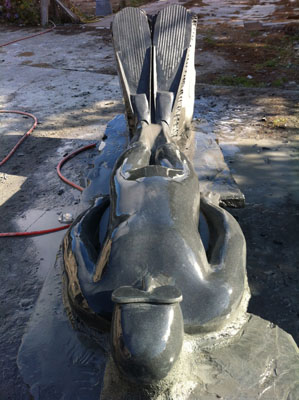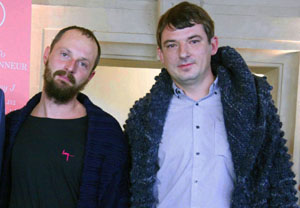 Gisant (2012), by Daniel Dewar and Grégory Gicquel. Courtesy Galerie Loevenbruck, Paris
As expansively international as the roster is (25 countries were represented this year, including a greater number of Asian galleries), the majority, naturally, were based in Paris. So rather than attempt, as I did last year, to cull a geographic cross-section, I picked a dozen Paris gallerists and asked them to select a single work (though sometimes they slyly included a deuce) and discuss it for under two minutes. For those with the attention span to listen to art dealers explain the art they are purveying, these videos may offer a mini-tour of FIAC's home team. I think of these as portraits as much as art captions -- allowing us to meet a dozen art vendors whose passion for their wares transcends business as usual. Here also is a three-minute montage that will give those who weren't there a brisk reckoning of what FIAC brought on this year.
Michael Kurcfeld is a documentary producer and journalist based in Los Angeles and Paris (http://www.stonehengemedia.com).
REAL LIFE. REAL NEWS. REAL VOICES.
Help us tell more of the stories that matter from voices that too often remain unheard.