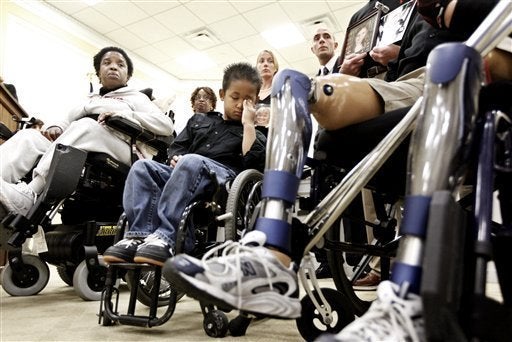 Jeremy Warriner lost his legs four years ago after his Jeep Wrangler slammed into a utility pole following a collision with a teenage driver. Warriner was pinned inside the wreckage as a fire, fueled by fluid that leaked from the car's cheap plastic brake fluid container, burned his legs. He awoke from a medically-induced coma five weeks later, a double amputee.
Now Warriner believes he's been burned again -- this time by the Obama administration.
His lawsuit against Chrysler, maker of the Jeep Wranger, has been stayed by Chrysler's government-guided bankruptcy.
Especially irksome to Warriner, though, is the revelation that Fiat, which plans to buy the new Chrysler Group formed from the old company's best-performing assets, had been willing to assume Chrysler's product liability claims before the Obama administration steered the company into bankruptcy. (The sale to Fiat was delayed Monday by the Supreme Court.)
"I voted for President Obama and I'm proud to have him as our president, but this isn't the change I believed in," said Warriner in an interview with the Huffington Post. "I have to believe our president is not fully aware of this."
Chrysler chairman and CEO Bob Nardelli said in court that Fiat was willing to do the Chrysler deal regardless of whether Chrysler was in bankruptcy, and that the plan to ditch product liability claims was hatched during negotiations between the Treasury Department and Fiat. Nardelli said tort claimants -- folks like Warriner -- would probably get nothing.
"It really is outrageous," said Clarence Ditlow, director of the Center for Auto Safety, in an interview with the Huffington Post.
"It appears that Fiat and Chrysler on day one reached an agreement for Fiat to buy Chrysler and to assume the tort liabilities," said Ditlow. "Then what happened is Fiat went and met with Treasury and in those meetings with Treasury the auto task force came up with a strategy that we're not going to leave any assets behind to pay claims of any kind."
Eric Snyder, an attorney representing Chrysler dealers, questioned Nardelli on May 28 during a bankruptcy proceeding, according to a transcript:
"And was there an understanding in those discussions with Treasury and Fiat that the only way that you could pick and choose which liabilities would be going with New Chrysler and which ones would be staying in Old Chrysler would be through a bankruptcy?"
"Yeah, without bankruptcy, my understanding is the liabilities would have transferred," Nardelli said.
In a statement, Treasury spokeswoman Meg Reilly denied that the department made the decision to leave the claims with the old company.
"Treasury was not involved in this decision, which the company made consistent with conventional bankruptcy practice," Reilly wrote. "While unfortunate, the outcome would have been far worse had the government not intervened in the restructuring and Chrysler had liquidated."
The Ad Hoc Committee of Consumer Victims of General Motors represents 300 GM plaintiffs and 160 Chrysler plaintiffs. The Center for Justice and Democracy said there are an estimated 500 to 1,000 serious injuries or deaths every year due to cars that are designed or built with defects.
Doug Bernstein, head of Plunkett Cooney's Banking, Bankruptcy and Creditors' Rights practice group told the Huffington Post that Ditlow's reading of the transcript seemed correct. But he said that the government is in a "no-win" position.
"Nothing is normal in the Chrysler and GM bankruptcies. You've got the government really steering the plan," said Bernstein. "My suspicion is that in trying to make this work, the government doesn't want Fiat saddled with liabilities that may upset their ability to survive."
That's not much of a comfort to Warriner, who said he's saddled with $1 million in medical bills and out of work. Further insult, he said, is that the auto firms using bankruptcy to avoid liability are benefiting from billions in taxpayer bailout money.
"The most insulting thing is that they're using my money to get rid of my lawsuit," he said.
REAL LIFE. REAL NEWS. REAL VOICES.
Help us tell more of the stories that matter from voices that too often remain unheard.