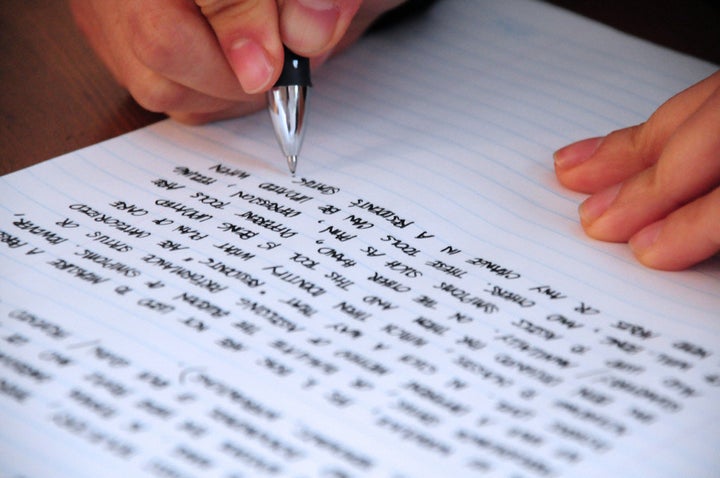 I remember the exact moment I knew I wanted to be a writer.
When I was 7-years-old, my mother -- who had always been a stay-at-home mom -- suddenly had free time while we were all in school. It was the mid-70s and she enrolled in tie-dye workshops, ceramics courses, and, yes, of course a macramé class. Most importantly, she took a correspondence course in writing. English was her second language, and she worked diligently to make sure her work was good, but also grammatically correct.
On this particular afternoon, my mom had received a $10-check for an essay she sold to American Dane Magazine about a common Danish word, hyggeligt, that defies translation.
As she held up the check, my father took a photo of her as we looked on. I swear rays of light were shooting out of her as if she were the sun. My 7-year-old self registered this in the simplest way: That's what happiness looks like. Happiness is being a writer. I want to be a writer.
I think about that moment often as I struggle to figure out whether, in a digital age, writing still matters. We know that independent bookstores are struggling and Borders, one of the largest book store chains, has gone bust. We hear too often that the book is no match for our multimedia world. We are told that the book is dead.
I guess I should say more specifically: I wonder whether writing fiction matters in a digital age. Truth is, between emails, text messages, Facebook status updates, and tweets, we are all writing quite a lot these days. We are often overwhelmed by words.
And yet, I believe, fiction writing is different. The best fiction writing doesn't overwhelm but envelopes. Fiction allows for a connection more substantial than the Facebook wall post and more long-lasting than the re-tweeted tweet. James Baldwin once said: "You read something which you thought only happened to you, and you discover it happened 100 years ago to Dostoyevsky. This is a very great liberation for the suffering, struggling person, who always thinks that he is alone. This is why art is important. Art would not be important if life were not important, and life is important."
Yes, we "connect" on-line but we feel connected when we read a story that mirrors our experience. Fiction offers us a reflective moment in a fast-paced world to empathize with others as well as learn about ourselves.
I recently visited a high school that had adopted my novel as a school-wide read. When I met the young woman, Olivia, who would introduce me, she was beaming and exclaimed: "Oh my god, you wrote my life!"
I didn't know how to respond. My novel is set in the 1980s, long before the internet age and a decade before Olivia was born!
Moments like that remind me of the importance of fiction in the digital age. Fiction just may be the original social network, one that connects us beyond time and between generations.
Calling all HuffPost superfans!
Sign up for membership to become a founding member and help shape HuffPost's next chapter