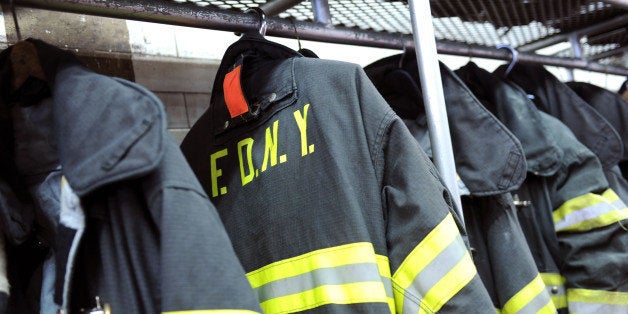 By Trevor Kapp, Trevor Bach and Aidan Gardiner SOUNDVIEW — A one-armed man and his wife tossed a pair of babies from a second-floor balcony into the waiting arms of neighbors before leaping to the ground as a fast-moving fire swept through their Bronx home Monday morning, witnesses and officials said.
Fidel Morales, who lost an arm and a leg in a childhood accident, was sleeping in his second-floor apartment at 1126 Taylor Ave. near Watson Avenue at 4:15 a.m. Monday when flames from a candle in the building's basement apartment quickly swept through the building, according to relatives and the FDNY.
Morales, who works for the NYC Department of Correction, woke up to the smell of smoke, and rushed to wake up his wife Diomares Morales, 42, who helped him rush their 1 1/2-year-old son, Avel Morales, onto the balcony, according to a coworker of Morales' who visited him in the hospital.
"I saw the family on the balcony crying. I was saying, 'Gimme, gimme, gimme. Let him go,'" said downstairs neighbor Wilgem Herasme, 34, who had just escaped with his wife, Niurka Grullon, 37, and 14-year-old daughters Ashley and Kairy and 13-year-old daughter Genesis.
Morales also rescued Diomares' niece Vanessa Perez, 27, and Perez's month-old daughter Hilary Perdomo, who live in the apartment, his coworker said.
Herasme, a grocery store owner, said he caught Morales' baby son and niece, before Morales leapt to safety as well.
"The man was hanging onto the balcony with one hand. He came down on top of me, and we both fell to the floor," said Herasme. "He was screaming, 'Help, help, help' the whole time.'"
Morales was injured in the fall, and was taken to Jacobi Hospital, where he was expected to stay overnight, a coworker said. A relative said his wife and son were expected to be released from the hospital Monday afternoon and stay in a hotel.
Herasme's wife and daughters were also being treated in hyperbaric oxygen chambers at the hospital, where they were expected to remain overnight, he said.
Franciane Valmont, 50, who lives next door to the fire building, witnessed the rescue.
"The neighbors caught the baby and passed it to me," she said. "Soon after, they dropped a second baby. They were both in their pajamas. But they weren't crying. The [man and woman] were screaming though."
Friends and relatives of the Morales family said they were struggling with the brush with disaster on Monday.
Diomares Morales' son Robert Santana, 20, said his mother was still struggling to breathe from the smoke inhalation. He added that she's still physically shaking from the escape, but was relieved that everyone survived.
"She said it's not easy to lose your house," said Santana.
Herasme's 19-year-old stepson, Meldrick Fernandez, who was in the basement when the flames erupted, was treated at Jacobi and released later that morning, his father said.
In all, 12 people were hurt in the fire, two critically, the FDNY said.
Additional reporting contributed by Ben Fractenberg
Calling all HuffPost superfans!
Sign up for membership to become a founding member and help shape HuffPost's next chapter