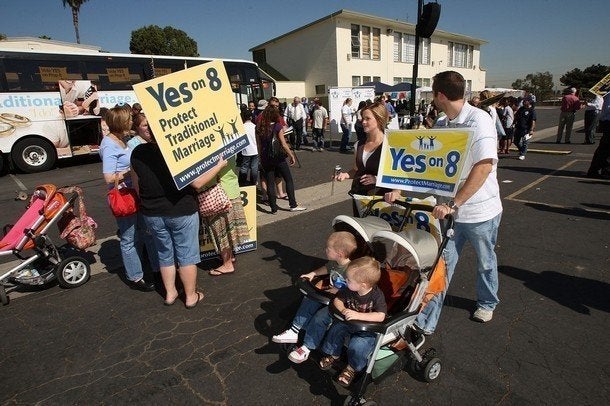 1. Is Prop. 8, which passed by a slim majority in November, an amendment to the constitution or is it a revision? Our friends at Lambda Legal, ACLU and other great legal organizations have laid out a clear case that taking away the rights of a minority by a majority in such a fundamental area as marriage is a revision of the essential nature of the constitution, not something that can be imposed by a majority on a minority. James Madison worried greatly about the tyranny of the majority in the Federalist papers, concerned that the American system not allow such.
2. Shall the 18,000 same sex marriages conducted between May and November of 2008 remain valid? The court ruled eloquently in May that same-sex marriage is legal. Marriages took place. Family unions were legally recognized. Then came Prop. 8. And no other than Ken Starr argues that those marriages shall be destroyed.
The court will decide both questions by 5 June 2009.
After Mr. Starr wrote his argument on 19 December, the Courage Campaign asked our members to send in photographs of themselves with signs that said, "Please don't divorce us" or "please don't divorce our friends/co-workers."
We were inundated with 1,500 outstanding photos of human souls that represent every minority under threat if this revision is allowed to stand. They were so touching that Paul Delehanty, aka kid oakland on Daily Kos, suggested that we set them to the music of Regina Spektor's hit song "Fidelity." With her permission and that of EMI and Warner Brothers, courtesy of producer/director Shaun Kadlec, is the new Fidelity. With over 800,000 views (Vimeo and YouTube) and 280,000 signers to our letter in twelve days, it has become a sort of pop culture phenomenon.
Sadly, one person it did not affect was Bill Clinton. Bill Clinton happily took a six figure fee to undermine a boycott of Doug Manchester's San Diego Hyatt on Sunday. Mr. Manchester gave $125,000 to the Yes on 8 Campaign, so the LGBT and progressive communities, led by Cleve Jones and our friends at UNITE HERE, have been boycotting the hotel since July. But not Bill Clinton. He spoke yesterday even as we protested outside, trying to present him with the signatures of 30,000 Courage members who, in only forty hours, signed to ask Mr. Clinton not to speak at Mr. Manchester's hotel. Irony of ironies that Bill Clinton would actually support Ken Starr by helping to put money in the pocket of Mr. Starr's funders. But then again, Bill Clinton always had a different view of Fidelity than the rest of us.

Calling all HuffPost superfans!
Sign up for membership to become a founding member and help shape HuffPost's next chapter