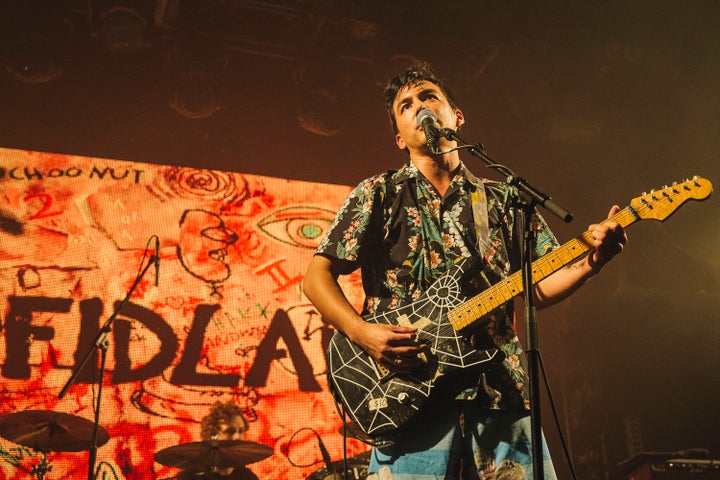 Given that some of FIDLAR's best-known songs have titles like "Cheap Bear" and "Cocaine," it's hard to blame fans of the Los Angeles band, itself an acronym for "Fuck It Dog, Life's a Risk," for associating the skate punk outfit with a live-fast-die-young party-hardy ethos.
But it wasn't until very recently that most FIDLAR fans realized just how serious the partying had gotten, particularly for frontman Zac Carper.
As Carper and his bandmates -- Brandon Schwartzel, Elvis Kuehn and Max Kuehn -- began doing interviews promoting the Sept. 4 release of their second full-length album, "Too," that reality surfaced as songs with titles like "Overdose" and "Sober" required some explanation. Carper has not minced words about the turmoil that almost killed the band. And him.
In conversations with music journalists from Vice, Spin and other outlets, Carper spoke in detail about how his struggles with addiction to a wide gamut of drugs -- including cocaine, meth and heroin -- and his efforts to, finally, sober up served as the source material for many of the songs.
Carper's newfound sobriety -- he's been clean for over a year following six stints at rehab and a pep talk from Green Day's Billie Joe Armstrong, a fellow California punk who's dealt with addiction -- may have come as a surprise to some fans accustomed to the beer-slamming, YOLO-friendly party jams that dominated their successful, self-titled debut record, released in 2013. But in conversation with The Huffington Post backstage following the band's high-energy set at Riot Fest in Chicago, Carper said he couldn't imagine it any other way.
"I was a fucking junkie and a meth head for like the whole [previous] tour cycle and after doing this record I was like, I just gotta be honest," Carper explained. "I've felt so much better saying in the press, you know what, I don't get fucked up anymore."
Some fans have reached out to him to share that they've dealt with similar substance abuse problems, but there's also been some backlash, of course. Others seem to liken the news of Carper's struggles to something of a buzzkill -- Carper's sister told him that one person on the band's Facebook page called him a "fucking narc," he laughed.
"I'm not going to let that fuck with me. This is the only fucking thing I know how to do and I love doing it," Carper said of the negative comments. "It's the classic, especially in punk music: 'Oh, God, he's sober, album's gonna suck, man.' Look at old punk rock dudes. They're either dead or sober. Really, there's no fucking in between."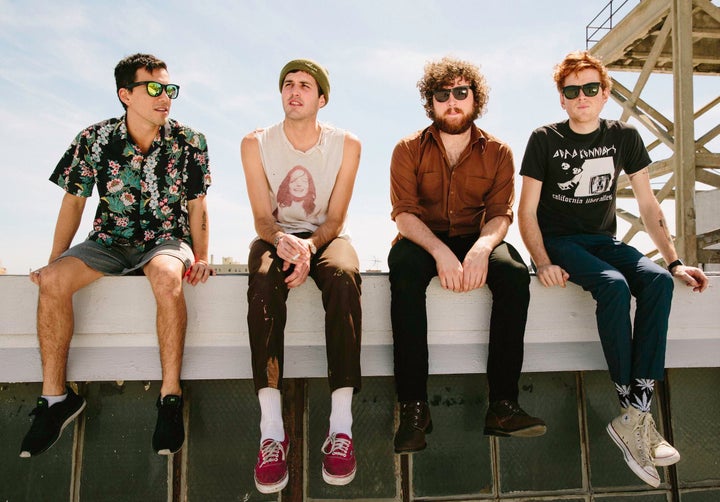 Fans and music writers alike who have latched onto the band's party-centric tone have been missing the point all along, Carper argues. Their coverage in the press has been a source of frustration for him.
"The way that the first record turned out, the press really pushed that we were the skater-party-punk people but that wasn't the case with us. … I never preached getting fucked up," Carper said. "All the songs were just shit about shit I was going through. A lot of people make assumptions and I'm half to blame here -- I wrote songs called 'Cocaine' and 'Wake Bake Skate' and 'Cheap Beer' -- but I just wish people would just take the songs and interpret it for themselves and not think it's, like, who I am really."
Compared to the mostly loud, relentless jams on FIDLAR's first album, many of the songs on "Too" take a slower and more nuanced approach.
The result is a sort of aural hangover. A handful of songs -- like "Punks" and "West Coast," which originally appeared on a 2012 EP the band released -- wouldn't have felt out of place on that first album, while its darker, more confessional moments -- like the mid-album trio of "Sober," "Overdose" and "Leave Me Alone" -- are new territory for the band. They make for some of the album's finest, most unexpected moments.
The self-deprecating lyrics on these songs dive into Carper's experiences with overdosing on heroin a reported three times in one month, his intervention -- when a group of friends and family members gathered and told him, "Dude, you're fucking dying" -- and his mixed feeling about sobriety.
The band worked with a producer, the Nashville-based Jay Joyce, for the first time on this album and Carper credits Joyce with how those songs turned out. "Sober," he added, wouldn't have been on the record were it not for Joyce's influence. The song deals with Carper's reaction to his girlfriend at the time breaking up with him over the phone while he was in rehab.
Though they cover darker subject matter than FIDLAR's older work, songs like the regret-laden "Stupid Decisions" fit in seamlessly with the older, lighter material in the band's Riot Fest set. The band's fans crowd-surfed and pumped their fists in the air.
The contradiction between playing songs including the lyrics "I'm spending all my cash on cheap cocaine / And I've been wasted, every day" and the newer songs in live sets today is not lost on Carper. Channeling the emotions behind songs written about the darkest moments of his life serves a function "like therapy" for him, he said.
It's not all gravy, of course. Life on the road comes with a minefield of triggers -- he admits he misses "getting fucked up" -- so he deals with lingering temptations by listening to a lot of music and helping produce records for other bands while on the road. He's already produced work for bands including the Frights and Swimmers and is also working on a new album for the Australian band Dune Rats. He is also in ongoing therapy to help him along in his recovery.
But all things considered, Carper said the sober life is getting better each day. He described the band as tighter than ever and said he finds it easier to connect with fans at shows now that he's not using. He also believes the band's live sets are stronger than when he was high.
"I'm really grateful I'm not fucking sticking heroin up my ass and smoking meth," Carper said. "You can't shoot dope like a gentleman. You can drink like a gentleman, you can smoke weed like a gentleman, but once you start shooting dope.. That heroin chic thing never worked for me."
Popular in the Community