The impending political battle for Virginia's electoral votes has attracted an accomplished field general for the Democratic forces. Mitch Stewart has been tapped to lead the Obama team, in this hotly contested, tipping point state. And as in the historic battles of the Revolutionary and Civil Wars fought on Virginia soil, success this time around will likely be determined by leadership and logistics.
Stewart was the field director of the successful Obama breakout campaign in the Iowa Caucuses, and has been recognized for developing a strong team of political commandos, in both the Indiana and Texas primaries. As the newly named State Director, he has already made his first moves in Virginia.
By July 19th, his special forces team had landed, organized, and opened 20 field offices across the state. From big cities to small towns, in less than a month, his "A" teams composed of battle-hardened Field Organizers and Obama Fellows had targeted key strategic objectives, gathered support from the local Democratic partisans, leased office space, installed IT infrastructure and provisioned baseline office supplies -- culminating in 20 Obama Headquarters Grand Openings, in one day.
Virginia Republicans appear to be in a state of denial. They seemed unimpressed by the news of the this rapid deployment of Obama Field HQ's. State Delegate Chris Saxman (R-Staunton), a co-chairman of McCain's Virginia campaign, told The Washington Post that Obama's efforts, "... sound like a tremendous waste of money. They could be a lot more effective with probably half that number.... It is being done to create this image of momentum and enthusiasm that frankly is just not out there."
Saxman may be sub-consciously projecting his own "lack of enthusiasm" for this epic fight. Republicans are making a notably smaller investment in Virginia; McCain is setting up regional offices in Richmond, Fredericksburg, Virginia Beach, Fairfax County and Roanoke.
Stewart's arrival, and the "20 office opening", has drawn some media attention, but his strategic role seems to have slipped under the major news media radar scan. The national Obama campaign has made a bold, decisive move by making a major investment in proven leadership for their effort in Virginia. His charge to the troops, oft-repeated by himself and regional organizers is, "We will concede no precinct. We will compete for every vote!"
Stewart's campaign strategy invokes a "behind-enemy-lines" milieu; utilizing a grass-roots partisan effort, operating from local "fire bases" to strike asymmetrically into the heart of long-uncontested Republican turf, in both rural and suburban demographics.
Kevin Griffis, Obama's Virginia communications director, said that this initial opening of field headquarters is a reflection of the candidate's national strategy, to campaign in areas that have tended to vote Republican.
Obama campaign insiders are indicating that this is only the initial wave of shock troops. More field offices will be opened in August. Many more young volunteers are expected to flow into Virginia by Labor Day.
Most dramatically, Obama has shown his dominance across-the-board in the 18- to 34-year-old young voter bloc. Young Obama activists are directly engaging with local senior citizens. The broad ethnic diversity is a notable characteristic of these new volunteers. Long-suffering local Democratic "resistance fighters" are delighted by the blend of socio-economic demographics in the grass-roots volunteers this year.
Barack Obama has energized a new Virginia coalition of old Yellow Dog Democrats, new Blue Dog Democrats, moderate Republicans, Independents, Greens, and some Libertarians. A statistically diverse variety of Virginians, measured by any socio-economic-political scale, from traditional fiscal conservatives on the right to progressives on the left, are volunteering for the Blue team.
A centrist strategy in Virginia, addressing the core of the political spectrum, was proven to be successful by Jim Webb (US Senate, 2006) and Tim Kaine (Governor, 2005). Both efforts were based on the early pathfinder work done by Marker Warner's successful run for governor in 2001. It is highly significant that Mark Warner's 2008 Senate campaign has a core focus on developing a cadre of "radical centrists" in the Senate. Virginia Democrats are learning how to attract support from the far left to right-of-center moderates, statistically speaking, about 70% of the electorate. This is forcing Virginia Republicans to shift even further to the right, squeezing them down to a smaller cohort of about 30% of the electorate. Latest polling data shows Warner leading with 57% to Jim Gilmore's 32%, with 12% undecided.
Public opinion polls in June, showed Obama slightly leading in Virginia over McCain. Well-regarded political prognosticator Larry Sabato of the University of Virginia considers the Old Dominion "a toss-up state."
The aggressive infusion of national resources is building on a surge of grass-roots volunteerism unseen for many years by local rural Democrats in the Shenandoah Valley. Tom Long, Augusta County Democratic Committee Chair said, "This year is very different, there have been times when only a half-dozen people would show for a committee meeting, now we fill the room." Alan Finks, Harrrisonburg Democratic Committee Chair, had a similar reaction, "I can remember when you could hold a local committee meeting in a phone booth. This campaign will put us (Shenandoah Valley) on the map!"
It looks like the Virginia Democratic team has taken a page from the US Marine Corp manual on maneuver warfare. (or maybe some advice from Marine combat vet, Jim Webb)
The USMC guiding principles:
• targeting critical vulnerabilities
• boldness
• surprise
• focus
• decentralized decision-making,
• rapid tempo
• combined arms (integrated information technology)
Many years ago, as a cadet hoping some day to be an officer, I was poring over 'Principles of War,' listed in the old Field Service Regulations, when the Sergeant-Major came up to me. He surveyed me with kindly amusement. 'Don't bother your head about all them things, me lad,' he said.


'There's only one principle of war and that's this. Hit the other fellow, as quick as you can, and as hard as you can, where it hurts him most, when he ain't lookin'!

--Field Marshal William Joseph "Bill" Slim, Famed British Commando Leader, WWII
Military man McCain and his staff are being out-maneuvered in the early skirmishes for this historic battleground state.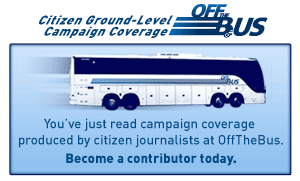 Calling all HuffPost superfans!
Sign up for membership to become a founding member and help shape HuffPost's next chapter