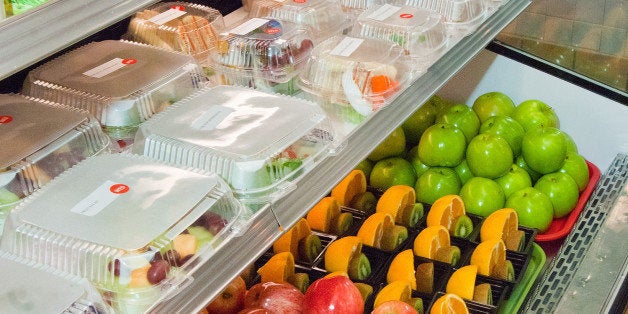 I grew up in Oklahoma, in a big, raucous family, with dreams of being an equine veterinarian. Yet at age 17, opportunity took a dramatically different shape, and instead of saddling up horses, I was walking down fashion runways in Paris and traveling the world. Fast-forward several decades to today, and I'm a mother of five, a founder of a school and several nonprofits focused on the environment, and my modeling and acting days are well behind me.
Through it all, I have cared deeply -- okay, some might say fiercely! -- about the health of our planet. Most everything I do, as a parent or advocate, circles around the environment. Which is why I was thrilled recently when the new USDA Dietary Guidelines made the link between health, diet and the environment.
Finally, it seems that we are embracing good, common sense backed up by definitive, hard science -- all confirming that a healthy diet and a healthy planet go hand in hand. In particular, they are recommending:
•That the average American's health would benefit by eating a diet with more plant-based foods and less animal-based foods;
•That a diet with more plants and less animal foods is also more sustainable due to its lower use of resources and environmental impacts;
•That promoting sustainable diets is necessary in order to ensure future food supply, thus long-term food security for Americans.
This is groundbreaking good news for a variety of reasons, mainly because the Guidelines set U.S. government food policy and influence billions (yes, that's billions!) of dollars and meals, including school lunch programs for most children in the U.S.
It's about time, right? Well, not everyone thinks so -- such as the corporations and big agricultural businesses that reap profits by continuing to keep us in the dark and imposing profit-motivated diets onto our plates. That's why your voice is absolutely essential in demanding that rigorous science, research and the public good are the compass points for navigating what we eat and the care of the planet.
My fierce passion is born out of a deep concern that starts close to my heart, with my own family, and extends outward towards future generations. I try to walk my talk as best I can. At MUSE School, which I founded with my sister Rebecca Amis, we will have the first plant-based lunch program in the country this coming September. We determined that being plant-based was the best environmental move that we could make -- and the happy byproduct is that it's also extremely healthy for our children and community.
Multiple environmental metrics clearly illustrate that animal agriculture is having a devastating, large-scale environmental impact, from air and water pollution, to greenhouse gas emissions, deforestation and biodiversity loss. It seemed imperative to choose a sustainable diet for children that contributed to a healthy future environment for them and generations to follow.
My heart swells with the idea, the possibility, that all children might have access to healthy food choices. I feel empowered, as a mother, knowing that I can make a positive impact on the planet through my daily food choices for my family. And, at long last, I feel hopeful: hopeful that we just might be able to change our relationship to the planet from one that is harmful to one that is life-sustaining. That's worth standing up for, any day of the week. I hope you will join me and make a public comment at MyPlateMyPlanet.org and in walking this path as we harness fierce love as champions for this precious planet.
To make sure that public health and legitimate science are not steamrolled once again, I invite you to submit a public comment on the guidelines through a simplified comment form available on MyPlateMyPlanet.org by May 8th in service to our children, the biosphere and life it sustains, and future generations. We are not alone! My husband Jim and I signed a joint letter alongside more than 100 environmental organizations representing millions of people, from the Sierra Club and NRDC to Greenpeace USA and the John Hopkins Center for a Livable Future.
Support HuffPost
The Stakes Have Never Been Higher
Related
Popular in the Community