Greetings from Tampa, Florida where I am rehearsing for my new gig aboard Norwegian Cruise Lines!! I've decided to add videos to my blogs to keep you up to date with what this Fierce Over 50 Showgirl is up to!! But first I wanted to share a great story...
On August 16, 2015 in New York City, I held the first Act 2 ... Now What? seminar for women over 50. It was an amazing afternoon of women remembering their long-lost passions and vowing to get their fire back. After seeing all the happy and excited posts on Facebook, our first Fierce Over 50 Woman decided it was time for her to return to her passion of dance. So, on September 6, 2015, Act 2 ... Now What? sponsored a group of ex-dancers (including me) in a dance class led by my good friend Geneva "Karen" Burke. This was a "special" class because many of us had been friends and danced together back in the 70s! As a matter of fact, the woman who taught me the choreography for my first Broadway show in 1976 (Guys and Dolls) was standing right next to me in class!!
I met our Fierce Over 50 instructor, Geneva "Karen" Burke, when I auditioned for The High School of Performing Arts. Back then the senior class would help audition the incoming freshmen. So in 1971 this little girl from the Bronx, choreographed her own three-minute piece, took the long bus and train ride from Fulton Ave. to 46th St. and auditioned! My mother had no idea I had auditioned until my acceptance letter came. Yep! That's the kind of kid I was which probably explains the sort of woman I turned out to be. The "Just do it" sort of gal!
Anyhoo, Geneva was one of the senior students demonstrating the dance moves for my soon to be freshmen class, and I had never seen ANYONE like her. Her understanding and execution of The Graham Technique was flawless and I could see myself mastering it as well. I was hooked and needless to say when my acceptance letter came I was over the moon. Then, in my senior year, I heard about the Fred Benjamin Dance Company holding auditions (Geneva was already a member) so I went and was blessed to be accepted! The long journey and friendship began!! Geneva was the first woman of color I had the pleasure of seeing on Broadway. She performed in RAISIN with Debbie Allen, The original CHICAGO with the amazing Chita Rivera and Gwen Verdon and with Anne Reinking in DANCIN. Here are a few photos of Geneva "working it out!" back then. style="float: left; margin:10px"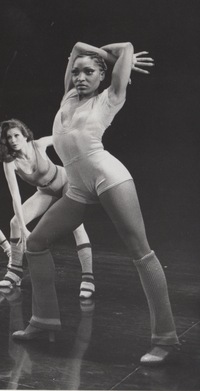 style="float: right; margin:10px"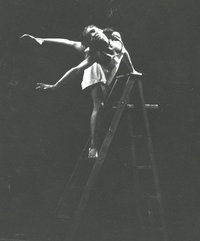 style="float: right; margin:10px"
Throughout the years Geneva and I worked in Fred's company and then the original production of DREAMGIRLS on Broadway with Michael Bennett and Michael Peters. She also assisted Mr. Peters on the Broadway production of LEADER OF THE PACK. When DREAMGIRLS closed I went on to tour with the international company and Geneva settled down to start a family. We lost contact for many years, as many friends do, but in the 1990s picked up where we left off. And here's where her story became so amazing to me. You see, at age 49, Geneva gave birth to her first and only baby boy!! I know many women couldn't even begin to imagine giving birth at almost 50. I know I couldn't! But my hat went off to her. Not to mention shortly after giving birth she found herself as a SINGLE mom over 50 (that's a whole other blog!!!). So, fast-forward to 2015. Throughout the years Geneva has gone back to school and received an Associate degree from LaGuardia Community College in Nursing, RN, Bachelor of Arts in Nursing, Masters in Nursing from NYU and Sat for NP in Psychiatry. Now, with her son attending High School, she's ready to step back into her passion ... DANCE!!
"My class is about moving through life over 50 with grace and staying true to your passion at any age! Fred Benjamin knew what passion was and this day is dedicated to his choreographic vision that was a part of so many dancer's lives!"
Geneva "Karen" Burke
So here we are in all our glory with our Fierce over 50 dance instructor Geneva "Karen" Burke!! September 6, 2015 YEEESSZZ LADIES!!
PHOTO GALLERY
8 Guidelines For Stress-Free Aging
Calling all HuffPost superfans!
Sign up for membership to become a founding member and help shape HuffPost's next chapter