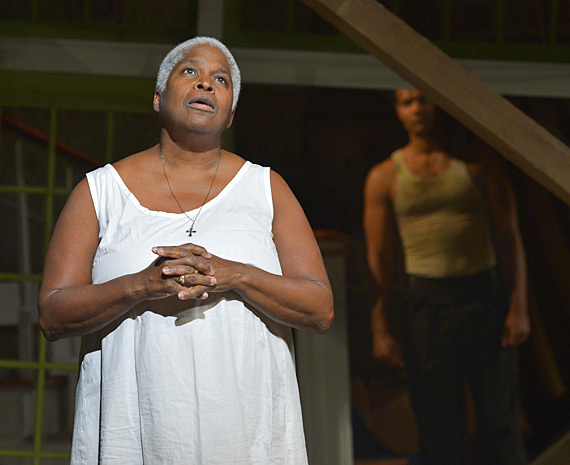 Why do terrible thing happen to true believers?: Cheryl Lynn Bruce as the agonized Shelah, Jonathan Burke as the Angel
Photos by Kevin Berne
Living in Louisiana's Head of Passes requires an act of faith. The region consists mostly of a scattering of swamps, waterways and fragile islands at the mouth of the Mississippi River, where the river's current, the Gulf of Mexico's surges and too-frequent hurricanes conspire to wash away or submerge what livable land exists.
Shelah, the 60-ish protagonist of Tarell Alvin McCraney's riveting Head of Passes, is a woman of faith. That comes clear with whimsy in the play's early going, when we learn that it's forbidden to mention deviled eggs in her presence; it becomes much clearer, with humility and rage and self-doubt, in a tortured aria to the heavens that brings the narrative to an agonized conclusion.
The drama is receiving a stunning production at Berkeley Rep, under the direction of Tina Landau, who staged the original version at Chicago's Steppenwolf Theatre.
Shelah (Cheryl Lynn Bruce, in a masterful performance) has spent her life in that vulnerable region, in a comfortable home that had been a bed-and-breakfast run by her and her late husband. On the occasion of her birthday, her three children and a few others gather for a surprise party. The surprises include revelations and incidents that bring no joy.
The most visible of those surprises -- an astonishing display of stagecraft by scenic designer G.W. Skip Mercier -- carries the least emotional weight. Heavy rain appears first through a parlor window, a commonplace theatrical event; after a short while, it turns into a deluge that pours through the roof in volumes that buckets can't contain; and finally, as lights flicker and thunder roars, it brings down the house. Literally. The roof crashes, floors and walls tilt, and flood waters rise. On Berkeley Rep's Thrust Stage.
Shelah is not unmoved, but she has a weightier matter on her mind: her own mortality. Her state of health was revealed earlier by a doctor (James Carpenter) and confirmed by an Angel (Sullivan Jones), whom she alone sees. Although she intends to use the gathering as an occasion to tell her family, events intercede.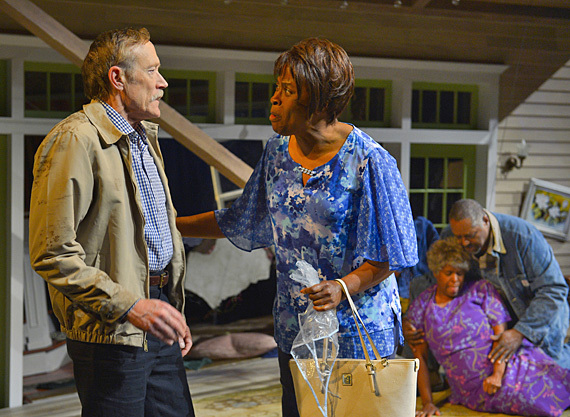 Support in a time of need: James Carpenter as the doctor, Kimberly Scott and Michael A. Shepperd as friends, with Shelah.
She also has issues involving her two sons, Aubrey (Francois Battiste) and Spencer (Brian Tyree Henry), and especially her stepdaughter, Cookie (Nikkole Salter), who has two sons of her own, a heavy drug habit and a need for money. The sons may squabble, but are essentially devoted and want to move Shelah to someplace more secure. Cookie seethes with bitterness, especially toward a father whose many outrages included leaving her out of his will.
Others at the party include a close friend, Mae (Kimberly Scott); Shelah's sole employee, a chattery soul named Creaker (Michael A. Shepperd), and his son, an aspiring singer (Jonathan Burke). All bear only affection and concern for Shelah, and all are engaging personalities.
In at least one way, Carpenter's character is the most unusual. He's a country doctor straight out of times long past, offering not only office exams but also close friendship and deeply personal concern for his patient and her family. He also makes house calls, though this call came at the invitation of Aubrey, who arranged the party. And he's the only white at the festivities.
Every one of the performances is spot-on, effectively shaping distinct personalities who give credible, affecting and sometimes amusing shape to McCraney's tale, which was inspired by the Book of Job. But this is Shelah's drama, and Bruce dispatches it with heart, power and conviction that is as close to biblical as we're likely to see on a stage. It's a tour-de-force to remember, in an expertly crafted play.
Head of Passes runs through June 24 in Berkeley Repertory Theatre's Thrust Stage, 2025 Addison Street, Berkeley. Tickets are $29-$79, from 510-647-2949 or berkeleyrep.org
REAL LIFE. REAL NEWS. REAL VOICES.
Help us tell more of the stories that matter from voices that too often remain unheard.