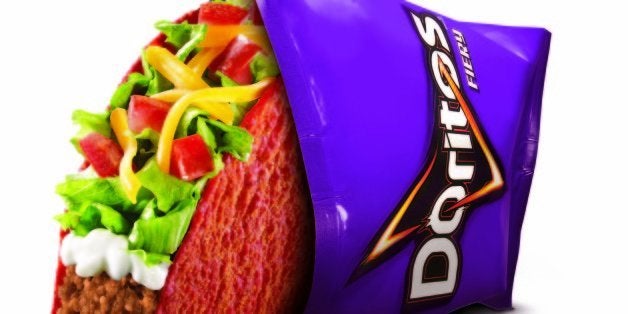 Last week, Taco Bell's public relations team sent a sample of the new flavor of the chain's wildly popular Doritos Locos Taco to The Huffington Post's office and asked us to guess what it would be called. Because it tasted and looked almost identical to Flamas Doritos, and Taco Bell had been testing a Flamas Doritos Locos Taco, we identified it as Flamas.
Taco Bell claimed on Twitter that we were wrong. We began to doubt our senses. Could it have been Tapatio? Chile Limon?
Nope. It's called "Fiery" -- a name that has not yet been used for Doritos chips. Meaning Taco Bell's invitation, to the media to guess the taco's name was a rigged game.
Taco Bell officially revealed the new flavor Tuesday afternoon, using the kind of elaborate social media campaign that major companies think generates buzz among Millennials. The chain told a few tech-savvy Taco Bell fans the secret identity of the new flavor in advance, then had them make videos announcing the name, which they tweeted using the hashtag #FieryDLT.
A few hours later, Taco Bell sent out an official press release confirming the identity of the new flavor, which bragged that Fiery was "available exclusively at Taco Bell."
Yet in the press release, Taco Bell president Brian Niccol is quoted saying that the "Fiery" shell "mirror[s] the flavors of a regional spicy Doritos chip." We asked which regional chip. Taco Bell's answer? Flamas!
That quells our anxiety about our taste buds, but it doesn't solve the mystery of the name change. FoodBeast has a plausible answer for that quandary. It seems that in tests, some customers -- especially those in the South -- pronounced "Flamas" as "FLAME-ass," which isn't the most appetizing name. So Taco Bell seems to have translated the name to make it easier for gringos to pronounce.
Making much ado about a taco is one thing. It's an amazing food! But making much ado about the name of a taco may be going one bridge too far -- even for us.
Calling all HuffPost superfans!
Sign up for membership to become a founding member and help shape HuffPost's next chapter
BEFORE YOU GO
PHOTO GALLERY
The New Doritos Loco Taco Flavor