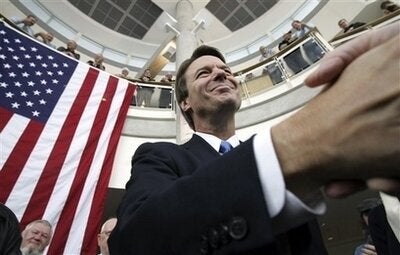 The three-way Democratic contest in Iowa has taken on a new shape. John Edwards and Barack Obama are fiercely battling for the mantle of populist change-agent, while Hillary Clinton is rooting for Edwards -- whom she sees as a weaker candidate -- although her dream scenario would be for the two men to knock each other out.
As the race comes to a close on January 3, it has become increasingly apparent that Edwards and Obama are competing for the same constituency of anti-Clinton Democrats. Most importantly, Edwards has escalated his aggressive anti-corporate attacks, which are producing small, but potentially crucial, defections from the Obama camp of men who favor a bellicose response to their weakening economic position and to their lack of traction in the job market.
As a result, Edwards' recent gains are coming far more, if not entirely, at the expense of Obama than Clinton, according to poll data.
Obama, seeking to stem his losses, has countered with one Iowa television commercial taking a tougher stand against corporate lobbyists than previously, while in other spots and on the stump, Obama is aiming at a different target, stressing his ability to mediate conflict rather than intensify it.
In his Dec. 27 ad, Obama declares: "I am in this race to tell the corporate lobbyists that their days of setting the agenda in Washington are over. I have done more than any other candidate in this race to take on the lobbyists, and I have won. They have not funded my campaign, and they will not drown out the voices of the American people when I am president. I am in this race to take those tax breaks away from companies that are moving jobs overseas and put them in the pockets of hard-working Americans who deserve them."
Clinton has a solid base of roughly 28 to 30 percent of Democratic Iowa caucus goers. Her problem is in recruiting votes from among the "anyone-but-Hillary" crowd - those who want a new face in Washington. The heft of this group is currently unknown.
"This leaves us [Obama and Edwards] fighting over the 'change' voters," said a strategist for Obama.
Obama, competing with Edwards, faces some internal conflicts. On the one hand, the Illinois Senator has presented himself as a politician who can rise above the polarizing disagreements that have characterized the legislative process in Washington - a leader who can deal effectively with both sides, Republican and Democrat.
On the other hand, Edwards' recent surge -- he has gained four percentage points in the last two weeks to become fully competitive -- has siphoned off some Obama supporters, disproportionately male, who are drawn to Edwards' fighting stance and his willingness to engage in flat-out polarizing politics.
On Dec. 29, less than 24 hours after the initial airing of Obama's television spot warning off corporate lobbyists, Edwards upped the ante, promising to actually bar corporate and foreign lobbyists from any kind of employment in the White House. This is a more extreme position than Obama's, and confronts a long-standing tradition of presidential administrations' tapping lobbyists' expertise in formulating guidelines for regulated industries.
"No corporate lobbyists or anyone who has lobbied for a foreign government," said Edwards in his December 29th Iowa speech, "will work in my White House. We will not replace corporate Republicans with corporate Democrats."
In a direct slap at Obama's willingness to bargain with all parties, Edwards announced in the same speech:
"I hear people argue that the way that you can get things done is to sit at a table with drug companies, insurance companies, oil companies, and negotiate with them and somehow they will voluntarily give away their power. I think this is a complete fantasy....I think if that worked, we would have universal health care, we would be attacking global warming, we'd have a trade policy that makes sense, and we'd have a tax policy that makes sense. I don't think these people will give up anything without a fight - they've been there too long and they have billions of dollars at stake."
In a December 30 speech, Edwards added another line: "You can't nice these people to death."
Obama, in turn, has tried to thread the needle between forcing change and fostering conciliation by contending in his own Iowa stump speech that
"The argument goes that the only way to bring about change is to be angry...There's no shortage of anger and bluster and bitter partisanship [in Washington.] We don't need more heat, we need more light."
Information from tracking polls showing Edwards pulling male voters away from Obama came to the Huffington Post from sources in the Clinton camp, but was confirmed by trend data available at RealClearPolitics and Pollster.com. Graphs at both sites show that Edwards' late December gains had hurt Obama much more than Clinton. The most recent data at Pollster.com, from the past four days, however, show that both Edwards and Clinton have made gains - although Hillary's are more modest -- while Obama has lost ground.
Both Clinton and Obama are flush with cash and financially equipped to continue the contest past Iowa to New Hampshire, South Carolina, and to the near-national primary on February 5 when 21 states will hold primaries and caucuses, including California, Tennessee, New York, Colorado, New Jersey, Illinois, Georgia and Massachusetts.
Edwards, of the top three Democratic candidates in Iowa, has the least amount of cash and runs well behind in surveys of voters in all later states. The money and poll data are indicators that Edwards would have difficulty fully capitalizing on an Iowa victory to build momentum in the subsequent contests.
Because of Edwards' expected weakness over time, both Obama and Clinton would prefer to see him win in Iowa, if they cannot.
The worst outcome for Clinton would be for Obama to come in first in Iowa, a victory that would serve to make him stronger in New Hampshire; conversely, for the same reason, the least attractive outcome for Obama would be to see Hillary win Iowa on January 3.No one knows whether polling of Democratic caucus voters suffers from the general election distortion known as "the Bradley effect," when a black candidate is in the contest. The Bradley effect was the finding that when Tom Bradley, the former African-American Mayor of Los Angeles, ran for governor in 1982, a significant five to 10 percent of white Democrats said they planned to vote for Bradley when in fact they actually voted for his white Republican opponent. That was 26 years ago, and most political operatives are acting on the assumption that the effect is unlikely to surface in a caucus situation. As to New Hampshire, later states, and the general election, the Bradley effect may have arguably diminished or disappeared altogether.
Popular in the Community