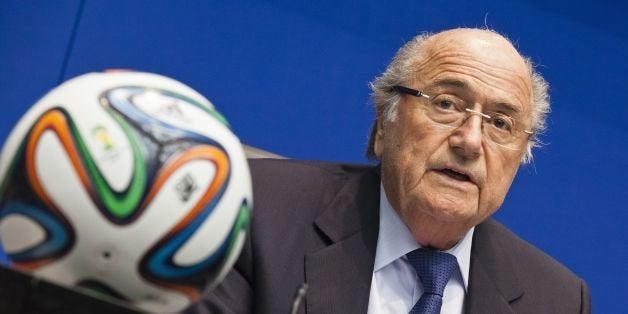 NEW YORK, June 17 (Reuters) - FIFA President Sepp Blatter has hired a high-powered U.S. lawyer to represent him as a corruption probe rocks soccer's global governing body, a person familiar with the matter said.
Blatter recently retained Richard Cullen, the chairman of the law firm McGuireWoods and a former U.S. federal prosecutor, said the person, who spoke to Reuters on condition of anonymity.
Blatter, 79, announced on June 2 that he would stand down as FIFA president, only four days after he was reelected to the position, saying he had lost the mandate from the entire world of soccer.
That followed U.S. authorities' indictment of nine current and former FIFA officials and five corporate executives for allegedly running a criminal enterprise that involved more than $150 million in bribes over 24 years.
U.S. prosecutors have not accused Blatter of wrongdoing.
Among the issues the FBI is examining is Blatter's stewardship of FIFA, sources have said. Blatter became president in 1998 and remains in the job pending an election that likely will not occur before December.
Investigations by U.S. and Swiss authorities include scrutiny of how FIFA awarded World Cup hosting rights to Russia and Qatar.
Blatter has also retained Lorenz Erni, a top lawyer in Zurich, the source said. Erni declined to comment earlier this week.
It was unclear whether Blatter's decision to hire a top U.S. lawyer indicated increased scrutiny of him by U.S. authorities. It is common in the United States for even potential witnesses to seek legal advice if they can afford it in order to protect their rights.
Cullen was not immediately available for comment on Wednesday.
Prosecutors in Switzerland, where FIFA is based, have identified 53 suspicious bank transactions and could summon Blatter and FIFA General Secretary Jerome Valcke for questioning, Michael Lauber, the Swiss attorney general, told journalists on Wednesday.
Cullen has long ties to FBI Director James Comey, whose bureau is conducting much of the FIFA-related investigation. Comey served as a federal prosecutor in Richmond, Virginia, where Cullen is based, and worked as a partner at McGuireWoods. Cullen spoke positively of Comey's nomination for FBI director in 2013.
As a lawyer, Cullen has often represented government officials as they tried to fend off indictments in high-profile criminal investigations.
He represented Tom DeLay, a Texas Republican and former majority leader of the U.S. House of Representatives, during the investigation into corrupt Washington lobbyist Jack Abramoff. DeLay was not charged.
Another client was Ken Melson, who was pushed out of his job as acting director of the U.S. Bureau of Alcohol, Tobacco, Firearms and Explosives (ATF), but did not face charges, after a botched anti-gun-smuggling operation known as "Fast and Furious."
Cullen also represented CIA and U.S. Defense Department officials in an investigation into interrogation techniques dating to the George W. Bush administration, according to his law firm biography.
In Richmond, about 110 miles (177 km) south of Washington, D.C., Cullen resides largely outside the political and media spotlights of Washington and New York. McGuireWoods has its home office in the city, and Cullen has worked there with only brief interruptions since law school.
But he is a powerbroker in Virginia Republican politics. He has worked closely with governors and local lawmakers, according to a 2007 profile in Richmond Law magazine. In February, he helped bring Republican presidential hopeful Jeb Bush to Richmond for an event, the website Politico reported.
Cullen left his law firm in the early 1990s to serve as the chief federal prosecutor for the Eastern District of Virginia, which sits just outside Washington.
(Reporting by David Ingram in New York; Additional reporting by Karolin Schaps and Mark Hosenball in Bern; Editing by Noeleen Walder and Martin Howell)
Calling all HuffPost superfans!
Sign up for membership to become a founding member and help shape HuffPost's next chapter