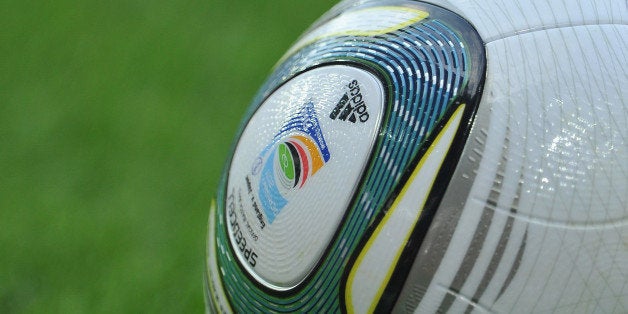 Just three years has passed since Lydia Nsekera, Sonia Bien-Aime and I took our places at FIFA's top table. In 2013, a solitary vote was granted to a female member with two more of us co-opted as non-voting members, pondering how we could make a difference to a systemically male-skewed global institution with barely 1 percent women voters in its Congress.
At the recent FIFA Congress in Mexico, the difference was tangible.
National association presidents from Bhutan to Puerto Rico waved me down to tell me with pride of their milestones of progress in the women's game. South America's football leaders talked about the astonishing 45,321 people who turned up to watch their women's under-17 CONMEBOL final in Venezuela last March.
A FIFA Legends match featured superstars Mia Hamm, Sun Wen and Sissi, reprising their heroics of yesteryear alongside Figo, Ronaldinho and Eto'o -- refereed by women.
My Brazilian colleague on the FIFA Council asked us to autograph his copy of the new FIFA statutes, which now enshrine women's football and gender inclusion as top-level objectives.
A new FIFA women's football division was announced, charged with developing a commercial strategy to make our game the biggest women's sport on the planet.
Football is finding its inner woman. Come September, six elected women will take their place as full voting members on the FIFA Council. I hope to be one of them.
And President Gianni Infantino, who in March announced that diversity and gender balance would be part of his new recruitment policy, walked the talk when he proposed Fatma Samoura as the next secretary general of FIFA -- the first woman to hold the position since FIFA came into existence 112 years ago.
Ms. Samoura's background suggests she will indeed bring diverse perspectives and experiences to the top table.
First, she has two decades of experience in development with the UN. The ability to ensure that a development program lands precisely where it is supposed to -- without being diverted or diluted -- is a skill FIFA needs more of, especially as development funds are about to increase.
Second, as someone who has spent most of her working life serving the UN, she is likely to possess a keen sense of social responsibility. Imagine a FIFA where this is applied to everything that passes through the secretary-general's office; where social responsibility is no longer a departmental silo, but the predominant frame of reference for all major decisions, and infused into its raison d'etre.
Diversity is an asset in organizations. It adds to the cumulative capability set and produces better decision-making.
Inevitably, the first woman chosen for such a high-profile role will attract enormous scrutiny.
Ultimately both the president and secretary general must rightly be judged in the fullness of time on their achievements -- but in the meantime, Ms. Samoura should not be pre-judged merely because her CV does not mimic that of others. And President Infantino should be applauded for his resolve to turn diversity rhetoric into reality. All the words in the world will mean nothing if not converted to action.
Many women have communicated their excitement to me, and I'm sure millions more have taken to heart that the world's best game is more welcoming than ever.
Calling all HuffPost superfans!
Sign up for membership to become a founding member and help shape HuffPost's next chapter