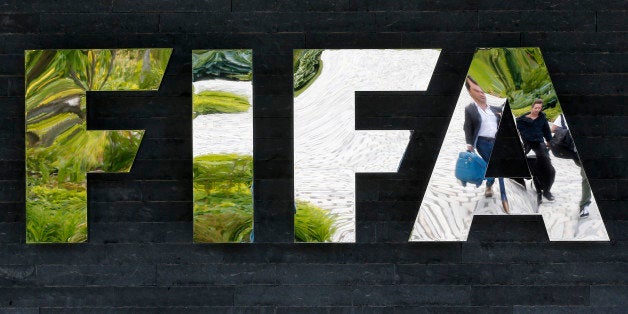 Remarks by U.S. Attorney General Loretta Lynch on Wednesday, as well as indictments released by the Justice Department the same day, indicate that the iconic American corporation has been pulled into the massive global corruption scandal. Detailing the long history of bribery by some of the world's soccer governing bodies, Lynch said those offenses also extended to "agreements regarding sponsorship of the Brazilian national soccer team by a major U.S. sportswear company."
Her remarks referred to the landmark ten-year, $160 million deal that Nike struck in 1996 to sponsor the Brazil national team's well-known yellow, blue and green uniforms. Last year, Jose Hawilla, the owner and founder of the Florida- and Brazil-based sports marketing firm the Traffic Group, pleaded guilty to conspiracy to commit wire fraud for, among other things, accepting and passing along bribes and kickbacks in connection with that deal. Hawilla paid these bribes and kickbacks to a senior official in the Brazilian Football federation (CBF), who signed the deal along with Hawilla and four Nike executives.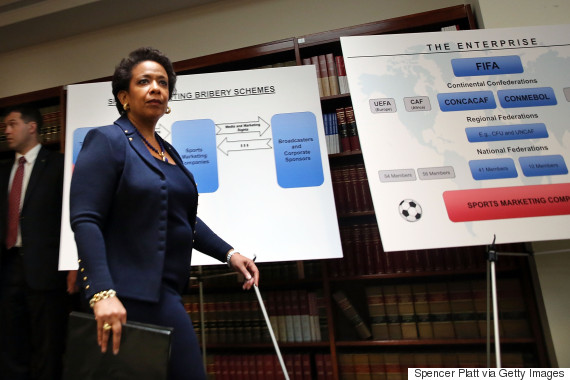 U.S. Attorney General Loretta Lynch discusses the investigation during a press conference on Wednesday.
Lynch's comments followed the Justice Department's announcement that 14 people, including nine FIFA officials, had been arrested and indicted on Wednesday on numerous charges that include "racketeering, wire fraud and money laundering conspiracies."
The Justice Department's indictment notes that Hawilla and the unnamed Brazilian official also engaged in other corrupt deals in the years following the Nike contract. While it does not accuse Nike of any wrongdoing or of any knowledge of Hawilla's corrupt practices, it is unclear to what extent Nike vetted Hawilla before allowing him to act as their middleman with the Brazilian soccer federation.
"Like fans everywhere we care passionately about the game and are concerned by the very serious allegations," Nike said in a statement to The Huffington Post on Wednesday. "Nike believes in ethical and fair play in both business and sport and strongly opposes any form of manipulation or bribery. We have been cooperating, and will continue to cooperate, with the authorities."
Nike introduced its first soccer boot in 1971, but its market share remained small. Globally, it was barely a player in a multibillion-dollar market, then dominated by its chief competitor, Adidas. In 1994, Nike began a major push to increase its presence in the soccer world. As part of this effort, the company's co-founder and chairman, Phil Knight, "openly set his sights" on sponsoring Brazil's national team that year. By 1996, the company was able to sign the deal with CBF and has supplied the Brazilian team's uniforms ever since.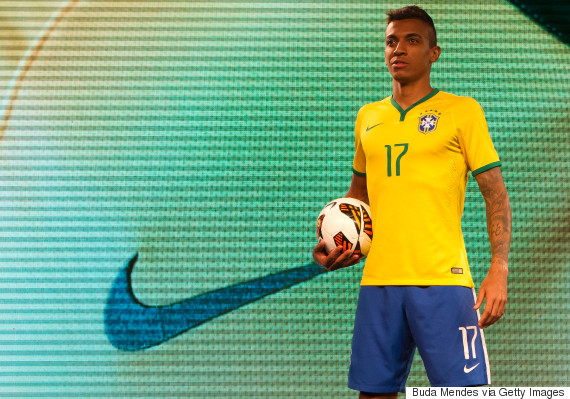 Brazil soccer player Luiz Gustavo poses for pictures during the presentation of the team's new uniform for the 2014 FIFA World Cup on Nov. 24, 2013.
Now, however, Brazil's soccer federation is named in the Justice Department's investigation.
"Other alleged schemes relate to the payment and receipt of bribes and kickbacks in connection with the sponsorship of CBF by a major U.S. sportswear company, the selection of the host country for the 2010 World Cup and the 2011 FIFA presidential election," read a statement from the department.
REAL LIFE. REAL NEWS. REAL VOICES.
Help us tell more of the stories that matter from voices that too often remain unheard.