The Justice Department's announcement of a landmark racketeering indictment of nine Fédération Internationale de Football Association (FIFA) officials as part of a "24-year scheme to enrich themselves through the corruption of international soccer" that involved "rampant, systemic, and deep-rooted" corruption, was met with the obligatory statement of cooperation from FIFA and then an incredible statement of defiance that demonstrates nothing will change at FIFA unless sponsors act now.
FIFA is the international governing body for the sport of soccer (or football as it is known in most of the world). The non-profit FIFA earns billions from running the World Cup and other tournaments and has over $1.5 billion in cash reserves. FIFA has come under increasing criticism due to its autocratic president Sepp Blatter and its incomprehensible decision to award the 2022 World Cup to the tiny Middle Eastern country of Qatar (which is smaller than Connecticut).
Qatar, which has never even qualified for a World Cup (its team is currently ranked 99th), promised to build 12 stadiums with innovative air-conditioning that would cool the open air from 100-plus degrees to a mere 73 degrees. Now we are told that the technology does not work and instead they will only build eight stadiums and will need to move the tournament from June to December.
It should come as no surprise that bribery allegedly came into play in making the award to Qatar over the United States and that is part of the Justice Department's indictment. The allegations have been out there for some time, with FIFA General Secretary Jérôme Valcke conceding in 2011 that Qatar had "bought the right to host" the World Cup. The growing controversy led FIFA to hire Michael J. Garcia, a former federal prosecutor to investigate the matter. When his 450-page report found "serious and wide-ranging issues" in how the World Cup bids were awarded both with respect to Qatar and the 2018 bid awarded to Russia. FIFA sought to bury it. FIFA refused to release the report and instead issued a "summary" that Garcia denounced as "a materially incomplete and erroneous representations of the facts and conclusions" contained in the report.
Far worse, is the fact that the Qatar World Cup is being built on the modern-day equivalent of slave labor -- guest workers from Nepal, Bangladesh and India. Human rights groups have documented reports of guest workers being housed in squalid conditions; having pay withheld for months or not being paid at all; being forced to work excessive (and sometimes extreme) hours in unsafe conditions; and having their passports confiscated so that they are unable to leave the country without their employer's permission. Approximately one guest worker is killed on the job each day and estimates are that 4,000 guest workers will be killed completing Qatar's World Cup projects.
Which brings us back to Wednesday's announcement in which acting U.S. Attorney Kelly T. Currie explained:
After decades of what the indictment alleges to be brazen corruption, organized international soccer needs a new start -- a new chance for its governing institutions to provide honest oversight and support of a sport that is beloved across the world, increasingly so here in the United States. Let me be clear: this indictment is not the final chapter in our investigation.
FIFA's response demonstrated that they could care less and are oblivious to their crumbling empire. They announced that there would be no delay of Friday's scheduled vote for FIFA President, in which the imperious Blatter is expected to win a fifth term (with support from the beneficiaries of FIFA corruption) -- despite calls by the European soccer federation to postpone the vote. In addition, FIFA issued a terse statement that the 2022 World Cup would be played in Qatar as scheduled, dismissing calls for a revote on awarding the 2022 bid.
This is not all that surprising given that, even with activists targeting FIFA sponsors (see below) and the specter of bad publicity due to sponsoring a tournament built by slave labor and the latest news, FIFA's principal sponsors Adidas, Budweiser, Coca-Cola, Hyundai and McDonalds have done nothing more than issue tepid statements "expressing concern". So if confirmed reports of slave labor and a Justice Department call for cleaning house are not sufficient to take action, what is?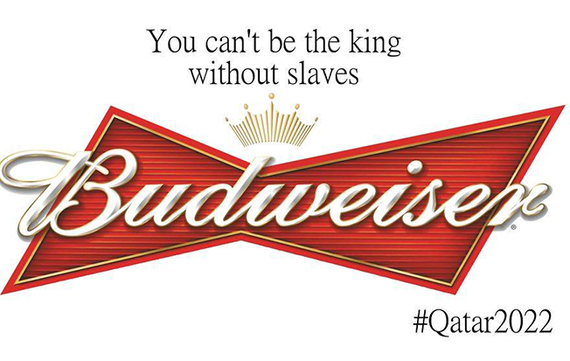 To its credit, Visa was the one major advertiser to warn it might pull out unless FIFA took immediate steps towards "rebuilding a culture with strong ethical practices in order to restore the reputation of the games."
The only hope for immediate change is if other advertisers step forward before tomorrow's vote and their failure to do so up to now is appalling. Coca-Cola, for example, which once wanted to "teach the world to sing in perfect harmony," now apparently wants the world to ignore human rights abuses so it can make millions.
This is the hour of decision. Sponsors either can save the game or share in the disgrace and soccer fans will long remember which choice they made.
Calling all HuffPost superfans!
Sign up for membership to become a founding member and help shape HuffPost's next chapter