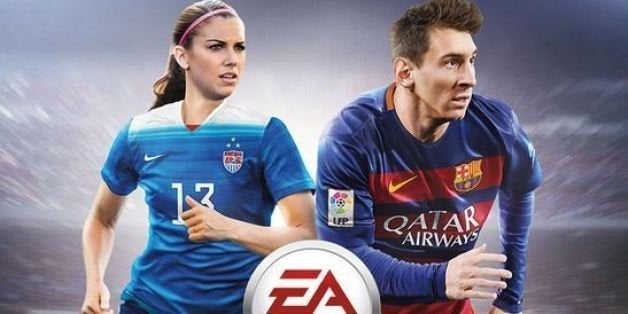 Co-authored by Adam I. Green
On June 26, 2014, in a World Cup game at the Arena Amazonia Manaus in Manaus, Brazil, the United States Men's National Soccer team found itself at a crucial juncture. Having already picked up three points with a win over Ghana a few days prior, the Americans were looking to get themselves another win and inch a little bit closer to advancing to the elimination round. Their opponents that day were a Portuguese national team featuring some of the world's greatest players and coming off a 4-0 defeat to Germany. They were desperate for a win themselves.
The 2014 World Cup was not the first time that Americans had gotten behind their team for the world's biggest soccer tournament and largest sporting event. In 1994, the United States hosted the World Cup for the first time in the tournament's history and the nation did not disappoint, breaking the attendance record with an average of 69,000 fans per game. Americans have been following the tournament ever since. However, in 2014, Americans digested the tournament differently than they had in past years. Just 4 minutes and 51 seconds into the match against Portugal, the U.S. committed a defensive blunder that would cost them dearly. Winger Nani, who played his club soccer that year with Manchester United, put in a goal to give Portugal a 1-0 lead. Even as recently as the 2010 tournament in South Africa, the casual American viewer would have consulted Twitter or Facebook following an event like Nani's goal. In 2006 and 2002, probably only soccer's most committed followers in the United States would have checked out Nani on the Internet to find out more information about the early goal scorer: who he was, what team he played for, or how he performed for his club team that seasonIn prior tournaments most Americans watching World Cup matches would have had no idea who such a Manchester United star from Portugal was. But in 2014, things are different. After Nani scored, many Americans took to Twitter or Facebook with their frustrations. But this time, plenty of Americans already knew who Nani was. They had been following his up and down performance with Manchester United all season.
Americans were first afforded the opportunity to see Nani and his Manchester United teammates live in 2012, when NBC signed a contract to air games of the English Premier League. The contract initially granted NBC the rights to just six Premier League games per week, but by 2014-2015, the network had expanded the coverage to include up to ten games per week. Arriving at the decision to feature professional soccer of the highest quality made sense for NBC, as among 12-24 year old American males, pro soccer had become the second most popular sport behind only the NFL according to ESPN.com. In addition, many soccer players, including Cristiano Ronaldo and Lionel Messi were on a list of the most popular athletes in America, ranking ahead of superstars like Dwyane Wade.
So how did this soccer phenomenon arise in America? There are many contributing factors, but one that has undeniably been very significant is the rise in popularity of the FIFA video game series in America. The first FIFA game was released on July 15, 1993 and was notable for being the first video game to have an official license from FIFA (the world governing body of soccer). An EA official later conceded that at the time, EA assumed that the company would have no success selling the game in America. There clearly have been visible improvements in gameplay with every new release; almost every single club and national team has come to be featured, and the graphics are so good that one game reviewer was quoted as saying that FIFA '15 "has the greatest presentation in sports game history". In 2014, FIFA scored 87-90.5 out of 100 points from game critics, becoming the highest rated sports video game by U.S. gaming experts. FIFA also updates its squads throughout each year to account for injuries and trades among different clubs and even among different leagues.
There is no doubt that the rise in popularity of the FIFA video game series in America has coincided with a rise in popularity of pro soccer in the U.S. The percentage of Americans who identify themselves as avid pro soccer fans has grown every year since 2009, per ESPN.com. In this same period, the popularity of the video game series has expanded rapidly: FIFA's unit sales in the U.S. increased by 35% from 2010 to 2012, reaching 2.6 million in 2012. Each new edition since FIFA '10 has received ratings of at least 9 out of 10 by some rating system on at least one device. FIFA has also become EA Sports' best- selling entity, accounting for nearly 25% of its revenue in 2014.
The question remains: does the popularity of the FIFA series cause the rise in popularity of professional soccer in America, or is it the other way around? Obviously, there are some professional soccer fans in the United States that have never heard of FIFA. But one simply cannot discount the evidence that at least some of the recent uptick in soccer fandom among Americans is due to FIFA. Per an ESPN.com poll conducted by Richard Luker, 34% of FIFA players became big pro soccer fans after playing the video game and 50% of players gained at least some interest in pro soccer due to their love of playing FIFA. According to the EA Sports sales records, FIFA has sold nearly 800,000 copies over the past 9 months, meaning that approximately 400,000 more people in the U.S. have gained an interest in watching pro soccer than they would have without FIFA's influence. Per NBC viewership numbers, this would mean that approximately 57% of Americans watching the Premier League games on NBC are people that likely would not have had an interest in pro soccer before FIFA emerged.
While soccer fandom in the U.S. may not reach the NFL's or college football's astronomical levels, it definitely seems certain that professional soccer has found a home in the U.S. and its fans are here to stay. The U.S.-Portugal game from the 2014 World Cup had over 25 million total viewers and was the most viewed soccer game in U.S. history to that point. With FIFA sales expected to increase exponentially over the next few years, it is anybody's guess as to how many Americans will tune into the telecasts of the 2018 World Cup. What the next chapter for soccer in the U.S. holds is a mystery, but in studying the ascension of FIFA, we may have found an answer as to how we got here.
Adam I. Green is an undergraduate student at the University of Michigan - Ann Arbor.
Related
Popular in the Community