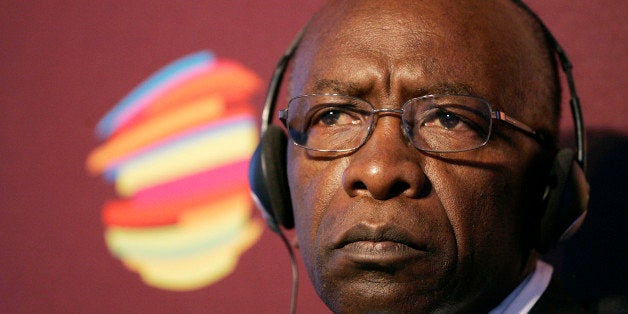 WASHINGTON, May 28 (Reuters) - Two brothers who pleaded guilty in the FIFA soccer bribery scandal deposited large sums of cash in a frenzied series of visits to U.S. banks, hoping to avoid detection by authorities, U.S. court documents released this week showed.
Daryan and Daryll Warner, sons of former FIFA Vice President Jack Warner, and their associates deposited more than $600,000 in cash at bank branches in New York, Miami and Las Vegas in the second half of 2011, according to a 2012 complaint in U.S. District Court in New York that was unsealed on Wednesday.
In one two-day period, the pair parked $128,313.38 in 23 separate deposits into accounts at Bank of America, JPMorgan Chase, Citibank and Wells Fargo through the use of tellers and ATMs.
The complaint against the Warners, who are citizens of Trinidad and Tobago, showed that they made sure none of their deposits exceeded the $10,000 threshold above which banks have to file a report to U.S. authorities.
On Wednesday, the U.S. Department of Justice charged nine officials at FIFA, the global body governing soccer, and five corporate executives with running a criminal enterprise that involved more than $150 million in bribes.
Daryan Warner, one of a group of four others who had pleaded guilty, became a cooperating witness in the FBI's probe. This was first reported by Reuters in 2013.
Banks will also be looked at in the investigation, authorities said on Wednesday, though it was too early to say whether there had been any wrongdoing.
The U.S. indictment alleged that the defendants relied heavily on the U.S. banking system to avoid detection, in often complex schemes with fake invoices and numbered accounts, at banks across the globe.
In one case, a teller at a JPMorgan Chase branch on New York's Broadway said she had asked somebody for his driver's license when he wanted to deposit 7,500 euros, which at the time translated to an amount just above the reporting threshold.
The person then asked to be handed back 500 euros, which lowered the sum to $9,336.60. Earlier that day, a similar amount had been deposited at JPMorgan in Queens. The following day, another 7,000 euros was deposited at the Broadway branch.
Daryll Warner in his guilty plea admitted that he had deliberately broken up deposits into amounts of less than $10,000 to avoid the reporting requirements.
JPMorgan declined comment. Wells Fargo and Bank of America did not immediately return a request for comment. Citi has said it has cooperated with Justice. (Reporting by Douwe Miedema; Editing by Cynthia Osterman)
Calling all HuffPost superfans!
Sign up for membership to become a founding member and help shape HuffPost's next chapter