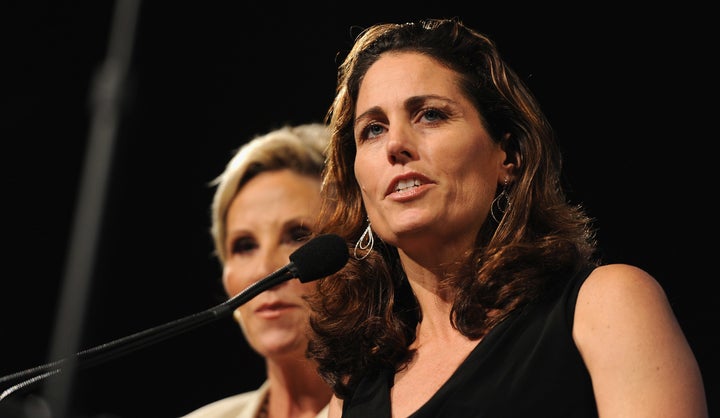 WASHINGTON -- FIFA is a hot mess. Fourteen officials were arrested in May on corruption charges and its president, Sepp Blatter, was suspended last month.
As world soccer's governing body tries to clean itself up, nearly 100 Olympic and professional athletes are demanding one reform in particular: more women.
The current and former athletes, including U.S. women's national ​soccer team players Megan Rapinoe and Abby Wambach, ​signed a letter this week that urges FIFA to right its "institutional wrong" and immediately put more women in charge. Specifically, they want FIFA to require at least 30 percent of leadership positions to be held by women -- a percentage that boardroom diversity advocates recommend as the tipping point for a cultural shift within an organization.
"In the 111 years since FIFA was formed, women are still vastly underrepresented at every level of the world's most­ loved game," the letter reads. "With 30 percent, women cease to be regarded as a special interest group, and become 'normalized' as part of the mainstream."
Only three of FIFA's 26 executive committee members are women, and one of them isn't a voting member. Two of its 209 member association presidents are women, which means women make up less than 1 percent of FIFA's voting population. On top of that, only 7 percent of FIFA's registered coaches are female.
"This is not only what's fair and right -- it's also what's best for the sport that is in dire need of reform," the letter concludes.
It's signed by athletes from six countries and in 14 sports, including the NFL and the NBA, as well as seven nonprofit organizations, WNBA executives, past World Cup winners and dozens of professional soccer players. Former Olympic diver Greg Louganis and former NFL player Chris Kluwe are among the big names on the letter.
FIFA's reform panel is meeting Thursday to make recommendations, and the athletes are trying to make themselves heard ahead of that meeting. Moya Dodd, one of the three women on the executive committee, is also submitting a detailed proposal on why FIFA desperately needs more women making high-level decisions.
"Better gender balance of itself will deliver improvements in critical aspects of football's governance by creating a better, more diverse decision-making environment and a culture that is less prone to corruption," said Dodd. "FIFA urgently needs both, and has been pressed by, and made promises to, various bodies."
Her full proposal is here:
A FIFA spokesperson did not respond to a request for comment. Neither did Francois Carrard, the chairman of FIFA's reform committee.
FIFA officials know that women's soccer is a major untapped market. In February, they unveiled the results of a year-long survey that detailed some of the biggest problems facing the game. Based on the responses of 177 of the sport's 209 federations, the survey found that only 25 percent of national federations had staff dedicated to women's soccer, and 20 percent didn't even have a team. Half of them had no youth development program for girls at all.
Julie Foudy, a former player on the U.S. women's national soccer team who is now an ESPN commentator, said FIFA officials need to understand that putting more women in leadership isn't just about fairness. It's about smart business.
"It's no secret that effectively run organizations, businesses and entities around the world understand a critical component: women in a company, women on decision making boards, women at all levels bring positive dividends. And growth. And success," Foudy told The Huffington Post in a statement.
"In the midst of the chaos, FIFA has this wonderful opportunity to bring about sustainable change and reform.  Women must be a part of this new legacy, this 'new' FIFA," she said. "It is 2015, lest we need reminding."
Foudy and Dodd are leading the push on the issue, along with Mary Harvey, a former goalie for the U.S. women's national soccer team, and Donna de Varona, an American Olympic gold medalist in swimming.
Women must be a part of this new legacy, this 'new' FIFA. It is 2015, lest we need reminding.

Julie Foudy, ESPN commentator and former U.S. women's national soccer team player
Harvey, who was the first female director of development at FIFA, said she usually shies away from the press, but she jumped at the chance to help Dodd. She said she decided to speak up because she saw Dodd putting herself out there and feared that she may "conveniently not be reappointed" to her post on the executive committee as retaliation for rocking the boat.
"FIFA is a frat," Harvey said. Adding more women into its mix is exactly what FIFA needs if it wants to save itself, and international soccer, from corruption.
"I love the sport. This is breaking my heart. I used to work at FIFA. We're better than this, and I think women can help," she said. "We can actually be their saving grace."
If these athletes are looking for support beyond the sports world, they'll find some powerful allies in Washington, D.C., including Valerie Jarrett, a top adviser to President Barack Obama.
"Women athletes around the world continue to lead the way, showing our daughters and our sons what it means to be fierce competitors, make their countries proud, and make their voices heard," Jarrett said.
"As a lawmaker and a mother of two young girls who have played competitive sports ... I offer my full support to these athletes in their serious and spirited campaign for greater representation within FIFA,"said Rep. Debbie Wasserman Schultz (D-Fla.), chairwoman of the Democratic National Committee. "In 2015, it's absolutely wrong that women make up just one percent of the voting population of the FIFA Congress. It's high time that the governing body of one of the world's most beloved sports gets with the times."
Rep. Kathy Castor (D-Fla.), a co-chair of the Congressional Soccer Caucus, called on U.S. soccer groups to back the athletes' effort.
"I strongly support the FIFA reform plan submitted by Moya Dodd, Chair of the FIFA Task Force for Women's Football, that proposes to invest in girls' and women's soccer across the globe and require gender balance in the governance of FIFA," Castor said. "Due to the corruption in FIFA and the minor investments made in women's international football to date, FIFA also needs an enforceable, overriding commitment to effectively grow the women's game and transform the organization into one that is modern and equitable," she added.
It's not just female politicians. Sen. Patrick Leahy (D-Vt.), who sponsored a resolution last month advocating equal payouts for female and male World Cup winners, said the lack of women in leadership at FIFA "sends a terrible message" to girls globally about the value of their contribution to sports.
"Having just 3 women on FIFA's 25-member executive board does not reflect the global sport of soccer, although it could explain the reason for FIFA's discriminatory pay structure," Leahy said. "Generations of future soccer stars are counting on FIFA to promote fairness and equality for all players.  It is time for soccer's most powerful governing body to do the right thing."
For now, it comes down to Thursday's reform committee meeting. The committee only has one female member, Sarai Bareman. But if her Twitter feed is any indication of how she feels, there will be at least one vote in favor of Dodd's proposal.
UPDATE: Nov. 17 -- A FIFA spokeswoman said Wednesday that the organization is "committed to encouraging and boosting greater inclusion and participation of women" in soccer, but did not specifically comment on the idea of requiring 30 percent women in its leadership.
"FIFA believes football is for all," she said.
The spokeswoman said FIFA actively invests in the growth of women's soccer through competitions and media campaigns, and that the organization aims to increase the number of female coaches, administrators, referees and volunteers in future games.
"FIFA acknowledges the need to continue reviewing its own strategy and structure and is confident that the ongoing reforms will be of benefit to women's participation in football," she said.
UPDATE: Nov 19 -- After several exchanges, the spokeswoman confirmed that FIFA leadership -- namely, president Blatter -- is on board with requiring 30 percent women in its top ranks. She cited a statement Blatter made in August about being committed to gender equality, during a task force meeting where Dodd first proposed her idea.
"Therefore the answer is yes, this figure was totally supported by him," she said.
PHOTO GALLERY
The Most Badass Photos From The Women's World Cup Final
Calling all HuffPost superfans!
Sign up for membership to become a founding member and help shape HuffPost's next chapter