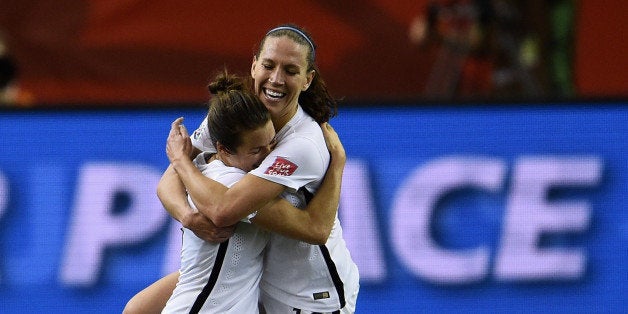 The U.S. team's performance in the Women's World Cup has been called "dominant, confident and convincing"; they quashed top-ranked Germany 2-0 in the semi-finals, and will play Japan in Sunday's Final in Vancouver.
Consistent with Sepp Blatter's assertion that he is "the Godfather of women's football," FIFA has a long history of overt and unrepentant sexism. This has ranged from crass commentary, such as Blatter's recommendation that women wear "tighter shorts" to increase the popularity of their game, to deliberate exclusion of women from leadership positions and discriminatory practices like holding the current WWC on artificial turf -- which has led to more injuries, harder playing conditions, and a lawsuit led by American star Abby Wambach.
FIFA's culture of discrimination goes far beyond the musings of a gaffe-prone, out-of-touch leader.
It trickles down to member organizations and hampers the development of women´s football around the world. FIFA itself fails to enforce its own statutes, and has neglected the funding of women´s football -- so why should national federations do otherwise?
In Brazil, where soccer is king, there is no women's professional league, almost no female coaches and no women involved in the power structure of the CBF -- Brazil's notoriously corrupt football governing body. Even as Brazil's female team passed through the first phase of the WWC with ease, the coordinator for the women's game at the Brazilian Soccer Confederation said they may get more attention now that, "the shorts are a bit shorter, the hair styles are more done up."
In another example of FIFA's disregard, the women's World Cup (June 5-July 6) was scheduled nearly simultaneously with another major soccer event, the Copa America (June 11-July 4), dividing the attention of sports journalists, broadcasters and fans.
And yet, the women's game has never drawn so much attention. There are 24 teams in this year's competition, up from 12 in 1991; Brazil's Marta has won FIFA's player of the year award more than any man; and in the U.S., nearly half (48 percent) of players registered with U.S. Youth Soccer were girls. This year's World Cup is getting unprecedented coverage.
Sepp Blatter himself has said, "the future of football is feminine." It's time for FIFA to act on those words, including women in leadership positions and supporting the development of women's soccer worldwide. The elimination of rampant sexism would be a natural outcome of a new politics.
A good place to start could be right at the top: after all, FIFA's presidency will be vacant soon.
Having more women in leadership might even help FIFA with their other troubles. Research suggests women are less likely to give bribes, and that greater female participation in public life is associated with lower levels of corruption.
It's high time to let the women into the game.
REAL LIFE. REAL NEWS. REAL VOICES.
Help us tell more of the stories that matter from voices that too often remain unheard.