Six months ago, I wanted nothing to do with sake. I thought it was gross warm swill, totally at odds with the spectacular clarity of Japanese cuisine. Having recently been introduced to high-quality chilled sake -- It's not wine! It's not beer! It comes in many grades of premium and super-premium and super-super-premium! It's silky, it's crystalline, it's elusive and it dances fairy-light as if tracing constellations across the tongue! -- I was alerted. And converted. This is a spirit with lots to say -- not just in Japan, where today is Nihonshu-no Hi, National Sake Day, the official first day of the brewing season, but all over the world, where chilled artisanal sake deserves a place at the table alongside everything from grilled cheese to churros.
"Sake has such a clean, pure flavor. It really plays off whatever you mix it with and really makes the cocktail sing," says Cordon Bleu and Yale grad Ming Tsai, chef-owner of the Blue Ginger restaurant in Wellesley, MA host of TV's Simply Ming and Culinary Ambassador for Ty Ku sake, which is based in New York but brewed in Nara, Japan.
To celebrate this holiday, here are fifteen sake cocktails -- sak-tails, pronounced "socktails" -- currently served at fine bars, restaurants and other venues nationwide: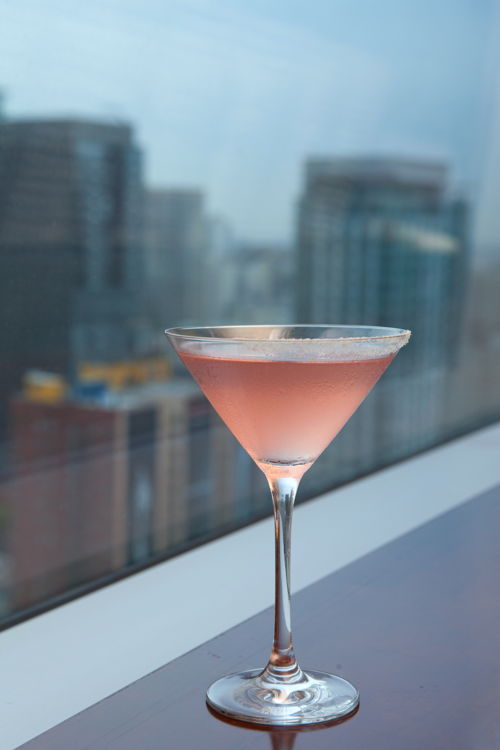 The Ginger Crisp -- depicted above and comprising sake, Chambord Vodka, lime and ginger sugar -- was created by beverage director Klaus Puck at Wolfgang Puck's WP24 restaurant on the 24th floor of Los Angeles' Ritz-Carlton.
San Francisco's new modern Mexican restaurant and mezcalería La Urbana offers the Acapulco-Manila. This one I have tried, and it's a knock-down-drag-out take on the dry Martini that combines Mezcal Agave de Cortes with sake, garnished with a radish:
New York City's Oceana restaurant has as its namesake cocktail the Oceana, created by wine director Pedro Goncalves and comprising Ketel One Citrus, sake, cucumber, mint, grapefruit and a salt-crusted rim.
Ax Velez, one of the bartenders at San Francisco's brand-new Bergerac, created the Ox Chi Chi: 1.5 oz. Purity vodka; 1 oz. caramelized pineapple purée; 1 0z. coconut purée; 2 oz. SakeOne Oxidized Moonstone Coconut Lemongrass nigori sake. Blend and serve in a hurricane glass, garnished with a lemongrass sprig.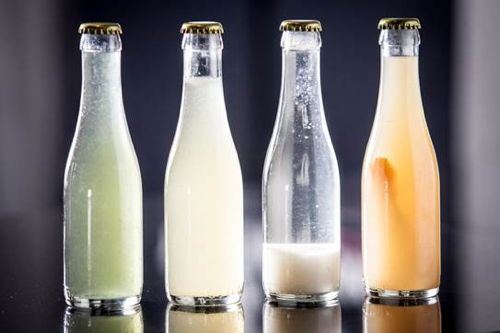 Chicago's Sumi Robata Bar serves house-bottled cocktails (depicted above) including the Dragon's Milk, which contains nigori sake, vodka, cucumber, mint, white pepper and lime.
Shawn Vergara, proprietor of San Francisco's Blackbird Bar, devised the Sumo Wrestler: 1.5 oz. Evan Williams bourbon; 0.5 Nigori Saké, 0.5 Perfect Purée yuzu juice; 0.5 yuzu marmalade; build, shake, dump all ingredients into 10 oz. Collins glass. Do not strain: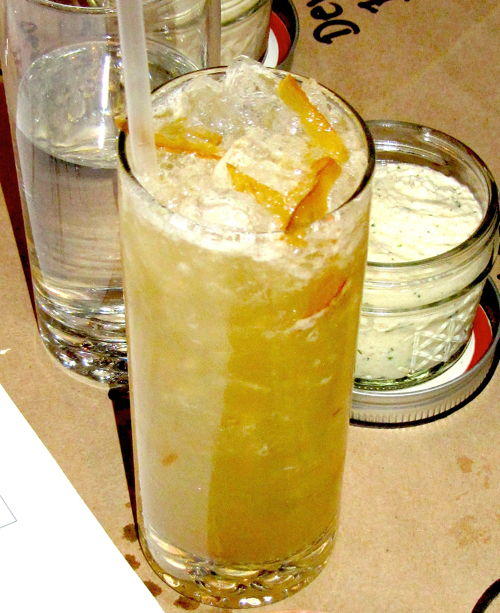 The Ty Ku sake brewery has declared today World Sake Day. Ty Ku suggests crafting the Perfect Pear: 2 oz. Ty Ku Sake Silver; 0.5 oz. gin; 0.5 oz. pear brandy; 0.5 oz. agave nectar; splash of lime juice; muddled pear: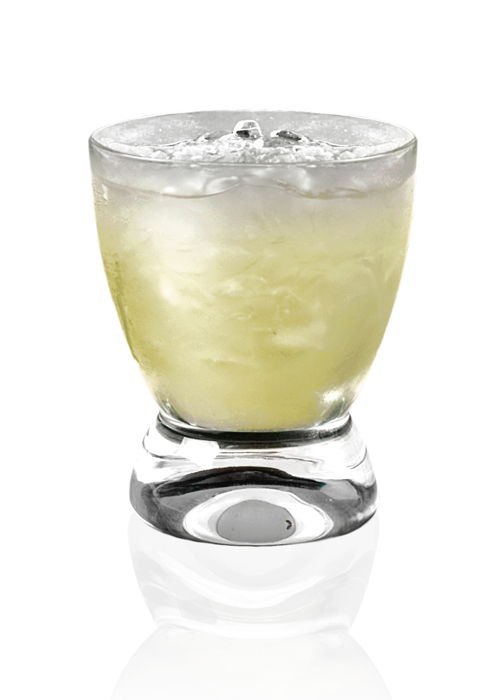 Ty Ku also suggests Sake Cider: 2 oz. Ty Ku Sake Black; 1.5 oz. apple cider; 1 oz. apple liqueur; splash of grenadine; garnish with cinnamon stick: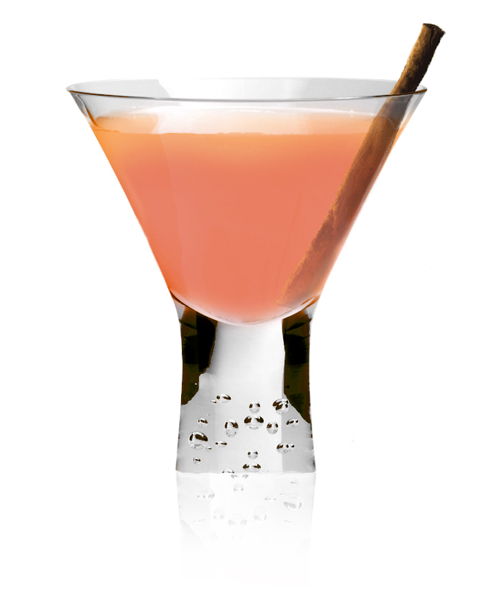 Ty Ku also suggests Asian Sangria, which is Ty Ku sake spiked with fresh seasonal fruits and a splash of agave nectar.
At Portland's Departure Restaurant + Lounge, the Akuma no Toji cocktail augments Chef Gregory Gourdet's pan-Asian menu: 1.5 oz. Honkaku Towari Shochu; 0.5 oz. Rothman & Winter Orchard Apricot; .25 oz. Cointreau; .25 oz. lemon juice; Shake these four ingredients and strain into ice-filled chimney glass. Top with 2 or 3 oz. of Seikyo Junmai Takehara sake. Garnish with orange twist.
The first-ever Thai Culinary Ambassador, Chef Jet Tila, has invented the Thai Silk: 3 oz. Ty Ku Nigori (unfiltered); 1 oz. Malibu Pineapple Rum; 0.5 oz. simple syrup; 0.5 oz. sweet and sour mix. Pour all ingredients into a cocktail shaker half-filled with ice cubes. Shake well, strain into a cocktail glass, garnish with kaffir lime leaf or Thai basil leaf and serve.
Stetson's Modern Steak + Sushi, in Chicago, offers the Sparkling Sake Cocktail, comprising Belvedere vodka, St. Germain, sparkling sake and garnished with an orange twist:

Stetson's also serves the Strawberry Saketini, comprising Absolut Citron vodka; nigori sake and strawberry purée: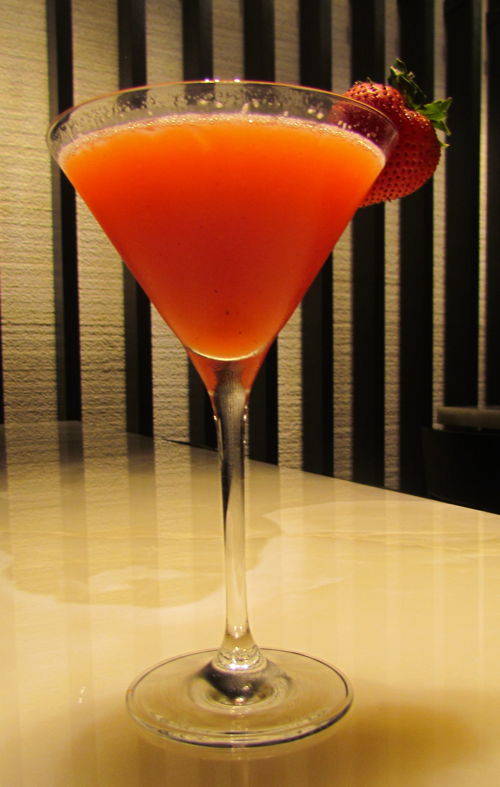 San Francisco's Euro-Asian-inspired Chaya Brasserie offers a Lychee Saketini made with Ty Ku Coconut Nigori sake, vodka, strawberry and lychee fruit: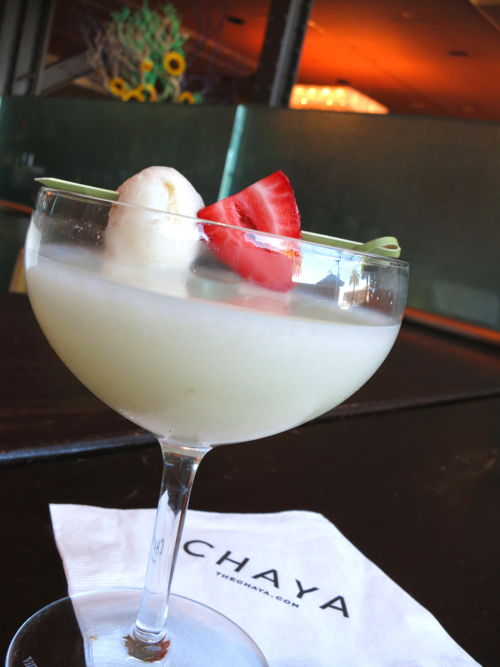 Also in San Francisco, E & O Asian Kitchen offers the Blushing Geisha, featuring Pueblo Viejo tequila, sake, prickly pear and lime. E & O celebrates sake every week by centering its Wednesday happy hours around this deep pink drink: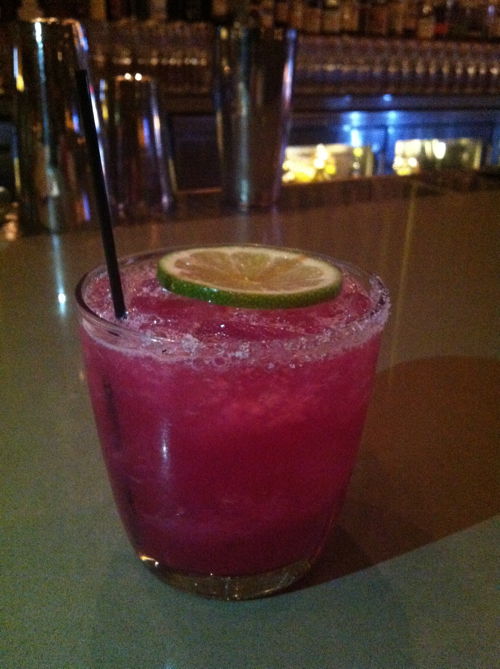 Ginger Crisp image courtesy of Mi & Mo. Lychee SakeTini image courtesy of Matthew Lamos. Robata bottled cocktails image courtesy of Galdones Photography. Ty Ku Pear and Ty Ku Cider images courtesy of Ty Ku. Stetson's Sparkler and Strawberry Saketini images courtesy of Stetson's. Blushing Geisha image courtesy of Maya Placido. Acapulco-Manila and Sumo Wrestler images courtesy of Kristan Lawson. All images used with permission.