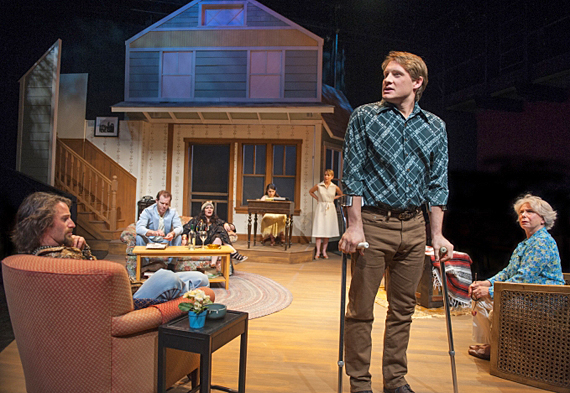 Ken Talley (Craig Marker) confronts his future, watched by friends and family. Harold Pierce, as Wes, is at left, and Elizabeth Benedict, as Sally, is at right. Photos by David Allen
Handling eight dynamic characters on a small stage is no easy task, but Berkeley's Aurora Theatre is doing it with grace in presenting Lanford Wilson's complex Fifth of July. The play sprawls across two days in 1977, along with events recalled from the turbulent '60s with humor, compassion and insight. Tom Ross directed, bringing clarity and vigor to a multitude of interpersonal cross-currents.
The production is part of a three-play tribute to Wilson, who died in 2011 after a career as one of the outstanding American dramatists of the late 20th century. The others, rounding out his so-called Talley Trilogy are Talley's Folly, in a lovely staging of that runs through June 7 in Aurora's upstairs studio theater, and readings of the rarely seen Talley and Son, on Mondays through May 18.
Although Fifth of July was written and produced before the others, it takes place 33 years later, at a gathering dominated by one-time radicals who have moved on, often with anger, frustration and regret.
The group has come together at the Talley family's country house in Lebanon, Missouri, to support the widowed Sally Talley Friedman as she spreads the ashes of her late husband, Matt. Sally traveled from California to her birthplace in Lebanon to perform the task because she and Matt loved the site. Anyone who has seen Talley's Folly will understand.
Sally (a charming Elizabeth Benedict) is by far the oldest and most likable member of the group. She has memory problems -- among other things, she misplaces the candy box that holds Matt's ashes -- but she also possesses a bright wit and sincere concern over serious issues that arise. Many of those issues revolve around the future of the home, which has fallen into disrepair in the wake of the family's business failures.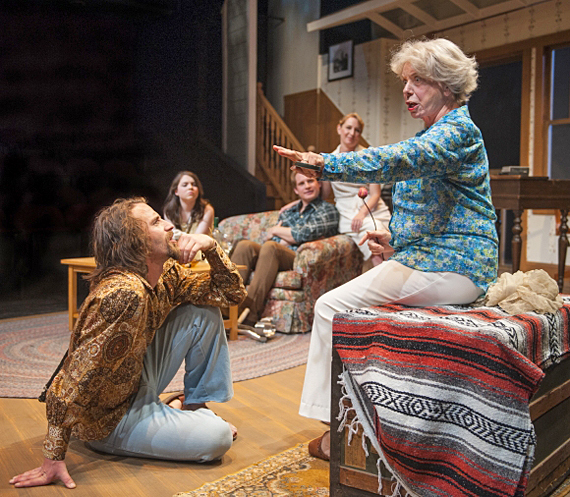 Sally (Benedict) describes an encounter with a UFO; her listeners are Wes (Pierce), Shirley (Oceana Ortiz), Ken (Marker), and June (Jennifer Le Blanc).
Its current owner is Ken Talley Jr., who has neither the resources nor the inclination to repair the estate. Although he receives unflagging support from a lover, Ken seethes with fury over the loss of his legs in the Vietnam War, and even greater fury over attitudes that he believes other people hold toward his crippled condition.
Playwright Wilson's treatment of the psychological trauma faced by many veterans was one of the first theatrical explorations of the topic. And his treatment of the relationship between Ken and his lover was not only rare, but so controversial that many early reviewers could not even mention it. The couple is gay, a fact that draws no special notice at the gathering.
Craig Marker delivers an earnest and sometimes passionate performance as Ken, who has earned respect as a teacher, but is terrified by the thought of returning to a classroom. Josh Schell plays his partner, Jed, who says little, but projects strength and offers support when Ken needs it. He's a botanist who has decades-long plans for the grounds around the house.
Everyone else at the gathering is a flake or a schemer, to some degree. The liveliest among them is Ken's 13-year-old niece, Shirley, an over-the-top diva who sprints through a huge gamut of contortions, expressions and self-inflating declarations about her future fame as an artist. Oceana Ortiz, a teen-ager in her professional stage debut, nails the role and consistently brings down the house.

Among the adults are Nanci Zoppi as Gwen, a neurotic and very rich heiress who dreams of being a country singing star; John Girot as John, her husband and the devious manager of her business affairs, and Jennifer Le Blanc as June, Ken's stressed and cynical sister. June is Shirley's mother, and helpless in the face of the girl's antics.
Gwen, John, June and Ken had shared political passions as well as beds a decade earlier in Berkeley, but their reminiscences provoke more discord than pleasure.
Harold Pierce completes the cast as Wes, June's guitarist and songwriter, an amiable sort who looks as if he hasn't escaped the hippie era and sounds as if he's not quite in touch with the banter around him.
All handle Wilson's exquisitely natural dialogue with skill, and Ross's direction shapes the play's many elements into an engaging glimpse at the years when the We Generation became the Me Generation. The drama may not have the emotional impact of Talley's Folly -- few plays do -- but it stands firmly as an important part of the playwright's legacy.
Richard Olmsted designed the set, which effectively serves as the interior and exterior of a two-story home, and Heidi Leigh Hanson contributed the costumes, with fabrics and lines that recall the period without mocking it, as often happens.
Fifth of July runs through May 17 at Aurora Theatre, 2081 Addison St., Berkeley. Tickets are $32-$50.
Calling all HuffPost superfans!
Sign up for membership to become a founding member and help shape HuffPost's next chapter