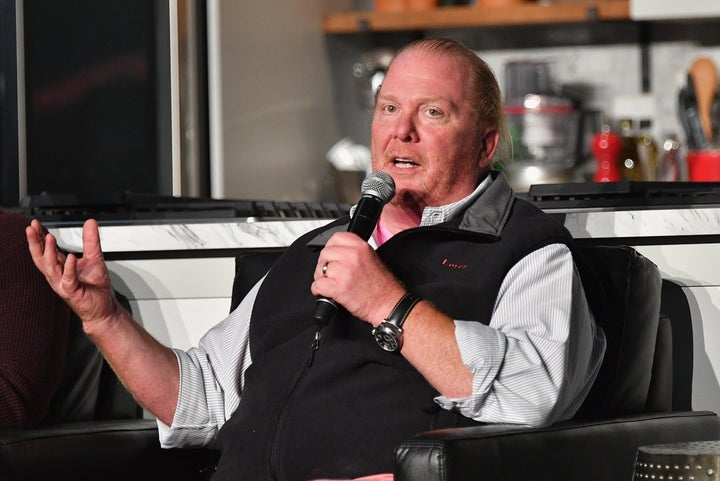 A total of eight women have now come forward with allegations of sexual misconduct against celebrity chef and restaurateur Mario Batali.
Actress and comedian Siobhan Thompson told "CBS This Morning" on Monday that Batali inappropriately touched her breasts while she was a hostess at his restaurant Del Posto in New York. Later that day, Thompson tweeted that she worked at Del Posto and "can confirm that not only was Mario Batali very handsy, they would often serve us pasta with cut up hot dogs as family meal."
Holly Gunderson, who was a special events director for the chef's Los Angeles restaurant Osteria Mozza, told the Post that Batali made an inappropriate comment and later grabbed her crotch without her consent at a party at the restaurant in 2010.
According to Gunderson, Batali was very drunk and told her he wanted to see her naked in his hotel hot tub. Later that night, Gunderson said she was leaning over a high-top table when Batali put his hand between her legs "so his hand went on my vagina outside of my clothes."
At that same party, which was hosted by Vanity Fair publisher Edward Menicheschi, Melanie Altarescu alleged that Batali said they were going to make out in his car. When Altarescu, who worked for Vanity Fair at the time, declined, she said Batali grabbed her sleeve and told her that she was "making a big mistake."
"It was super leery," Altarescu told the Post. "It was not like a joke. It was gnarly, and he seemed super-serious about it."
The third woman in the Post's article, who remained anonymous, accused Batali of grabbing her without her permission while she was working at the West Village restaurant The Spotted Pig in 2004. The woman said that when she tried to pick up a pack of cigarettes that Batali had dropped on the floor, he grabbed and pulled her thong underwear.
In a Monday report from Eater, four other women anonymously accused Batali of groping and repeatedly behaving inappropriately with them. Three of the women had worked for Batali at some point over the last two decades, and the fourth is a chef.
According to Eater, Batali has taken a leave of absence from his position at the management company Batali & Bastianich Hospitality Group. ABC also asked the chef to step away from "The Chew," a daytime show that he co-hosted.
Batali told Eater that the allegations "match up" with his past behavior and he apologized to the people he'd "mistreated and hurt." After the most recent accusations, he provided this statement to The Washington Post:
I apologize profoundly to the people I have mistreated and hurt. The entire day of events surrounding the party I was the personification of idiocy, a drunken and idiotic fool, with no respect for the staff at Osteria Mozza, the guests nor for the restaurant itself. That behavior was horribly wrong, shameful and degrading and there are no excuses. I wish I could have the day back and do it right. I take full responsibility for my deplorable actions and am deeply sorry for any pain, humiliation or anguish I caused.