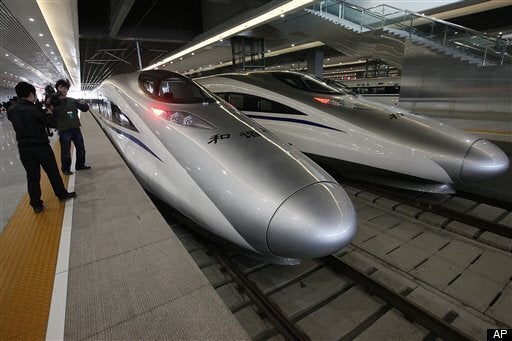 Low-cost Chinese goods may flood U.S. markets and the balance of payments might tip favorably toward Beijing, but America still exports planeloads of one commodity eastward:
The wildly ambitious building boom of the past few decades here in the states can now only be called over, kaput, finished. Meanwhile, an aggressive China, eager to surge forward as its citizens from the countryside rapidly migrate to crowded urban centers, seeks to build 50 new cities of one million people each -- all within the next 20 years.

"The speed of the growth, construction and volume is numbing," said Kenneth Drucker, senior project director of design at the New York office of HOK. "They're passing us by very quickly. The scale and density has jumped from community-based neighborhoods with courtyard homes to very tall buildings that compete with London, Dubai and New York."
Not surprisingly, American architects are swarming there. HOK employs 150 in offices in Shanghai and Beijing. Kohn Pedersen Fox has 200 in Shanghai. Just last year, SOM completed the China World Trade Center in Beijing (pictured above). Even more modest firms like Durham-based Duda Paine, known for tall buildings like Terminus in suburban Buckhead outside Atlanta, are shuttling architects back and forth.
To be sure, most of the larger New York firms have been in Asia for decades. But only in the last few years or so have economic and policy changes opened the floodgates to more Western architects. "The nation is transforming itself from agriculture to technology," said Turan Duda, partner at Duda Paine. "They've skipped the industrial age -- they've bypassed adolescence. It's quite a transition -- a leapfrog move into a new kind of economic revolution."
And the Chinese people, their collective memory wiped clean by Mao's Cultural Revolution, need context for their new cities. Americans bring to the table a sense of place with know-how about great urban spaces, tall buildings and complexes for health care and aviation. "We bring a knowledge base," Duda said. "We can show how we've learned from our mistakes before they make their own. How can we assure that this instant city -- this city where you add water and it pops up - will survive?"
Unfortunately, not all of our lessons have been learned there. Intent on upgrading transportation infrastructure, the Chinese are developing not just subways, trains and high-speed rail, but a new dependency on automobiles as well. "They're too car-dependent," said HOK's Drucker. "They've built ring road after ring road, radiating out from the Forbidden City in Beijing."
And though they look to American design innovation in their architecture, most of their structures are built by local firms. "We did all the drawings," SOM's architect and design partner Brian Lee said of the China World Trade Center. "But they had people on site to build it. Our involvement was limited to the architecture."
Recognizing the American penchant for good design, the Chinese asked SOM for a unique building, but not an unusual one. More important may have been the technology the Americans delivered. "They wanted technological sophistication," Lee said. "They wanted efficiencies, and the best systems -- structural, mechanical, plumbing and electrical. It cost extra, but they wanted the technical expertise."
"Those that we deal with have no experience in developing land, but come to us because we have that expertise," Duda said. "We'll download very ambitious designs, and they'll take them back to the government for permission to lease the land for a hundred years to private individuals."
For now, the Chinese seem content with buying their innovation from the outside world, rather than creating it themselves. In some cases, one wag said, it seems as though the Americans might as well give them a shopping bag at the architecture mall for the icons -- like the faux Big Ben for a new strip mall -- that they seek. But it makes sense. Why should they waste time now on innovation, if the Chinese economy is strong enough to build 50 cities at a stretch, and they're learning as they go along for the long term?
"Over time, there's a transfer of knowledge," HOK's Drucker said. Which brings up the question of education. SOM's Lee noted that the dean at USC has already set up the USC US-China Institute to collaborate and connect across the ocean. Harvard and Yale are establishing schools for business there, while Duke ups the ante with a medical school too.
And though there are thousands of Chinese-trained architects practicing there already, could a Chinese A-School, developed cooperatively with an American university, be far behind?
Perhaps not. After all, it's the olive tree, as Louis Kahn once noted, that bears fruit late in life.
And the one that's been around the longest is said to be 5,000 years old...
Calling all HuffPost superfans!
Sign up for membership to become a founding member and help shape HuffPost's next chapter