There are certain things that are forgivable in any dance performance, but a certain level of professionalism on the part of choreographer and performer alike is the least that one might expect at a summer ballet festival at the Joyce. Billed as a forum for uncovering new or cutting-edge talent, the festival's August 6 performance of Chamber Dance Project, featuring guest choreographers Jorge Amarante and Darrell Grand Moultrie disappointed. Founder and artistic director Diane Coburn Bruning's 2014 project-to pair live music and "modernize" ballet--was initially greeted with enthusiasm, so it was surprising to see that the dancers seemed, what, perhaps poorly rehearsed? Shy in their delivery at times, lacking extension at others, enthusiasm eluded them throughout. All told, I am also beginning to tire of choreographers of questionable talent trying to "modernize" ballet--I'll take my Petipa and Balanchine straight up, thank you very much.
The opening 2005 piece, Wild Swans, choreographed by Moultrie to music of the same name by Chia Patino was the most rewarding of the night. Inspired by an Edna St. Vincent Millay poem, it was credibly performed by the six dancers, and a few of the passages showed promise. There was however the puzzling choice of two-toned violet costumes to contend with, which made the dancers look more like ice cream sherbets rather than elegant birds (purple swans, really?). Millay's poem moves with characteristic speed and flow: "I looked in my heart while wild swans went over./And what did I see I had not seen before?/Only a question less or a question more/Nothing to match the flight of wild birds flying." A bit more flight would improve this dance sensibly.
Arranged, choreographed Coburn Bruning and set to Arvo Part's Fratres--all of nine chairs and three women--was perhaps the low point of the night. The women (Francesca Dugarte, Morgann Rose and Luz San Miguel--all elegant and technically proficient in other pieces that night, it must be said) here were attired in white outfits and veils with red lipstick underneath--shades of Bride of Frankenstein. Two of them moved forward in crouching positions from one chair to the other, then simply waited. They looked as if they were about to lay an egg. The third hopped off the chair onto the stage and began to re-arrange red petals into a pile, shades perhaps of Pina Bausch?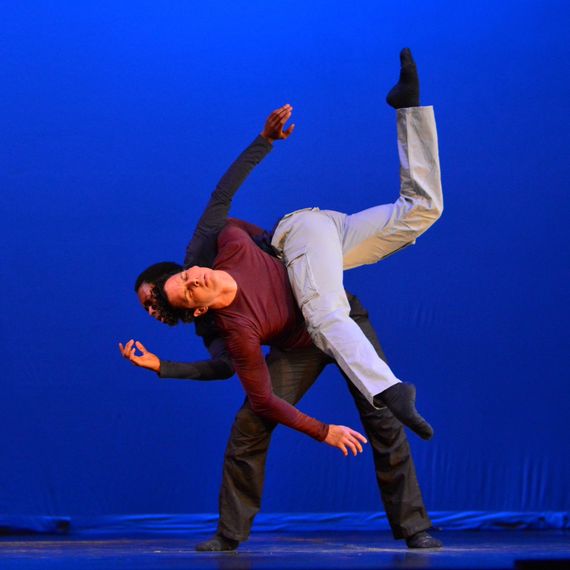 Regrettable as well was the attitude of one of the male dancers at the end of the physical male duet Exit Wounds (choreography by Coburn Bruning to Phillip Glass's String Quartets, 2, 3 and 5). Attired in drab jeans and shirts, the boyishly charming Jacob Bush and the sophisticated Davit Hovhannisyan did a credible job of executing movements both standing and on the ground, but they seemed uncomfortable and tenuous at times. Were they lovers quarrelling or quarrellers loving? It was hard to tell. The dance ended and responding to strong applause from a polite audience, one of them shrugged as if to say "well they made us do this, so we did it." It was unclear what made him so ill-at-ease but one would hope that in this day and age it wasn't the homoerotic content, of all things. Of the night's dancers, Hovhannisyan it must be said, was the technical highlight--he's a fine dancer with good line and presence.
Other pieces in the program leaned towards bland, so why comment on them at all? As for the chamber quartet, its four members played adequately at times, as in Russell Peck's fun Don't Tread On me Or My String Quartet. Claudia Chudacoff and Chaerim Smith on violin, Derek Smith on viola and Marion Baker on cello seemed to be enjoying themselves, at least. At times they scratched at their strings, while Chudacoff and Smith performed a regrettably listless Prokofiev Allegro con Brio in C Major--to audience members it sometimes seemed as if they were reading their page music as they went along.
Other questions arose, not the least of which was what qualified any of this as "ballet?" You can only respect dancers for their craft and hard work in even the most marginal circumstances. But if a choreographer or her dancers haven't had the proper amount of time to perfect their craft, then the Joyce is the wrong place to present. Better to stay home and dazzle audiences the next year when they are ready. It's only fair after all to audiences who have paid good money to see good dance.