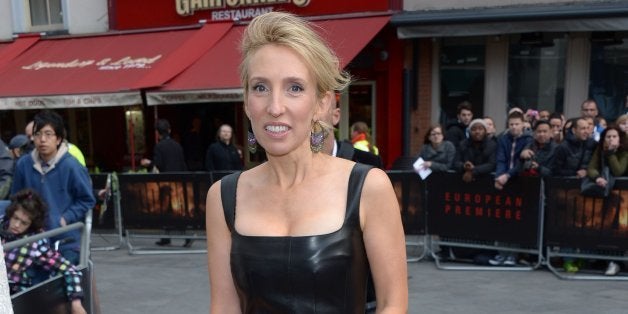 Americans will skip the romance this Valentine's Day and head straight to second base with "Fifty Shades of Grey," which opens Feb. 13. Love may be in the air for audience members, but the film's personnel clashed on one vital element of the adaptation: sex.
In a new interview with Porter magazine, director Sam Taylor-Johnson ("Nowhere Boy") says she butted heads with E.L. James, who wrote the novel on which the film is based, over the nature of the explicit sex scenes.
"It was difficult, I'm not going to lie," Taylor-Johnson reportedly said of her deliberations with James. "We definitely fought, but they were creative fights, and we would resolve them. We would have proper on-set 'barneys,' and I'm not confrontational, but it was about finding a way between the two of us, satisfying her vision of what she'd written as well as my need to visualize this person on-screen, but, you know, we got there."
The tension over the portrayal of bondage resulted in what we now know is about 20 minutes of sexual content, roughly one-fifth of the movie's 100-minute running time. To get there, male and female dominatrixes visited the set to prepare Jamie Dornan, who portrays Christian Grey, and Dakota Johnson, who plays Anastasia Steele. Still, the film will be relatively tame compared to James' book, specifically in regards to its lack of male full-frontal nudity.
"It's a Hollywood movie, but it's going to be extreme for that world," Taylor-Johnson told Porter. "It's going to be pretty sexually explicit because, let's face it, we know what this book is about. It's a sexual journey."
Popular in the Community