Somewhere amid the incessant lip-biting and erotic scenes that push the limits of its R rating, the highly anticipated "Fifty Shades of Grey," Sam Taylor-Johnson's adaptation of the best-selling E.L. James novel, introduces Victor Rasuk as José Rodriguez, a loyal friend of main character Anastasia Steele who secretly pines for her.
Rasuk, 31, is best known for his role as Cam Calderon in the short-lived HBO series "How To Make It In America." That show was cancelled in 2011, but Rasuk has kept going with roles in blockbusters like "Godzilla" and most recently as Detective Ben Caldwell in CBS' "Stalker."
Millions around the world await the release of the "Fifty Shades" film, which follows 21-year-old Anastasia (Dakota Johnson) as she develops an emotionally and, at times, physically torturous relationship with 27-year-old billionaire Christian Grey (Jamie Dornan).
Ahead of the film's nationwide release on Friday, Rasuk sat down with The Huffington Post and spoke about why he feels the film's leads are "extremely brave," as well as his thoughts on the book and on how Hollywood has opened up to Latinos.
Even before his first audition for the role of José, Rasuk didn't know much more than what anyone with a pulse knows about the book series.
"I knew what everybody else knew, which is that it was an erotic book," Rasuk told HuffPost. "I didn't know too much about the story and the characters."
At first the actor wasn't even sure if the role involved nudity, so he relied on relatives who were fans of James' trilogy to quell his doubts.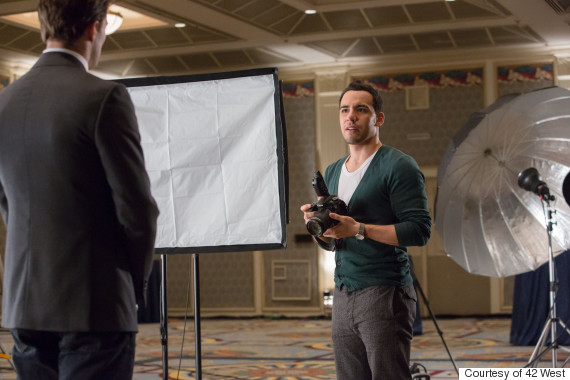 Victor Rasuk as José Rodriguez in "Fifty Shades of Grey."
"I said, 'Hey, am I naked in the movie? I should know this.' And they thought about it and were like, 'No, you're not, you're good,'" Rasuk recalled. "So I said, 'Perfect, I can be a part of this and not feel so guilty when my family goes and sees it.'"
While most of the nudity in the film occurs in Anastasia and Christian's scenes, Rasuk said he would have been OK with having to bare it all for the cameras.
"It wasn't a deal-breaker, but you know, sometimes you just want to be prepared," Rasuk said. "You want to know what you're going to walk into. If that was the case and if the script was good -- that was the number one thing for me -- then I would do whatever it took."
As he awaited news from the film's casting director, the actor read the book for the first time. Rasuk, who began his career at the age of 17 with the young adult drama "Raising Victor Vargas," said he found the story to be in tune with films he'd done in the past.
"I loved it," Rasuk said without hesitation. "And I say that honestly, because I've always been a fan of books where you sort of go with the protagonist through their journey, and I love that. Obviously, this book was that. And also when you follow my career, for the most part, and I'm not saying every project, but almost every project that I try to work on are coming-of-age stories. And this 100 percent has a coming-of-age element to it: a young woman and her first love."
"To bare it all like that, not just physically, but emotionally too. You got to go through a lot to be able to shoot those kinds of scenes."
The movie's most intimate scenes between Anastasia and Christian were shot on a closed set, which means that Rasuk experienced them for the first time at a private screening for the cast.
"I thought they were extremely brave," said Rasuk of Johnson and Dornan, recalling the first time he saw the sex scenes. "I thought they were both very sexy, both of them. And the respect level went through the roof, because to do what they did is amazing. To bare it all like that, not just physically, but emotionally too. You got to go through a lot to be able to shoot those kinds of scenes."
José is set up as Christian's main rival for Anastasia's heart, but Rasuk's fans may be disappointed to find that his character appears only in a handful of scenes. In fact, all of the actor's lines are delivered within the first 30 minutes of the two-hour film.
"Yeah, I know," Rasuk said of his lack of screen time. "I was like, damn! Because in the book, he's in it way more and they keep talking about him. The one thing I liked about it, though, is that even when I wasn't in [a scene], they talked about me."
"I know for a fact that José is going to be a lot more featured in the second one, because it opens up with him [in the book]," Rasuk said.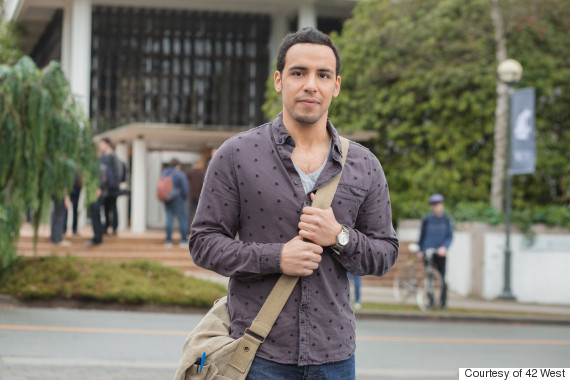 When asked about whether he feels Hollywood is willing enough to cast Latinos -- considering they make up 17 percent of the population and around 20 percent of moviegoers -- Rasuk brought up the late Puerto Rican actor Raúl Juliá, who played Gomez Addams in the 1991 film "The Addams Family."
Rasuk, who has Dominican roots, said that Juliá worked to break barriers in an industry very different from the one that exists today.
"If you asked him that question, he would have said, 'Well, it's better than it was before I got here.'" said Rasuk. "And now I'm saying it: It's better than it was before I got here, because of people like him."
"Do I want more Latino faces? Of course," the actor added. "But I feel like every ethnic background had their moment and then they started slowly blowing up, and we're having our moment. It'll just get better from here."
Though Rasuk acknowledged that onscreen diversity isn't what it could be, he said he does feel the industry is changing. For example, he said, his current role on "Stalker" was intended to go to a white actor.
"I feel like every ethnic background had their moment and then they started slowly blowing up, and we're having our moment. It'll just get better from here."
"['Stalker' creator] Kevin Williamson is very well respected in the business," said Rasuk. "He was open-minded enough to cast me in something that he didn't even see from the get-go."
"I had to meet him and show him and do my thing, and be like, 'Yo, we beautiful too and we can play anything we want,'" Rasuk went on. "I told him, 'I could add some flavor to this, so if you cast me that's what you're going to get.'"
While discussing this year's Oscars, which have been called the whitest since 1998 due to no actors of colors being nominated, Rasuk said there are several factors that go into being nominated other than talent.
"I think there are plenty of us out there that are talented, that can play those roles, but sometimes you just got to be at the right place at the right time," Rasuk said. "Unfortunately, it's not always about your talent in this business. It's also who you know sometimes. Yes, it could be a very white-nominated year, but I'm sure that those actors who are nominated, as talented as they are, had all those elements."
"It's the luck of the draw sometimes, and also hard fucking work," Rasuk added. "I don't want to shed a negative light on it, because I think that's usually the reality of it."
Calling all HuffPost superfans!
Sign up for membership to become a founding member and help shape HuffPost's next chapter
BEFORE YOU GO
PHOTO GALLERY
'Fifty Shades Of Grey': Everything You Need To Know