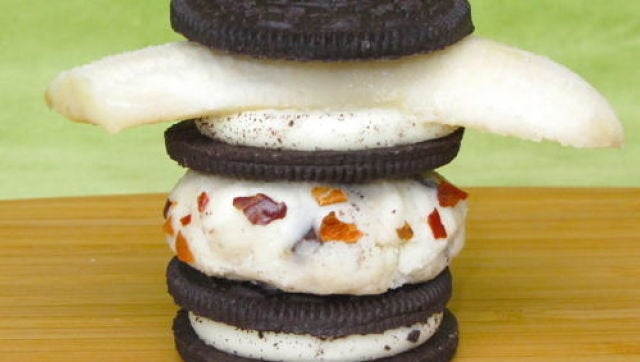 No one knows who made the first sandwich cookies. Versions thrive in the cuisines of Austria (Linzer sables), Morocco (biscuits a la confiture), the Netherlands (stroopwafels) and beyond. Argentina has its alfajores, Australia its Tim Tams. Even the Oreo, first manufactured in 1912, is a nearly identical knockoff of its predecessor the Hydrox, which first appeared in 1908 but succumbed to the ruthless Oreocracy in 1999.
However it first emerged, the sandwich-cookie concept is sheer mathematical genius: Eat two cookies at the same time, but by virtue of the fact that they are stuck together with a delicious substance, you can say that you have eaten only one.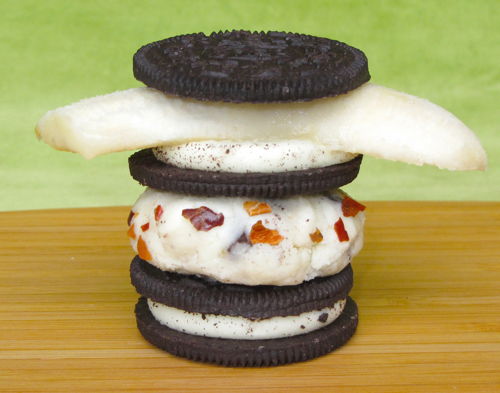 Last week, Scharffen Berger sponsored a sandwich-cookie crawl: Bakeries all over San Francisco debuted unique sandwich cookies created especially for this occasion. Scharffen Berger was founded in San Francisco. So was Ghirardelli. So was TCHO. San Francisco is the home of the annual Chocolate Festival and the annual Luxury Chocolate Salon. Sometimes it seems as if this whole city is made of chocolate!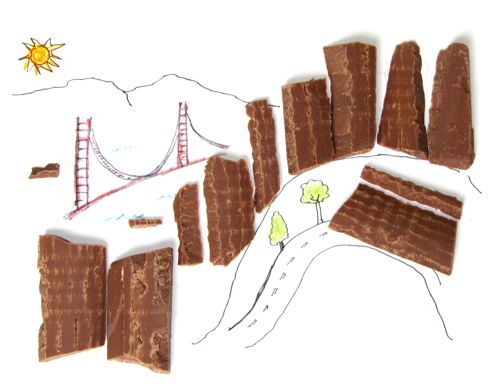 Featured first on the crawl were chewy-crispy chocolate macarons with Sumatra coffee ganache filling at Miette. (Some say macarons are what will actually replace cupcakes. Something should, and macarons are neater to eat.)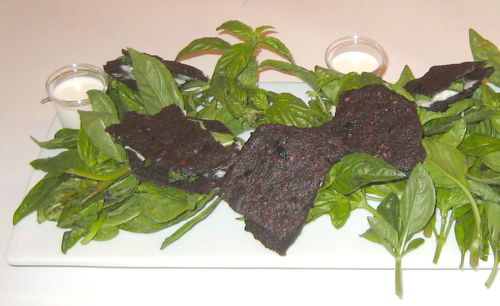 "We wanted to create a filling that would highlight the super-earthiness of the wafers," GGCASDSAC's co-owner Remi Hayashi told me. "What came to mind was lemon and basil. I tend to think not so much of ingredients, but of flavor profiles. I wanted something that would cut through the butterfat in the filling, and lemon does that. It breaks right through." As one eats a Goodywich, its contrasting flavors and textures in the Goodywich "go around and around in a circle," Hayashi beamed.
As the birthplace (in 1928) of the It's-It, San Francisco is also a Sandwich Cookie Capital. This fact was reconfirmed at last week's glam party unveiling the Hotel Adagio's new multimillion-dollar renovations: The dessert tables prominently featured luxurious, stratospherically tall, fruity-minty-chocolatey s'mores.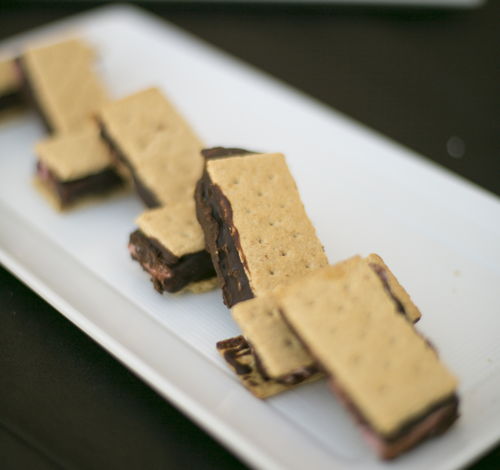 "I got the idea to do s'mores because it reminds me of being young and camping," explained Adagio sous chef Fletcher Allen. "I decided to make raspberry marshmallow, just to be a little different, and then the mint chocolate just seemed like it would work. ... I feel that desserts should be fun and take you back to a time in your life that makes you smile."
For anyone making s'mores in a kitchen -- i.e., not around a campire -- "the one important tip that I can give is to make sure that when you are spreading them across your sheet pan you have a well-oiled spatula and a generous amount of powdered sugar. After marshmallows have been whipped in the blender, they are extremely sticky," Allen warned.
OK, back to the cookie crawl. Next up was the Ice Cream Bar, where caramelized honey and chocolate ice cream were sandwiched between pairs of hefty banana-and-cacao-nib cookies to produce what I would consider a glorious meal in itself. Look, it's got protein. Fiber. And nibs are not only packed with calcium, copper, iron, zinc and potassium. They're a magnesium powerhouse.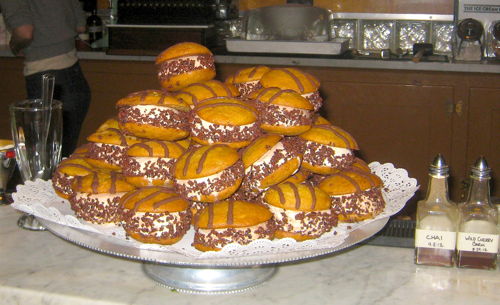 Then at the Tout Sweet Patisserie, conveniently located inside Macy's department store, co-founder (and Top Chef: Just Desserts winner) Yigit Pura sandwiched pasilla-chili-infused chocolate ganache between paroxysmally rich cacao-nib mudslides.
"Butter and chocolate are best friends," Pura announced as he wielded his tools in the demo kitchen. "Butter does make everything better. But chocolate is such a temperamental beast."
The crawl was tagged to Scharffen Berger's annual Chocolate Adventure Contest, whose theme this year is sandwich cookies. From now until January 2, contestants can submit original sandwich-cookie recipes. After scrutiny by a celebrity panel including Elizabeth Falkner, Matt Almendariz, Angie Dudley, John Scharffenberger and Alice Medrich, the grand-prize winner nets $25,000. Ten runners-up bag specially engraved iPads. Each recipe must include at least one Scharffen Berger chocolate product and at least one of 12 different "adventure ingredients"; these include banana, cacao nibs, coconut milk or coconut cream, cornmeal, chili pepper (fresh, whole-dried or ground), fresh ginger, pine nuts, Sumatra coffee, sweet potato, tapioca or tapioca flour, tequila and yerba maté.
So I created my own sandwich-cookie recipe. Its filling includes Scharffen Berger chocolate chunks, fresh ginger, chili-pepper flakes and a few drops of tequila. I call it the Chichocteginoreo. Its picture appears at the top of this post.
As you can see in the picture, the Chichocteginoreo also includes banana, but somehow I suspect that it might not win.
Chocolate city and Oreo Deluxe images courtesy of Kristan Lawson. S'mores image courtesy of Nikki Ritcher and Hotel Adagio. Ice-cream sandwich and crisp wafer images taken by Anneli Rufus. All images used with permission.