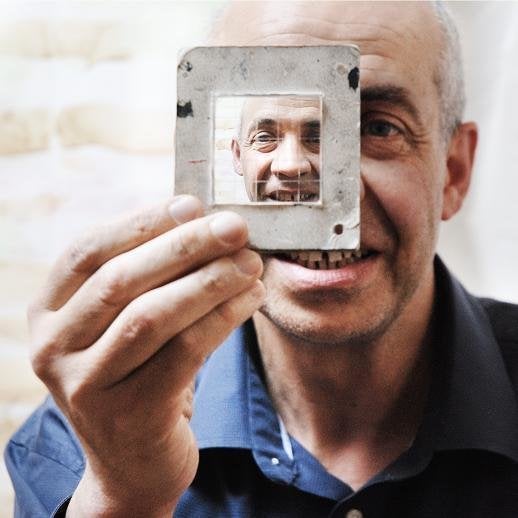 On a sunny morning in early May, Camille Saint-Jacques comes striding across the elegant garden of Paris' Palais Royal, to our meeting place by the little cannon. He explains that this had been a traditional meeting place for Paris' art world since the eighteenth century: created by a clockmaker, the cannon detonated automatically every sunny noon on Wednesdays, when the sun crossed the meridian. We walk out of the garden, through the Daniel Buren columns in the Palais Royal's courtyard, and across the street to the Café Marly, in the courtyard of the Louvre. We settle down there to talk about Saint-Jacques' art, and his views of the contemporary art world in Paris.
I first met Saint-Jacques a decade ago, because of an article he had written in Post, an art newspaper he edited. I initially assumed he was a journalist, but I soon discovered this was only one of his many jobs. He is in fact a teacher, an artist, an art scholar, and a critic. He lives with his wife Julie and their children Louis (12) and Madeleine (11) in Colombes, across the Seine from Argenteuil, in Impressionist country northwest of Paris.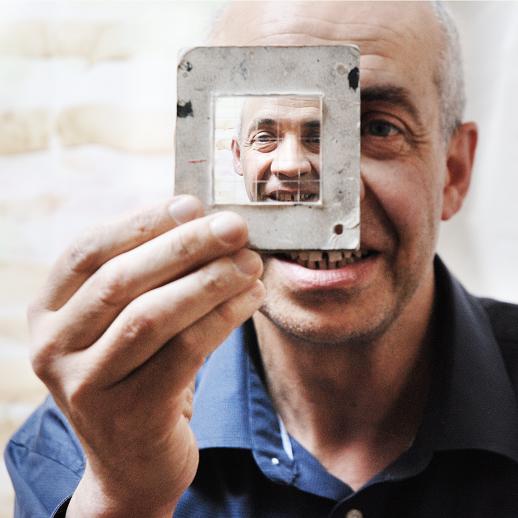 Camille Saint-Jacques, Photographs by Barbara Moors
Saint-Jacques was born in Colombes in 1956. Growing up he had little interest in school; his two passions were art and radical politics. His love of politics did not survive the 1980s, but his love of art did. He was fascinated by the American art he saw at Ileana Sonnabend's gallery in Paris, especially the work of Frank Stella and Robert Smithson. He studied art history in Paris, and became a teacher in Colombes, where he continued to work at painting. He has written and edited numerous books about art, including Arts Contemporains, 1950-2000 (Editions Autrement, 2002), Une Breve histoire de l'Art contemporain (L'oeil 9 editions, 2007), and L'art comme experience: Shirley Jaffe & pratiques contemporaines (Lienart, 2010). He has attended countless gallery openings, concerts, and performances, a sizable proportion of them involving the work of friends. He is a familiar figure in Paris' world of art, and walking with him through the city's galleries and art schools involves frequent stops while he catches up with old friends.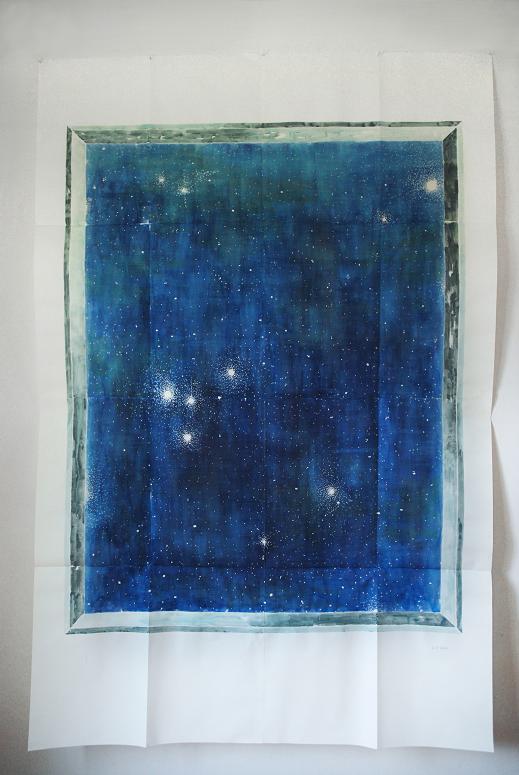 LIV 178, 258x158cm, watercolor/paper, Camille Saint-Jacques
Saint-Jacques started his first art newspaper, Journal des Expositions, in 1992, to try to revive the art scene after a crash in the market. During the next decade, editing this journal and its successor, Post, Saint-Jacques explains that he discovered the basic reality of today's art market:
What sells is what you can recognize at 20 meters. Dealers want artists who can produce surprising art, in large quantities.
He sees a clear change in the values of the art world since the beginning of his career:
Fifty years ago, art was a religion. It was a question of faith. Now, there's no room for this. Art today is a market, an industry with hundreds of dealers. It has become like fashion. An artist has to change his style every six months to be successful. Success today is making art that surprises people--art that makes people say "wow!"
Saint-Jacques and his friends accept the fact that Paris' art world has been marginalized by New York and London:
Art in Paris is no longer big business. Twenty years ago, we were upset that New York had stolen the art world from us. Now we accept this. For us, it's the weekend. We can sit on the porch, with a glass of Sauterne, and enjoy the sunset. We're not upset any more. There's room for everybody. And now we can accept this, without jealousy.
Saint-Jacques paints and writes about art because for him "Art is my life." He still loves art:
I paint to enjoy my life. But there are only a few people today who believe in art. I don't want to spend my time with young artists who only want to make money. I don't want to spend time with people who never smile.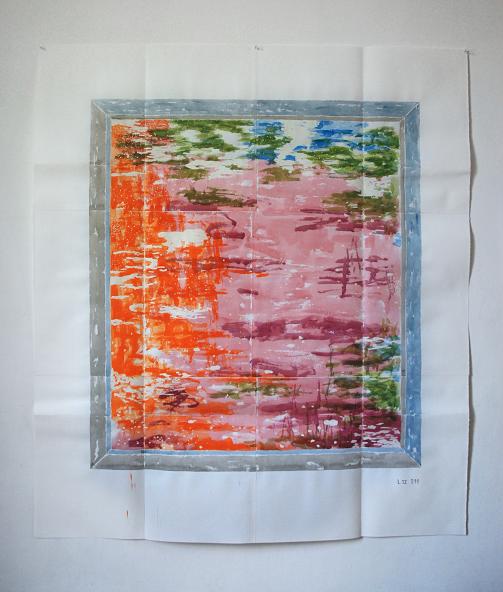 LII 311, 147x129cm, watercolor/paper, Camille Saint-Jacques
For Saint-Jacques art is still a matter of faith. When he sells a painting, he has the buyer make out a check for the full price to a charity. To give the dealer his commission, Saint-Jacques then gives a painting of the same value to the gallery.
Saint-Jacques has work in two shows opening in June. One is a solo exhibition at the Centre Regional d'Art Contemporain in Montbeliard, near Switzerland. The other is a group show, "Le paysage revisité," in the medieval village of Saint Benoit sur Sault. Neither show is likely to attract great attention, but he has no regrets about the time and effort he has devoted to art. He believes that the real strength of contemporary art is not to reveal universal truths, but to allow people to enjoy their lives more intensely: to this effect, he quotes the French artist Robert Filliou, who was equally committed to the idea of art as a spiritual activity: "Art is what makes life more interesting than art."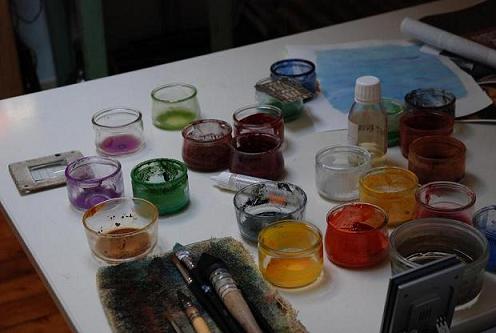 Related
Popular in the Community