So needless to say, I brought that baby home with me.
The Spring Herbal Steam is part of Fig + Yarrow's seasonal selections. This detox mix is a beautiful combination of lavender, rose and chamomile, and it works with hot water to pull the toxins from pores.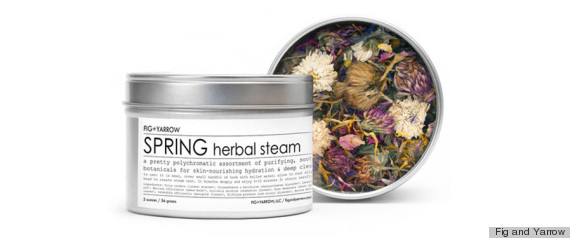 I decided to pour the mix into a pretty bowl to amp up my at-home spa experience. Then I added water I boiled into the bowl and let the herbs rest for a minute, so I wouldn't scald my face with piping-hot air.
As instructed, I put a small towel over my face and leaned in as the steam went to work.
In the beginning, I didn't really feel anything. But as I breathed in and out, I felt the steam mostly on my lips, nose and inner cheeks. Which was perfect, because the pores near my nose can get super clogged.
I wanted to maximize the use of the herbal steam, but I could only last a little over five minutes out of the recommended 15. I felt a little suffocated from the heat and towel covering my face. [Ed. Note: You may get better results by going the traditional facial steam route and placing a towel over your head, as opposed to this writer's method.]
For me, the facial steam was more about the relaxing ambiance rather than the actual clearing of my pores. The clean smell of the flowers, the solitude, silence and a hot bowl of herbal tea helped me wind down on a quiet Sunday night.
During the week after, I didn't notice a transformation in my skin compared to other facials that usually leave me glowing for at least a couple of days.
Rating: 3 out of 5. I didn't see any results with the herbal steam, but I would use it again with the rest of Fig +Yarrow's six-step skin care regimen to see if that makes a difference.