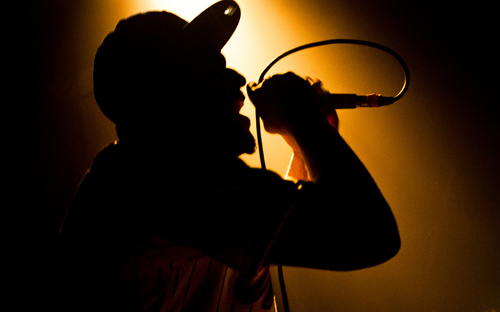 Schoolboy Q put on a show Thursday night that made everyone in the room forget about that other "dog" uptown at SOB's. The unbridled passion and excitement the entire night at Vate Magazine's & Barrel House Brooklyn's "NigHtmare on Lafayette Street" from the opening performers to the crowd was special, something that doesn't come very often at hip hop shows. Q did not disappoint in the slightest, bringing the homie Ab-Soul to ride shotgun as they smashed through a set of both Setbacks and the Album of the Year Habits and Contradictions. It was a clear reminder that no one is running a movement better in 2012 than Top Dawg Entertainment.
The crowd was eating out of his hand Thursday night, throwing back lines to Q as he frantically mobbed on stage. Decked out in the orange and blue home colors, the David Wright body double came out to a hungry crowd over paranoia-inducing guitars of "Sacreligious," the lights slowly flickered to life around him (He said they were sold out of Lin jerseys... damn you Knicks fans). The transition was seamless into the chopped up grime of "Oxy Music," Q's flow snapping back and forth to the beat as everyone drunkenly yelled about their hustle (DAAAWG!!).
There was a huge sense of confidence throughout his set from the start, Q ripping through the double feature of "Figg Get Da Money" and the Throne jacking "Nightmare on Figg Street" complete with a full on ski mask. If you ever wanted to see David Wright threaten to rob you to start re-upping for Oxycondone, this show was for you. At one point he was taking open requests from the crowd, soaking it in, knowing no matter what he would kill it. Ab-Soul came through with a giant "SOLO HO!" from backstage for the wobbly banger "Druggys Wit Hoes Again." The two showed that undeniable Black Hippy chemistry, finishing each other's lines (and ad-libs), sending everyone into an even larger frenzy. The perfect partner in rhyme, he showed the potential for the next great entry into the TDE canon, the Ab-Soul album (much closer to being done than you think).
Another group that looked ready was Brooklyn's own Flatbush Zombies (ASAP Rocky openers two weeks ago). Zombie Juice, Meechy Darko & Erick Arc Elliott brought their Zombie music, a combination of horrorcore raps, pounding bass, and of course the occasional "Thug Waffle" (the video: so many waffles). Their thrashing across the stage was infectious as their chopped up robot vocals beats knocked from the weapons grade speaker system at Santos.
Kris Kasanova and Nakim also opened for relatively large crowds, taking advantage of the special occasion. Kasanova, the 23-year-old upstart from Brooklyn had a lot of people doing the awkward over the head clap you see at basketball games all the time. It somehow worked as they belted out "Just Another Day" and "WarPaint" like an anthem, surely making a few new fans that night. Nakim even brought out everyone's favorite Kushed God Smoke DZA and Mickey Factz for his "Swervin" remix, bringing everyone he could on stage to take part in the 3 Bs (Bentleys, bitches, bourbon... SWERVIN!).
None though could match what Schoolboy Q threw down Thursday. He rode the tidal wave of success from the past two months into a show that will be remembered for a long time. Shutting Santos down would be an understatement (literally all the girls left at set's end). The TDE belt was held down tonight.
Next week: the Schoolboy Q & Ab-Soul features. Tell your mom.
Photo credit: Lucas Farrar / Far Fetched Future
REAL LIFE. REAL NEWS. REAL VOICES.
Help us tell more of the stories that matter from voices that too often remain unheard.