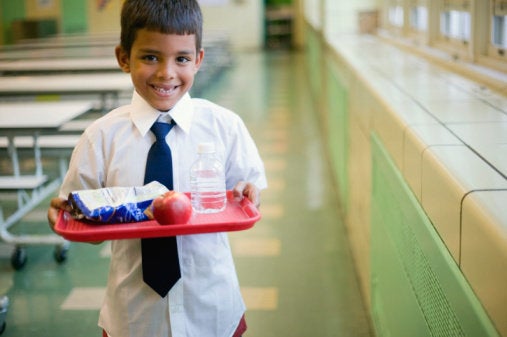 In case you haven't noticed, kids have gotten bigger recently. In fact, according to the CDC, obesity rates have tripled in the past 30 years with nearly 20 percent of children aged 6-11 and 18 percent for those aged 12-19. This adds up to 12.5 million children that are obese in the U.S.
Washington is noticing, too.
In his recent State of the Union address, President Obama acknowledged his wife's new focus on addressing childhood obesity in the US. Michelle Obama's commitment will help to give this issue the priority that it deserves in Washington and in communities nationwide. The Obamas took it even further, with the President recommending $1 billion increase in spending for childhood nutrition initiatives in his 2009 budget.
This is serious and it's a major health issue facing our nation. While Michelle Obama's new initiative will help to raise the profile of this national problem and hopefully bring additional resources and energy to combating it, there are options now that will make a big difference.
Congress should be reauthorizing the Childhood Nutrition Act this year. It's a bill that is reauthorized every five years and provides funding for all federal nutrition programs, including school lunches. There's a proposal to ban all soda and junk food from these programs. This won't end the obesity epidemic but it will make a big dent and will help to further galvanize this issue. Millions of school children are gulping sugary drinks and consuming high-sugar, high-fat foods with no nutritional value. It's dangerous to their hearts and their heads. It impedes them from learning in classes and is significant factor in the obesity epidemic.
Despite the message from the White House that this issue is a priority, the reauthorization of the bill hasn't happened yet. While you might roll your eyes and just assume that this is business as usual in the government, millions of kids' health is at stake.
It is urgent that our government reauthorize the act and provide healthy foods, not junk foods. It's commonsense. California already did it and the rest of the nation should follow suit. You can make a difference today with these simple actions.
2. Call the US Secretary of Agriculture Tom Vilsack and urge him to make the Child Nutrition Reauthorization a priority. His office is at 202-720-3631.
3. Call the White House to thank President Obama for his commitment to childhood nutrition and urge him to make the bill a priority. The White House telephone number is 202-456-1111.