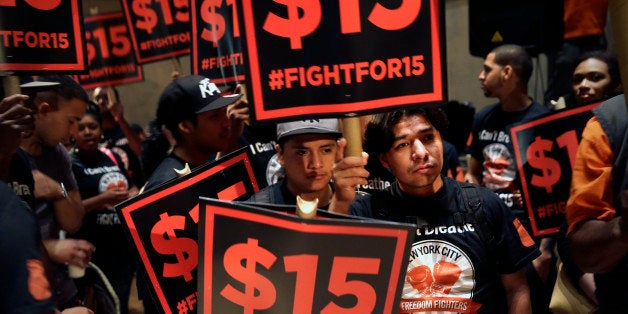 Most people wouldn't expect an auto worker to have much in common with McDonald's cooks and cashiers striking for $15 an hour and union rights. But here's the truth: Even though I help make vehicles sold by Hyundai, I am one of the 64 million American workers who are paid less than $15 an hour.
That's why, on Tuesday, I'll be standing proudly alongside fast-food workers walking off the job in Alabama, because their fight for higher pay and a voice on the job is my fight too.
For the past decade, I've worked at a plant in Selma, Alabama, owned by Lear Corp., a major supplier to Hyundai. As a mother of two, I am grateful for my job. But the fact is, my co-workers and I are grossly underpaid and work in conditions that we believe are unsafe. Like many in the fast-food industry, I struggle to makes ends meet on just $12 an hour. Meanwhile, the company I work for made $839 million in profit just last year.
My co-workers in Selma and I have voiced our concerns. Earlier this year, we protested with Lear workers from plants across the country at a shareholder's meeting at the company's headquarters in Southfield, Michigan. Though we've made some progress, many of our concerns have not been addressed.
And I know I'm not alone. I've met with other auto parts workers across the country who face the exact same low wages and unsafe conditions that are the new normal in the auto industry.
Last year, I met auto parts workers from a plant in Lorain, Ohio, where they make welded metal seat frames. People there talked to me about the horrible working conditions they face, too. Pay is dismal: Wages top out at $12 per hour and some workers are making hourly wages as low as $9. Not surprisingly, many don't stick around for long. Though the plant employs just over 400 workers, a former manager said that 1,500 workers passed through Camaco in the past two years.
The auto workers I met from Lorain will be protesting in their community on Tuesday as well, standing alongside other local workers to demand good jobs that will lift the economy and allow us to support ourselves and our families.
I always believed that manufacturing jobs were a ticket to the middle class, but it's clear to me that they are now adding to the country's low-wage crisis. For the first time in decades, manufacturing jobs now pay wages that rank in the bottom half of all jobs in the economy. A recent report said that more than 600,000 manufacturing workers are paid just $9.60 an hour or less, and 1.5 million manufacturing workers -- one out of every four -- make $11.91 an hour or less.
I'm inspired by signs that things can change. Earlier this fall, workers at an auto parts plant in Piedmont, Alabama, voted by a 2-1 margin to join the United Auto Workers, showing that it's possible to win fair pay and a voice on the job when you refuse to accept the status quo.
Companies, whether they make auto parts or cheeseburgers, have an obligation to treat their employees with respect. It's wrong that top level executives at corporations are lining their pockets while so many of us -- who do the hard work -- are paid so little that we can't afford basic needs.
For three years now, fast-food workers have led a nationwide movement that proves that if we speak up, we will be heard and taken seriously. On Tuesday, I'll be joining fast-food workers and other underpaid workers all across the country to demand higher wages and a voice on the job. We have a common fight, and when we stick together, we can win.
Related
Popular in the Community