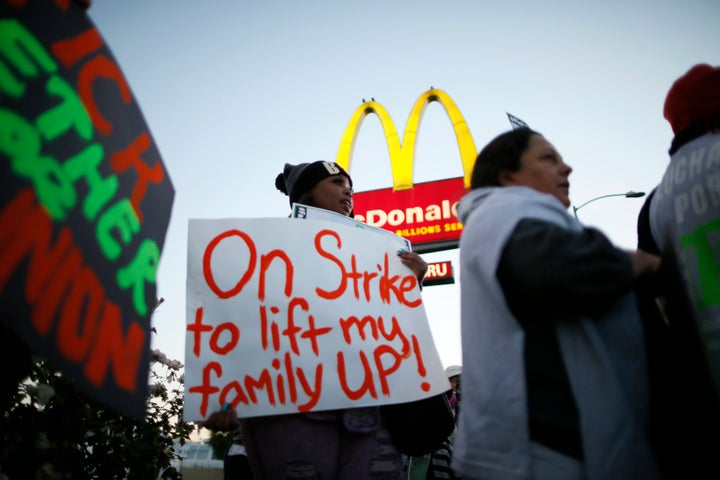 Workers employed in low-wage industries plan on taking to the streets on Thursday to continue their call for a $15 minimum hourly wage and union rights. But this time around, workers in fast food, day care and airports will be joined by a new group of agitators: hospital workers.
Several dozen employees at the University of Pittsburgh Medical Center -- the largest private-sector employer in Pennsylvania -- plan to take part in the one-day strike Thursday, according to the campaign's organizers. They'll join workers in cities around the country in the walkout, billed as part of the Fight for $15.
University of Pittsburgh Medical Center is the same hospital system that made news last month when it announced it would phase in a $15 minimum wage over five years. So why will workers be protesting if they've already won the wage hike they've demanded?
It has to do with the second part of the campaign's slogan: "$15 and a union."
"We feel like we don't have a voice without a union," said Nila Payton, a receptionist in the pathology department at UPMC Presbyterian, who's worked at the hospital for 10 years. "Even though they did give us $15 an hour, that's barely scratching the surface. We want that contract. We need a union and affordable health care and affordable copays and adequate staffing."
UPMC said in a statement that it offers "industry-leading" compensation packages to its employees. "We are very proud of our wages, generous benefits and other rewards and of the tens of thousands of jobs at UPMC that have meaning and purpose, and that fulfill an incredibly important mission for the region and the communities that we serve," John Galley, the head of human resources, said.
Most of the Fight for $15 protests in the last three years have centered around fast-food workers, who've made a point of pillorying the likes of McDonald's and Pizza Hut for paying low wages. But the campaign has broadened to include workers of all stripes who claim they're being shortchanged. The protests have prompted a rash of minimum-wage hikes that seemed borderline unimaginable just a few years ago. Officials in both California and New York recently announced that they would gradually phase in $15 statewide wage floors.
It wasn't clear how many workers will be notifying their employers they'll be on strike Thursday. The campaign bills it as the largest walkout yet, but organizers haven't provided definitive numbers for strikes in the past. A Fight for $15 spokeswoman said Tuesday it didn't have an estimate yet.
The addition of UPMC workers to the rolling strikes is no coincidence. Employees there are being organized by the Service Employees International Union, the powerful 2-million-member group that has funded the broader Fight for $15 movement. SEIU has been locked in an ugly fight with UPMC as it seeks to unionize janitors, cafeteria workers, housekeepers and other service workers in the system.
SEIU, known for making its targets squirm, has protested at UPMC's headquarters, accused the hospital of violating labor laws and lobbied to have its tax breaks repealed.
The National Labor Relations Board, the federal agency that referees labor disputes, has issued three complaints against UPMC since 2013. A complaint from last year accused the hospital system of interrogating union supporters and restricting where employees could talk about unionizing. An administrative law judge ruled in an earlier case that the hospital had violated labor law, ordering it to reinstate four workers who'd been fired.
UPMC employs more than 60,000 workers. However many employees join the protest on Thursday, it will likely be a small minority of the workforce. But the purpose of the Fight for $15 strikes has never really been to shut down business operations -- it's been to shame the employer and embolden other workers to join the cause.
Although the Fight for $15 campaign has been winning $15 at the city and state levels, it hasn't made as much progress on its other goal: making union members out of more workers. The fast food industry, in particular, is notoriously difficult to organize, thanks in large part to the sky-high turnover rate, and the way the industry is splintered through franchising. Generally, under current law, you'd have to unionize restaurants one by one, rather than, say, all McDonald's at once.
UPMC is a prime target for the union, however, with SEIU hoping to organize 10,000 service workers in the system. To do so, it would have to win a union election, or persuade UPMC to accept "card check," an arrangement in which a company voluntarily recognizes a majority of signatures from employees. SEIU hasn't filed for an election, suggesting it may not yet have the level of support it needs to secure a majority.
Jared McCray, a housekeeper at UPMC Mercy, said he filed a strike notice with his employer last week to show his support for the unionization effort. McCray called the new wage floor plan "a really big victory," especially considering the hospital had once said such a plan was untenable. But he said some colleagues were nervous about showing their support for the union.
"They've made it clear that management at UPMC is not in support of this," said McCray, 24, who's been working at the hospital for six months. "It sort of discourages people from even bringing it up. And it's a conversation that needs to be had."
Related
Before You Go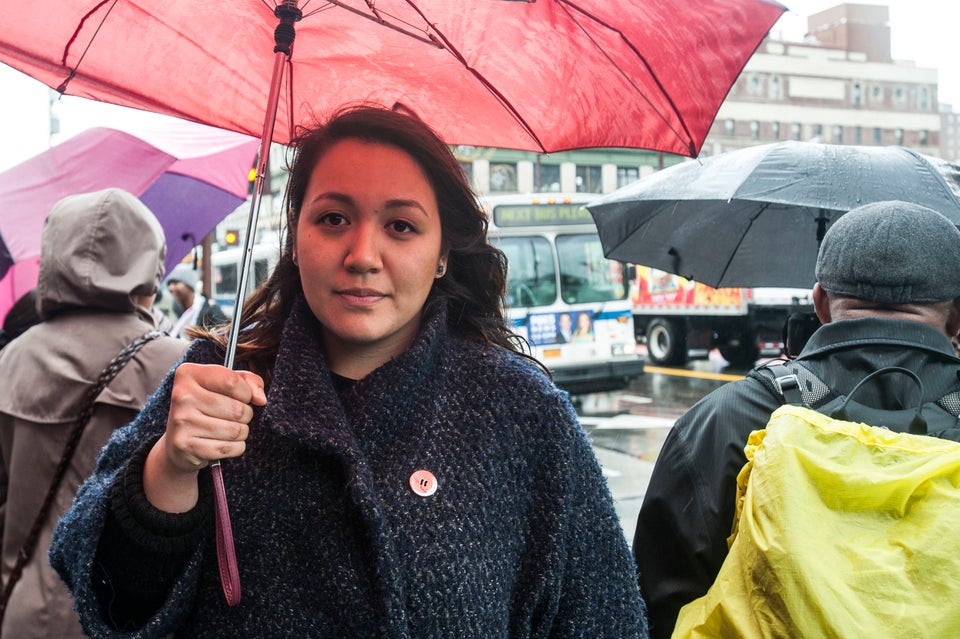 The Faces of the Fight for 15 Movement
Popular in the Community