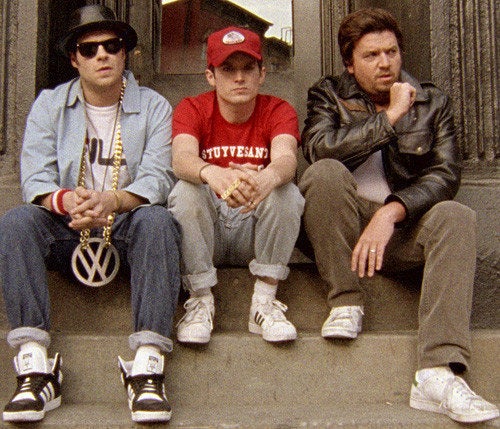 The Beastie Boys have gone from being rap rebels to having the biggest rolodex in Hollywood.
The legendary hip hop group, who shot to fame with their 1986 record "License to Ill," put together a 30-minute short film, "Fight For Your Right Revisited," based on that album's smash hit single, "(You Gotta) Fight for Your Right (To Party!)." And its cast list puts any big screen blockbuster to shame.
Danny McBride, Elijah Wood and Seth Rogen star as the Beasties, with Will Ferrell, Jack Black and John C. Reilly mirroring them as their older selves. Stanley Tucci and Susan Sarandon play annoyed adults who just had their house smashed in by a party. And then the rest of Hollywood puts in cameos, too.
A running tally of the big screen talents appearing in the film, which will be released on May 3rd in conjunction with the Beastie Boys' new album, "Hot Sauce Committee Part 2": Rashida Jones, Will Arnett, Adam Scott, Rainn Wilson, Ted Danson, Roman Coppola, Steve Buscemi, Amy Poehler, Jason Schwartzmann, Alicia Silverstone, Laura Dern, Kirsten Dunst, Chloe Sevigny, Maya Rudolph, David Cross, and Martin Starr.
Oh, and the three Beastie Boys, Adam Horovitz, Mike D and Adam Yauch, who directed the film, appear as, of all things, police officers.
WATCH
:
Popular in the Community