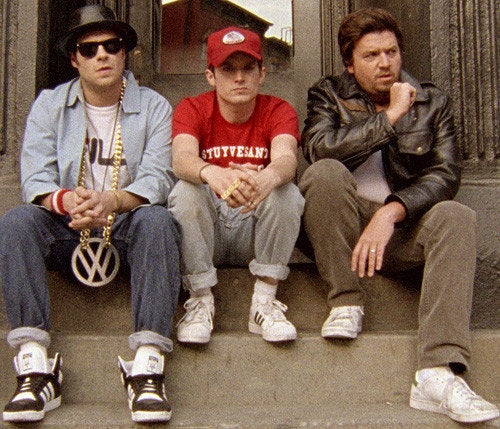 The Beastie Boys have long been on the cutting edge of pop culture and entertainment, and with their big foray into the world of film, they've put together a cast that should have Tarantino, Scorsese and Apatow drooling. And it's all for a short film.
The Brooklyn-bred rap group finally revisits their first mega-hit, "(You Gotta) Fight For Your Right (To Party)" in this star-filled, action-packed short set in the wild mid-80's period that saw their star skyrocket. A semi-autobiographical bit with plenty of foul language and casual destruction, Danny McBride, Elijah Wood and Seth Rogen star as the Beasties, with Will Ferrell, Jack Black and John C. Reilly mirroring them as their older selves. Stanley Tucci and Susan Sarandon play annoyed adults who just had their house smashed in by a party.
The list of bit players is even more impressive: Rashida Jones, Will Arnett, Adam Scott, Rainn Wilson, Ted Danson, Roman Coppola, Steve Buscemi, Amy Poehler, Jason Schwartzmann, Alicia Silverstone, Laura Dern, Kirsten Dunst, Chloe Sevigny, Maya Rudolph, David Cross, and Martin Starr.
Set to coincide with the release of their long-anticipated new album, "Hot Sauce Committee Part Two," the film also features cameos from the real Beasties Adam Yauch (who directed), Adam Horovitz and Mike D. Of course, they feature as cops.
WATCH
:
Popular in the Community