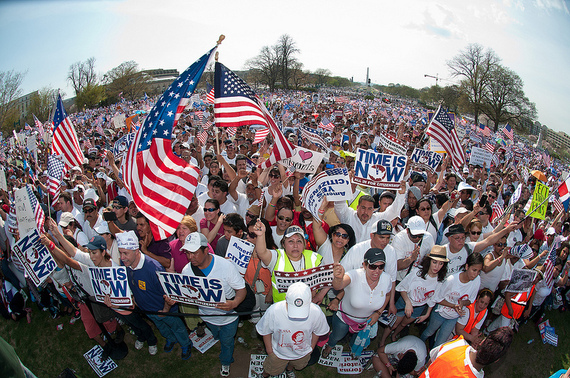 Today, November 20 marks the one-year anniversary of President Obama's executive actions on immigration that would have protected up to five million undocumented parents and young immigrants from deportation.
Despite the 5th Circuit Court's decision to continue to block the two immigration initiatives, the Deferred Action for Parents (DAPA) and the expanded Deferred Action for Childhood Arrivals (DACA), our brave immigrant community and fierce advocates from across the country are ready to fight. We are not giving up and are ready to take back what was taken from us, the opportunity to attain the American Dream.
Our fight is far from over and our movement is only getting stronger. We are registering voters and becoming U.S. Citizens so our community can vote in larger numbers than ever before.
More importantly, we're making sure our communities know how we got here in the first place and whom the villains were that stood in our way of attaining the American Dream. Extremist Republican leaders, who have consistently campaign to shut down DAPA and DACA, better believe that we won't forget their attacks. Come November 2016, there will be more than 32 million eligible Latino, Asian American, and immigrant voters that will charge to the ballot box and make their voices heard.
Anti-immigrant GOP leaders should realize that for our community this is not just a policy issue, it is personal. The Latino family is a tight unit of mixed-status mothers and fathers, sisters and brothers, cousins, aunts and uncles. It is about our friends, our hardworking family members. It is about respect and dignity. It is about millions of lives. Not one Latino and immigrant voter in 2016 will forget their family.
We have proven that when our community is attacked, we unite, fight back against the hate. When the Donald Trump and Marco Rubio's of the world try to spread messages of fear and hatred against immigrants in mainstream media, our community will send a louder message: ¡BASTA! Enough with the fear mongering, enough with the scapegoating, enough! We must live up to the values as a nation of immigrants, and rise above the politics of hatred.
While it's important that U.S. Supreme Court review the case against DAPA and DACA, we must vote -- the future of immigration reform is in our hands. It's our vote that will be the deciding factor and choose the next president of our nation who must protect the deferred action initiatives and champion a lasting immigration solution.
Our families cannot wait any longer. We need to give our hardworking families an opportunity to live and work without the fear of deportation.
On Election Day, we have a duty and an obligation to vote for our friends, brothers, sisters and DREAMers who cannot vote. We must give our community a voice. We must elect a president that will defend these immigration initiatives and enact immigration reform with a path to citizenship.
If we get out and vote, there's no doubt that we will be victorious. Let's not let our guard down. Our community needs us and is depending on us to take back the American Dream.
We will remember. We will not stop reminding our community. We will hold those accountable who stood in the way of hardworking families. That's a promise we must keep.
REAL LIFE. REAL NEWS. REAL VOICES.
Help us tell more of the stories that matter from voices that too often remain unheard.