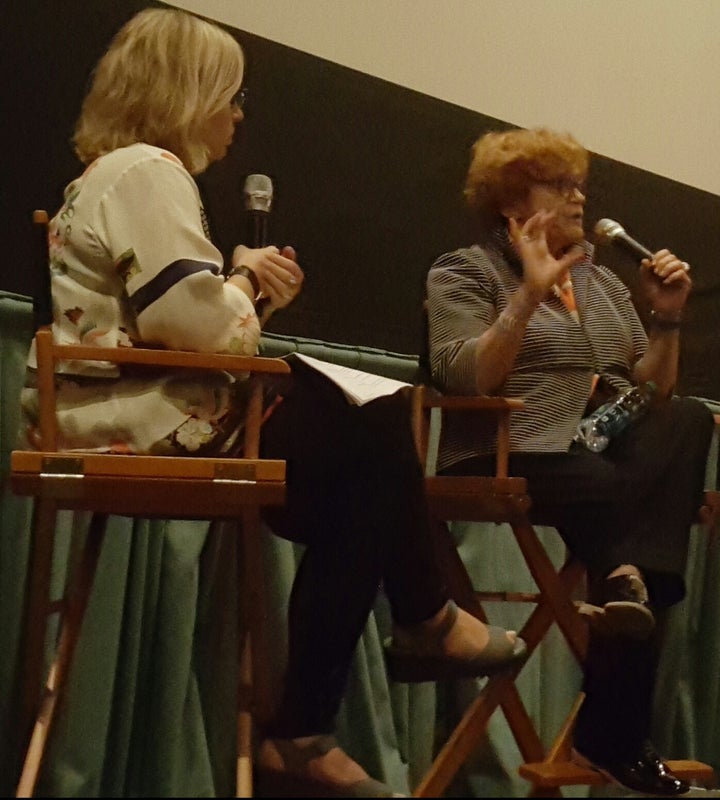 It was ludicrous. It was unbelievable. But on Jan. 10, 2000, Deborah Lipstadt found herself on trial to essentially prove that the Holocaust occurred.
And for a time during the arduous nine-week tribunal in an English High Courtroom, it seemed entirely possible that her legal team could lose.
On September 22, Lipstadt, the Dorot Professor of Modern Jewish History and Holocaust Studies at Emory University, appeared at the Kendall Square Cinema in Cambridge, Massachusetts. The sneak preview of the film "Denial," opening today in New York and Los Angeles, was sponsored by The National Center for Jewish Film, which is based in Brandeis University, where Lipstadt also spoke that day.
A post-film Q&A was moderated by NCJF co-director Lisa Rivo. "The film is of particular interest to our Center beyond our long association with Dr. Lipstadt," Rivo told the HuffPo, "in that it dovetails with our work as an archive, distributor, and exhibitor."
Rivo said that the NCJF archive of Jewish content film is the world's largest outside of Israel. The Center's holdings include 35mm materials of anti-Jewish propaganda produced by the Nazis.
In 1996, British author David Irving, portrayed in the movie by BAFTA nominee Timothy Spall, charged Lipstadt and her publisher Penguin Books with libel, contending that she had defamed his reputation in her 1993 book "Denying the Holocaust: the Growing Assault on Truth and Memory."
In the movie's opening scenes, Irving abruptly shows up in Lipstadt's DeKalb College classroom — just as he did, in 1994. With ominously generousity, he waves money around for anyone who can produce a document from Hitler ordering the Holocaust, and distributes free copies of his biography of Nazis leader Hermann Göring to interested students.
"What if we lose?" Lipstadt asks British solicitor and barrister Anthony Julius, whose former clients also include Diana, Princess of Wales, and Heather Mills. "Does it become respectable to say the Holocaust didn't happen?" Julius, who would not allow Holocaust survivors — or Lipstadt — to testify, responded that they were putting Irving, and not the Holocaust on trial.
Despite dialogue that is consistently profound and perhaps overly compact, "Denial" is highly emotional, especially in the legal team's visit to Auschwitz and Lipstadt's interchanges with survivors. But aside from a few humorous moments, and scenes involving an intemperate amount of alcohol consumption, it doesn't get too personal. Rather, like the event it depicts, the film stays true to its focus, even to its exact court transcripts.
The trial drew major international coverage, and outside the courtroom, impassioned detractors on both sides were not afraid to spew verbal venom, or spit upon their targets.
These two harrowing actions, as well as the contentious subject matter, prompted a question from HuffPo on Lipstadt's safety.
"I was fearful," Lipstadt responded. "And as advised, I took different routes — I would take the Tube, or a cab. I would be aware."
She said that although authorities cautioned Irving's supporters to not speak to her, it was scary. "Neo-Nazis were out there."
Indeed, in the film, London-based Jewish community officials urged Lipstadt to settle outside of court (which would entail pulling her book). "Settle?" she responded. "What would you want me to settle for? Four million dead? Two? One? Appeasement?"
Following the screening, Lipstadt said that the British Jewish community, as a whole, is much smaller than those in the U.S. "The established leadership said, 'we have to live with him, and here's this American woman...,'" she paraphrased, noting their British reserve. However, she added that they, like other benefactors including Steven Spielberg, did contribute to the defense costs.
"A couple of them called Anthony, and said, 'We hear you're having a good week in court,'" Lipstadt recounted. "It was kind of a sarcastic apology."
This suspenseful cinematic recreation of David Irving v. Penguin Books and Deborah Lipstadt, based on Lipstadt's 2006 book "History on Trial: My Day in Court with a Holocaust Denier," stars Academy Award winner Rachel Weisz as the defendant. And it was indeed Lipstadt on trial, because under the English legal system, the burden of proof in a libel case falls upon the accused.
It was therefore up to her legal team, led by Richard Rampton (played by Academy Award nominee Tom Wilkinson), to convince trial judge Mr Justice Gray to invalidate the charge.
"We didn't try to win the case by convincing the judge that Irving was a bigot and an anti-Semite; we tried to use the evidence to prove it," recalled Lipstadt at the Kendall. Essentially, she said, her team needed to confirm that her statements about Irving were true.
And that Irving's weren't. "You yourself stood on that roof and looked for the holes through which Zyklon B was inserted — and no one has found them," he said to defense expert on Auschwitz architecture Professor Robert Jan van Pelt during a debate about four holes in the roof of an underground room at Auschwitz-Birkenau's Crematorium II. "That is the linchpin of the defense," Irving said. "If they were there, they would have found them by now."
The court recessed, and news headline boards throughout London subsequently proclaimed, "No Holes, No Holocaust."
Expert witness Richard Evans, played by Scottish stage and screen actor John Sessions, exposed inconsistencies in Irving's voluminous journals, and pursued this strategy with remarkable competence. Gray also definitively countered Irving's shrewd self-representation — but then verbalized a shocking judicial curveball.
"We summed up; Irving summed up," said Lipstadt during the Q&A. "And then, at the last minute, the judge said that you can't accuse someone of lying if he believes what he's saying. Falsification could align with his beliefs."
It was arguably the most unsettling scene in the film, after which Weisz, as Lipstadt, turns around to her counsel and, horrified, whispers, "What the f--k just happened?" From there, it was a nerve-racking four weeks' wait until the verdict.
But in the end, with great relief, they were vindicated.
"It is my conclusion," read Gray on April 11, "that Irving's denials of these propositions were contrary to the evidence....Irving has for his own ideological reasons persistently and deliberately misrepresented and manipulated historical evidence...[and]therefore, the defence of justification succeeds." His judgment, 333 pages long, was overwhelmingly in favor of the defendants.
"Freedom of speech means you can say whatever you want," said Lipstadt. "But what you can't do is lie." She gave the example of slavery: "You can debate if it could have been stopped without a civil war, but not that it happened," she said. "One takeaway from this story," she said, "is that there's a difference between opinion, and opinions based on facts."
"In hindsight, the outcome of the trial — even the decision to go to trial — seems inevitable," said Rivo. "But it wasn't. It was brave and risky for Lipstadt to stand up against intimidation, to fight back against the lie."
An attendee asked Lipstadt what would happen when survivors are no longer around. "Will it be like Hitler said, 'After all, who remembers the Armenians?'" she asked.
"What we lose with the survivors is the person who can speak in the first person singular," said Lipstadt, who recalled elder Armenians speaking about the 1915 genocide at Emory. "But a whole new generation brings a real dedication as well," she added. "There is a continuation of this work. That's teaching."
When asked about her resolve to fight the legal battle, Lipstadt said that her name, Devorah, stood for the biblical leader and defender of her people. "She was a warrior, and my mother always said I would be picked out," she said. "Well, here it is."
Rivo said the story remains highly relevant. "Today, in an era where lying has gone mainstream, where lies are given voice and weight even by Donald Trump as he runs for the presidency, the film has a startling resonance," she said.
"The film asks, as the trial asked, 'how do we counter lies and liars?' Unfortunately, it's a perfect question for today."
Susie Davidson tweets at SusieDavidsonMA.