Sunlight began to filter through my tent. It was 5:30 am. The grass was wet with dew. The air damp and nippy. And all around me was the noise of other cyclists beginning to stir. Welcome to Bike Maine 2014.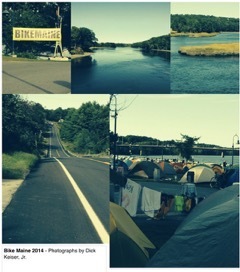 Three months before, I turned 70; I was entering my 5th year of being HIV+. My doctor had just told me that based on my health and genetics that I had another 30-40 years to live. I pondered: "What would that be like?" and then I saw an ad for Bike Maine -- 7 days of adventure on back roads of the Pine Tree State. Camping at night. Cycling 50-60+ miles per day -- lots of hills. One day off at Boothbay Harbor to feast on Lobsters. I signed up -- and so 3 months later I showed up at a small park in Westbrook, Maine, registered, got my number: 211 and pitched my tent.
Even I realized from the onset that I would have to do some serious training to complete the 348 mile bike ride over 7 days. I was going to be cycling up and down hills that don't even exist where in live in South Florida. So I left Florida by car at the beginning of June on a zigzag course though Texas, Indiana and eventually ended up along northeast coast cycling at every opportunity 30, 40, 50 miles at a time to get in close to 1000 miles of cycling.
To me, cycling provides another way of looking at the environment and my life. I tend to zone out and mentally write blogs and letters, stop frequently to snap photos of interesting people and scenes. I love the thrill of coasting down a hill at 25-30 mph and racing up the next -- at times, I succeed in cresting the hill -- at others I hit the wall and poke up the hill at 4-5 miles an hour or even walk. I do not always embrace hills -- but at times react with shock as yet another hill beckons on the horizon.
Bike Maine is an incredible adventure -- the people of a state wrecked by the economic downturn pour on the warmth for strangers. In one town, the townspeople closed a street and filled it with tables and chairs and provided a sumptuous buffet. Volunteers from local high schools even carried our tents and supplies from the trucks to camping areas.
One-seventh of Maine is water, and it is beautiful. Our route crossed highways only to access rural country roads where we found vast expanses of marsh and water where the tides ebbed and flooded.
I usually temper my challenges -- I have done lots of cycling but always with a day off for volunteering to recover from 50-60 miles -- this ride was relentless: "The 2014 route will see participants pedaling 55 to 62 miles each day (with daily options for increased mileage) and climb more than 23,000 feet in cumulative elevation." I finished near the end of the some 240 riders. I don't know if I was the oldest. I have no idea if I was the only one with HIV or if the only one that was gay. I came out to the director of the ride only at the end -- because it only made a difference if I finished and accomplished my goal.
In 2015, HIV+ individuals are living longer. In fact, the CDC estimated that in 2012 almost 25 percent of individuals living with HIV were over 50 (and this number is projected to increase exponentially). This creates new challenges for those of us with HIV who are aging as well as health care providers who need to be better educated on HIV and potential co-morbidities.
I encourage everyone to set at least one challenging (and achievable) goal a year -- completing Bike Maine made me smile. The diploma resides in my glove box -- at some point to be framed.
Calling all HuffPost superfans!
Sign up for membership to become a founding member and help shape HuffPost's next chapter